By David Coulson
Executive Editor
College Sports Journal
FRISCO, TX. — It is always a weird summary on the passage of time when you reach the end of the college football season.
Wasn't it just a few weeks ago when we were sitting down to watch North Dakota State and Montana battle on that August afternoon in what was arguably the best television presentation ever of a Football Championship Subdivision game?
But now we have reached the eve of another NCAA Division I Football Championship contest, set for Saturday at noon Eastern Standard Time, as North Dakota State and Jacksonville State battle for the national title at Toyota Stadium.
With deference to to the late, great Allan Malamud of the Los Angles Herald-Examiner and Los Angeles Times, here are some random thoughts on the championship game.
Read more: Jacksonville State, North Dakota State Set For Championship Showdown
By Doug Poole
Special to College Sports Journal
Editor's note: This story is courtesy of New Hampshire athletics (www.unhwildcats.com).
SCOTTSDALE, AZ. – University of New Hampshire football coaching legend Bill Bowes was named to the 2016 College Football Hall of Fame Class by the National Football Foundation & College Hall of Fame on Friday. He is the first member of the UNH program selected for the Hall.
Bowes is one of 16 people (14 players, two coaches) who will be inducted at the 59th NFF Annual Awards Dinner held Dec. 6 at the Waldorf Astoria in New York City.
Inductees will also be honored at the National Hall of Fame Salute at the Chick-fil-A Peach Bowl on Dec. 31. This accomplishment will be forever immortalized at the College football Hall of Fame in Atlanta.
The inductees were selected from the national ballot of 76 players and five coaches from the Football Bowl Subdivision and the 92 players and 27 coaches from the divisional ranks.
The College Football Hall of Fame truly represents the elite of the game. Of the 5.12 million individuals who have played college football since 1869, only 1,188 (977 players, 211 coaches) have been immortalized in the Hall.
Read more: UNH Coaching Legend Bill Bowes Named To College Football Hall Of Fame
By David Coulson
Executive Editor
College Sports Journal
BOONE, N.C. — Appalachian State seemed on the verge of a major men's college basketball upset for most of Thursday night at the Holmes Convocation Center, but the struggling Mountaineers couldn't close the deal in a demoralizing 71-67 Sun Belt Conference loss to UT-Arlington.
Missed free throws, empty offensive possessions and turnovers in the final minutes sent Appalachian (2-12 overall, 0-3 in conference) to its 12th loss in its past 13 games, negating what could have been a confidence-boosting victory over the Sun Belt's hottest team.
"When you give up 14 offensive rebounds, don't hit your free throws (7-of-16) and make 20 turnovers, you aren't going to win many games," ASU coach Jim Fox said. Lack of confidence "has kind of been our MO the whole year. It weighs on you mentally. We had a chance to get over the hump and just didn't do it."
The Mountaineers shot 54.8% from the field in the first half behind the offensive force of senior guard Frank Eaves, who scored 17 of his game-high 21 points as ASU built an 11-point lead.
Read more: UT-Arlington Comeback Trips Up Appalachian State in Men's Basketball
Special to College Sports Journal
ATLANTA, GA. — As part of an ongoing series throughout the fall, The National Football Foundation & College Hall of Fame posts This Week in College Football History, which takes a look back at some of college football's landmark moments over the last 147 years.
FCS MOMENT
Jan. 1, 1916
Washington State defeated Brown, 14-0
Rose Bowl – Pasadena, California
College Football Hall of Famer and Brown halfback Fritz Pollard became the first African-American to play in the Rose Bowl, gaining just 47 yards in the rain-soaked game. After a scoreless first half, Washington State got on the board on a three-yard run by Ralph Boone, followed by an Arthur Durham extra point. The Cougars extended their lead to 14-0 on a short run by Carl Dietz in the fourth quarter. Dietz was named the MVP of the game. Washington State, coached by Hall of Famer William "Lone Star" Dietz, finished with a 7-0 record, the last perfect season in program history. Brown, under Hall of Fame coach Edward Robinson, ended the season with a 5-4-1 record. Wallace Wade, who would have a Hall of Fame coaching career at Alabama and Duke, played on the line for Brown.
Read more: This Week in College Football History: New Year's Memories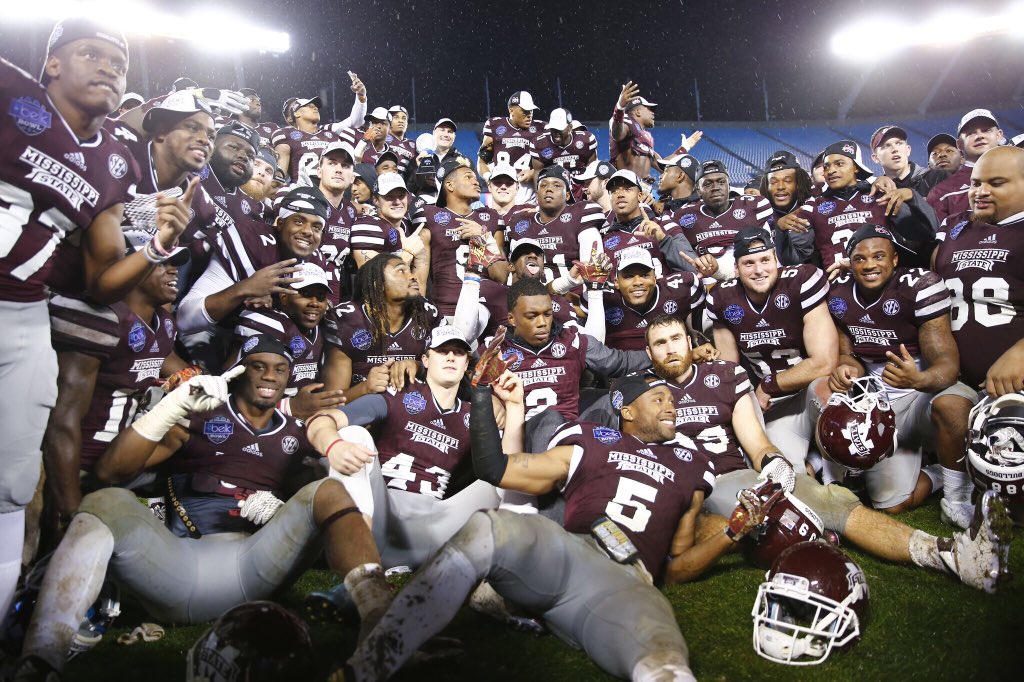 By David Coulson
Executive Editor
College Sports Journal
CHARLOTTE, N.C. — It took only one play from scrimmage for Mississippi State to make its opening statement Friday afternoon against North Carolina State in the 14th annual Belk Bowl.
And the Bulldogs continued their proclamations for the next three-and-a-half hours in thrashing the Wolfpack, 51-28, in the heave rain and mud at Bank of America Stadium.
Middle linebacker Gerri Green intercepted a short, Jacoby Brissett pass on NC State's first offensive play as Brissett was pressured by defensive end Johnathan Calvin and MSU was off and rolling towards a 21-0 lead that the Wolfpack never could overcome.
"He made a good play on the ball," Brissett said of Green. "I just have to do a better job of taking care of the ball and understanding the situation. We can't do that to start the game off."
The Bulldogs' program-elevating quarterback Dak Prescott (25-of-42 for 380 yards passing, 12 carries for 47 yards rushing) needed just five snaps to fire the first of four touchdown tosses — a 14-yard missile to Fred Ross — and MSU (9-4) was soaring towards victory.
Read more: Mississippi State Dominates North Carolina State For 51-28 Belk Bowl Victory