UAB Blazers
Location: Birmingham, AL
Coach: Bill Clark (14-11 @UAB, 25-15 overall) 3rd Season
Stadium: Legion Field (Capacity: 71,594)
CSJ Projections:
9th: Conference USA (5th in West Division)
6th: Alabama
105th: FBS
117th: Division I
2017 In A Sentence: In its first season after a two year hiatus from playing, the Blazers surprised everyone to an eight-win season (8-5), although it was dampened a little with a blowout loss in the Bahamas Bowl versus Ohio.
Biggest Shoes to Fill: CB Darious Williams was named to many All-American teams last year. This was after a tremendous final season for the Blazers where he led C-USA in passes defended (20), pass breakups (15) and interceptions (5). This spring, he signed a college free agent contract with the NFL's Baltimore Ravens.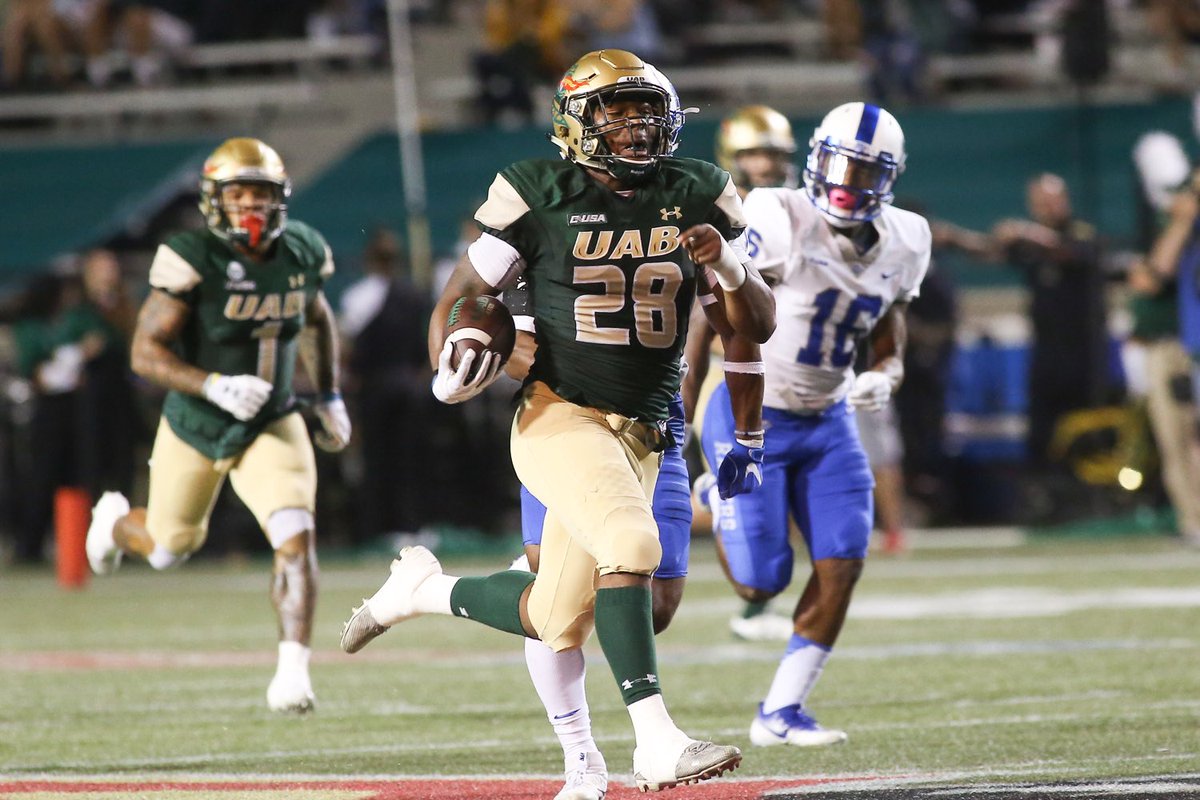 Key Player: RB Spencer Brown was named the C-USA's Freshman of the Year last year and hopes to produce even more in his sophomore season. He totaled 1,329 yards on the ground, which was the third most by any UAB running back in its history. He scored 10 times–the seventh most rushing touchdowns in Blazer history.
Fearless Prediction: The key for the UAB offense will likely be not to rely as heavily on the running game as it did last year. The Blazers averaged just 180 yards passing. The defense returns eight starters and was very much the strength of the team last year. Getting to eight wins again, however, may be a little too much to expect but getting back to a bowl game is nearly a certainty.
Originally from LaMoure, North Dakota, Kent is a 1996 graduate of North Dakota State University. His prior writing experience is over 15 years having previously worked with D2football.com, I-AA.org, and College Sporting News before coming to College Sports Journal in 2016. His main focus is college football is the Missouri Valley Football Conference within the Division I FCS. And in 2017, he began also to look at the FBS Group of Five conferences of the American Athletic, Conference USA, Mid-American, Mountain West, and Sun Belt.
Reach him at this email or click below: