Incarnate Word Cardinals
Location: San Antonio, TX
Coach: Eric Morris (6-5), 2nd Season at Incarnate Word
Stadium: Gayle and Tom Benson Stadium (Capacity 6,000)
CSJ Projections:
4th: Southland
12th: Texas
41st: FCS
160th: Division I
2018 In a Sentence: Incarnate Word went from a football program that few knew existed and put themselves on the map in 2018. The Cardinals finished the regular season at 6-4, although two of the losses came against FBS competition. UIW earned their first FCS playoff berth where they fell to Montana State in the first round.
Biggest Shoes to Fill: As a team, Incarnate Word ran for over 2000 yards in 2018. The leading rusher for the team was RB Ra'Quanne Dickens, who ran for 1117 yards and 14 touchdowns. Dickens' biggest game came in the regular season finale in a win over Central Arkansas where he toted the ball 35 times for 213 yards and 3 touchdowns in the win. His performance helped secure the Cardinals playoff berth. Thankfully for UIW, the next man up is RB Ameer King, who ran for over 400 yards on 5.5 yards per carry last year.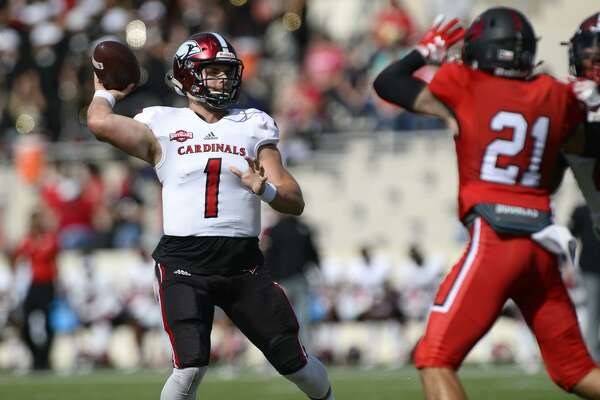 Key Player: The Southland Conference is full of excellent quarterbacks and Incarnate Word is no exception. The Cardinals have the guy who may have the highest ceiling in the conference, QB Jon Copeland. As a freshman in 2018, Copeland threw for 2984 yards and 22 touchdowns. The number of interceptions he threw was a bit high at 13, but as he becomes even more comfortable at the college level, the efficiency should rise. Copeland had 5 games over 300 yards and 2 over 400 yards in 2018. Opposing defenses would be wise to game plan for him week in and week out.
Fearless Prediction: After bursting onto the scene in 2018, Incarnate Word will be looking to take the next step as a true yearly competitor in the FCS landscape. The Southland should be much improved in 2019, but the Cardinals should be in the mix for the conference title all year. They will fall a little short as other teams have a little more on the defensive side of the ball. But a second straight playoff berth is not out of the question.
Jamie is a proud 2002 graduate of James Madison University. He's witnessed the growth of the program from no one in the stands in 1998, to the hiring of Mickey Matthews, to the 2004 National Championship, to the 2008 team, to the struggles in the early 2010s, and finally the rebuild under Mike Houston. He also allegedly really enjoys Washington, DC-based Stanley Cup winners.
Reach him at: