New Mexico State Aggies
Location: Las Cruces, New Mexico
Coach: Doug Martin (20-53@NMSU, 49-106 overall) 7th season at NMSU
Stadium: Aggie Memorial Stadium (Capacity: 28,853)
CSJ Projections:
5th: FBS Independents
2nd: New Mexico
126th: FBS
61st: Group of Five
188th: Division I
2018 In a Sentence: The Aggies got off on a poor start in four blowout losses to begin the season but finished 3-5 to finish 3-9 overall–this was after NMSU's first bowl season in 2017.
Biggest Shoes to Fill: LB Terrill Hanks was a four-year starter at New Mexico State. He started 43 career games with 11 career sacks, eight interceptions and 42.5 tackles for loss. Hanks finished fourth on the Aggies in tackles in 2018 with 101 tackles despite missing three games due to an ankle injury. He signed a free agent contract with the NFL's Miami Dolphins.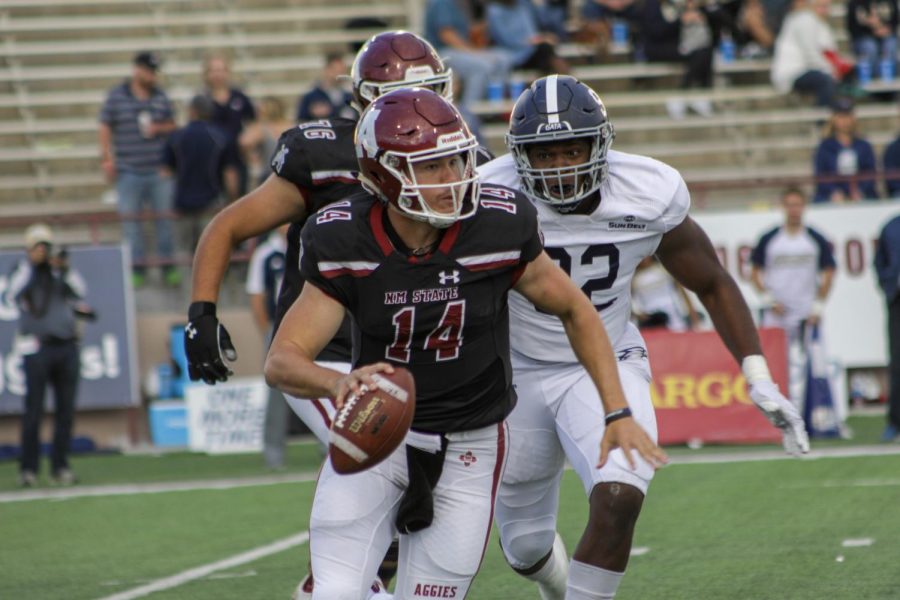 Key Player: QB Josh Adkins went from third on the depth chart to begin the season in his redshirt freshman season but became the starter in the fifth game of the season to give hope for New Mexico State fans. He threw for 2,563 and 13 touchdowns in his 10 games played. He will be key in the pass-happy Coach Martin offense to bettering the three-win total from last year.
Fearless Prediction: New Mexico State is an inexperienced team last year and it showed but this year's team looks better. The Aggies should improve on the three-win total this year but might be a win or two short of getting back to a bowl game like 2017 (win over Utah State in the Arizona Bowl).
Originally from LaMoure, North Dakota, Kent is a 1996 graduate of North Dakota State University. His prior writing experience is over 15 years having previously worked with D2football.com, I-AA.org, and College Sporting News before coming to College Sports Journal in 2016. His main focus is college football is the Missouri Valley Football Conference within the Division I FCS. And in 2017, he began also to look at the FBS Group of Five conferences of the American Athletic, Conference USA, Mid-American, Mountain West, and Sun Belt.
Reach him at this email or click below: