CSJ's AAC Predicted Order of Finish
1. Cincinnati
2. UCF
3. Houston
4. Tulsa
5. SMU
6. Tulane
7. Memphis
8. East Carolina
9. Navy
10. South Florida
11. Temple
2020 Bowl Results
Conference Record: 1-5
Through an uncertain season of 2020, Cincinnati finally got to the top not only of the American Athletic Conference but was also the top Group of Five school and played in the Peach Bowl versus SEC power Georgia. The Bearcats controlled most of that game but fell on a last minute field goal and also got a safety in the last seconds to fall 24-21.
With Oklahoma and Texas moving on from the Big 12, there has been rumors of what will happen for that conference. Some rumors have the remaining Big 12's eight teams (or at least some) moving to the AAC. While other rumors are that the Big 12 will be in tact and instead look to add teams, which could include the AAC schools, along with BYU and possibly Mountain West schools.
It would be hard to argue either way but adding teams like last year's AAC champions or even prior champions such as UCF or Memphis or a couple of schools in the AAC already in the Big 12 footprint such as Houston, SMU or Tulsa (or even Tulane) would go a long way to a new look Big 12.
But this will not happen during this football season and will be something that will be monitored over the next year or two what will happen.
On the field, Cincinnati looks like the preseason favorites to again win the AAC this year and the Bearcats have put together a nice out-of-conference and should they win those and remain perfect (as they did in 2020), the have a fairly good chance to being a Top Four ranked team overall and get into the College Football Playoff. But to do that, the Bearcats will need to defeat both Indiana and Notre Dame on the road and those two contests are back-to-back in September.
In the conference, UCF looks like the best challenger to keeping Cincinnati from two conference titles in a row. Houston and last year's second place team of Tulsa look on paper also to be a threat to the Bearcats.
Top Non-Conference Games of 2021
These are the games that likely will show if the AAC champion will again be in a New Year's Six Bowl game and even possibly contend for a College Football Playoff bid.
Sept. 2 – Boise State at UCF
Sept. 4 – Texas Tech at Houston
Sept. 11 – Tulsa at Oklahoma State
Sept. 18 – Cincinnati at Indiana
Sept. 25 – Cincinnati at Notre Dame
Sept. 25 – SMU at TCU
Top Conference Games of 2021
The five top picks of Cincinnati, UCF, Houston, Tulsa, and SMU in my preseason picks all will not play all of the others but these are the games involving the Top Five.
Oct. 2 – Houston at Tulsa
Oct. 16 – UCF at Cincinnati
Oct. 30 – SMU at Houston
Nov. 6 – Tulsa at Cincinnati
Nov. 13 – UCF at SMU
Nov. 20 – SMU at Cincinnati
Nov. 27 – Tulsa at SMU
Here is the countdown my 11 AAC teams' predictions:
11. Temple Owls
Head coach: Rod Carey (9-11, third year)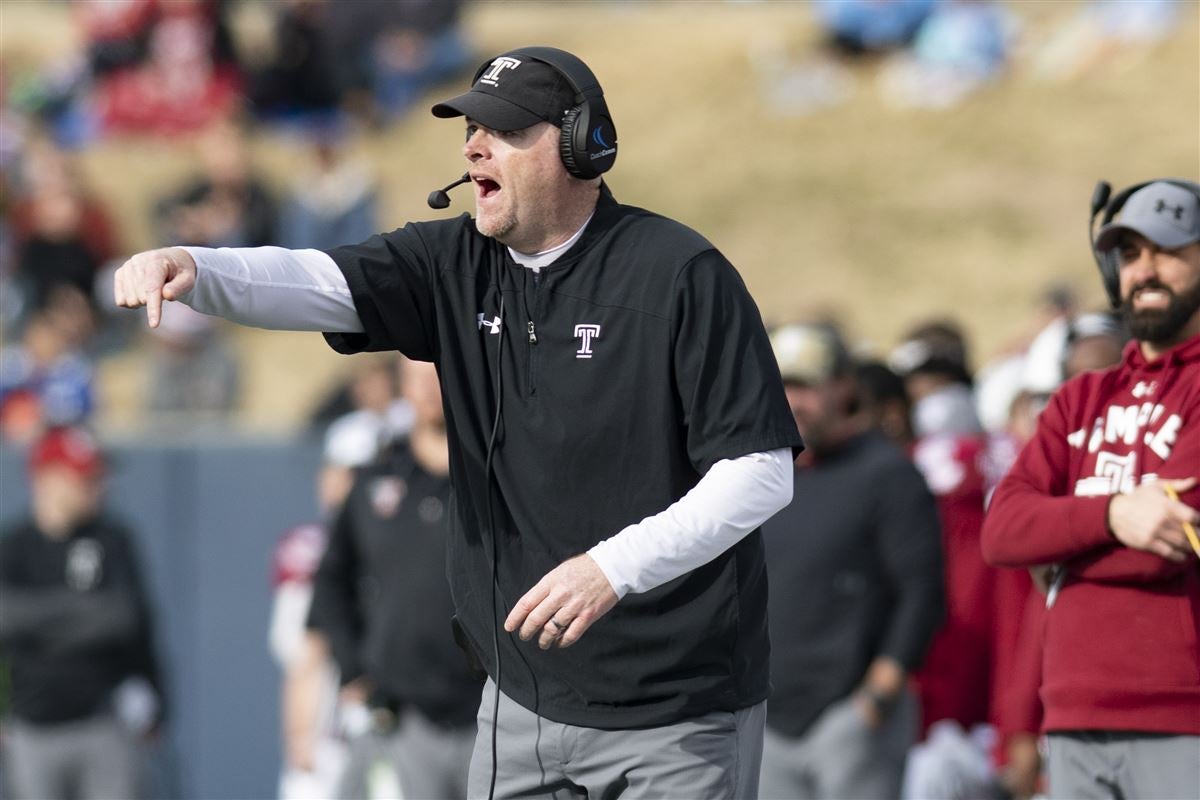 Offensive Coordinator: Mike Uremovich
Defensive Coordinator: Jeff Knowles
Stadium: Lincoln Financial Field (68,532)
Location: Philadelphia, PA
2020 Record: 1-6 (1-6)
Temple struggled through a one win season in 2020 as the Owls were met with an untimely confluence of injuries and opt-outs due to the pandemic.
The Owls look to return to their form of 2019, when they went 8-5 in Rod Carey's first season in Philadelphia.
Temple had 22 players make their first career starts during the 2020 season, but with that inexperience last year, the Owls notw should have a much more experienced squad in 2021. Plus, the team also is bringing in the addition of several key transfers.
QB D'Wan Mathis was the Opening Day starter for Georgia last season and is expected to get the start this season for the Owls.
WR Jadan Blue had 41 catches for 371 yards and five touchdowns in the Owls' six games last season and became Temple's first 1,000-yard receiver in 2019 (1,067 yards).
10. USF Bulls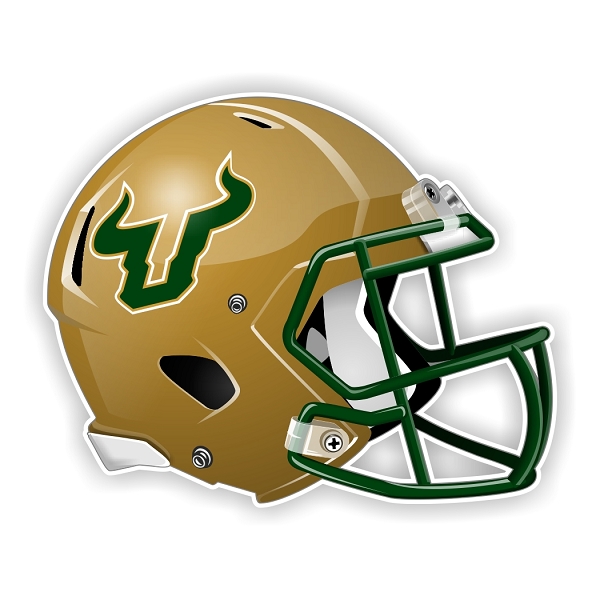 Head coach: Jeff Scott (1-8, second year)
Offensive Coordinator: Charlie Weis Jr.
Defensive Coordinator: Glenn Spencer
Stadium: ​​Raymond James Stadium (65,618)
Location: Tampa, FL
2020 Record: 1-8 (0-7)

Coach Jeff Scott's Bulls eye a turnaround from last season thanks to the return of 18 starters and 54 letterwinners.
QB Cade Fortin, who was limited by injuries to only two appearances last year, has been named as the starter to start the season. A transfer from North Carolina,
Fortin made two starts for the Tar Heels as a freshman in 2018, including a 276-yard showing with a passing touchdown and a rushing TD against NC State in a 34-28 loss.

The defense is led by LB Antonio Grier, who earned second-team all-conference honors last year and led the Bulls with 59 tackles and 3.0 sacks.
9. Navy Midshipmen
Head coach: Ken Niumatalolo (101-67, 14th year)
Offensive Coordinator: Ivin Jasper
Defensive Coordinator: Brian Newberry
Stadium: ​Navy-Marine Corps Memorial Stadium (34,000)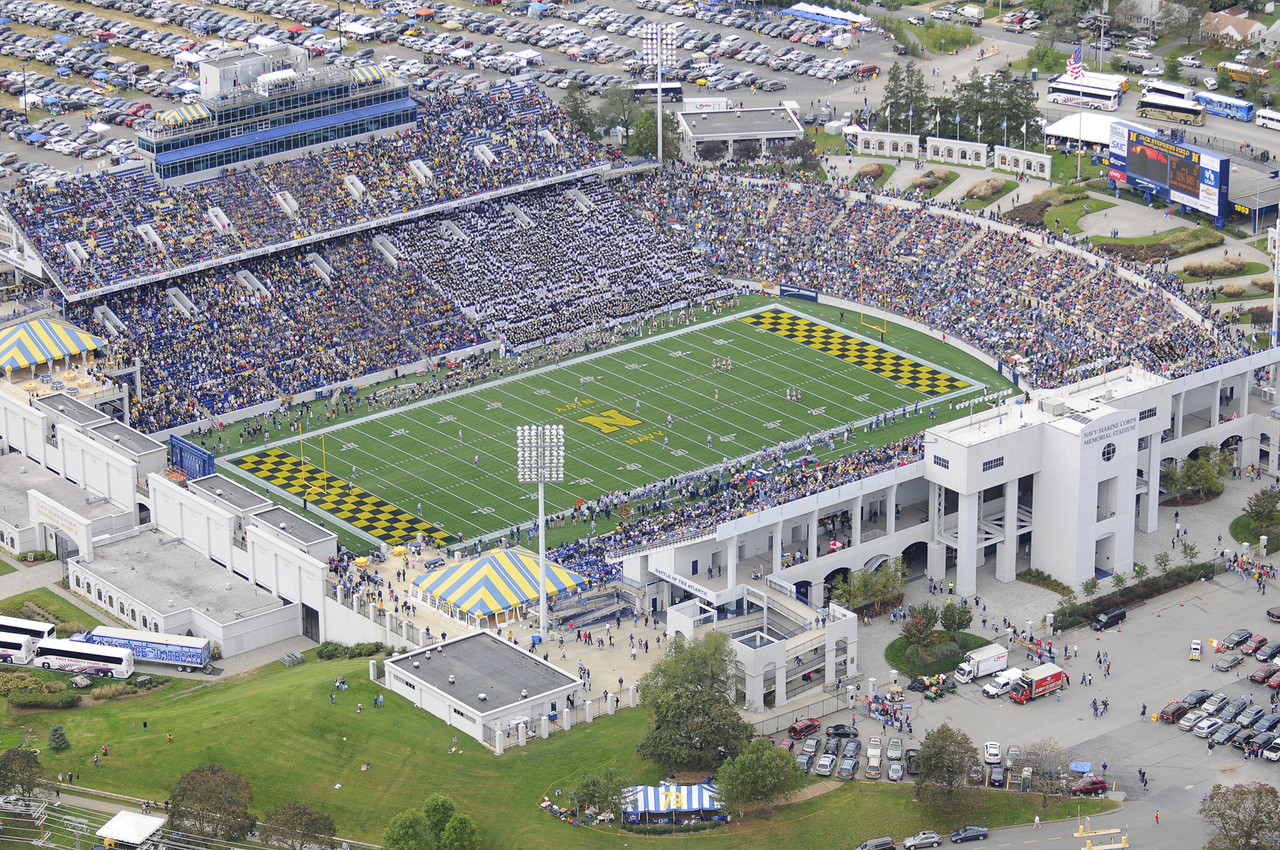 Location: Annapolis, MD
2020 Record: 3-7 (3-4)

The 2019 season saw Navy make one of the most remarkable turnarounds in college football as the Midshipmen went 11-2, capped by a blowout win against Virginia in the Military Bowl.
Navy looks for a similar turnaround in 2021 following a disappointing season in 2020 as Ken Niumatalolo's Midshipmen bring a more experienced team back for a more traditional preseason.
Three players are battling for the starting quarterback spot, but whoever wins the job will find a pair of steady receivers as WR Mychal Cooper and WR Mark Walker return.
The defense is led by All-America candidate LB Diego Fagot, who is a two-time all-conference selection.
8. East Carolina Pirates
Head coach: Mike Houston (7-14, third year)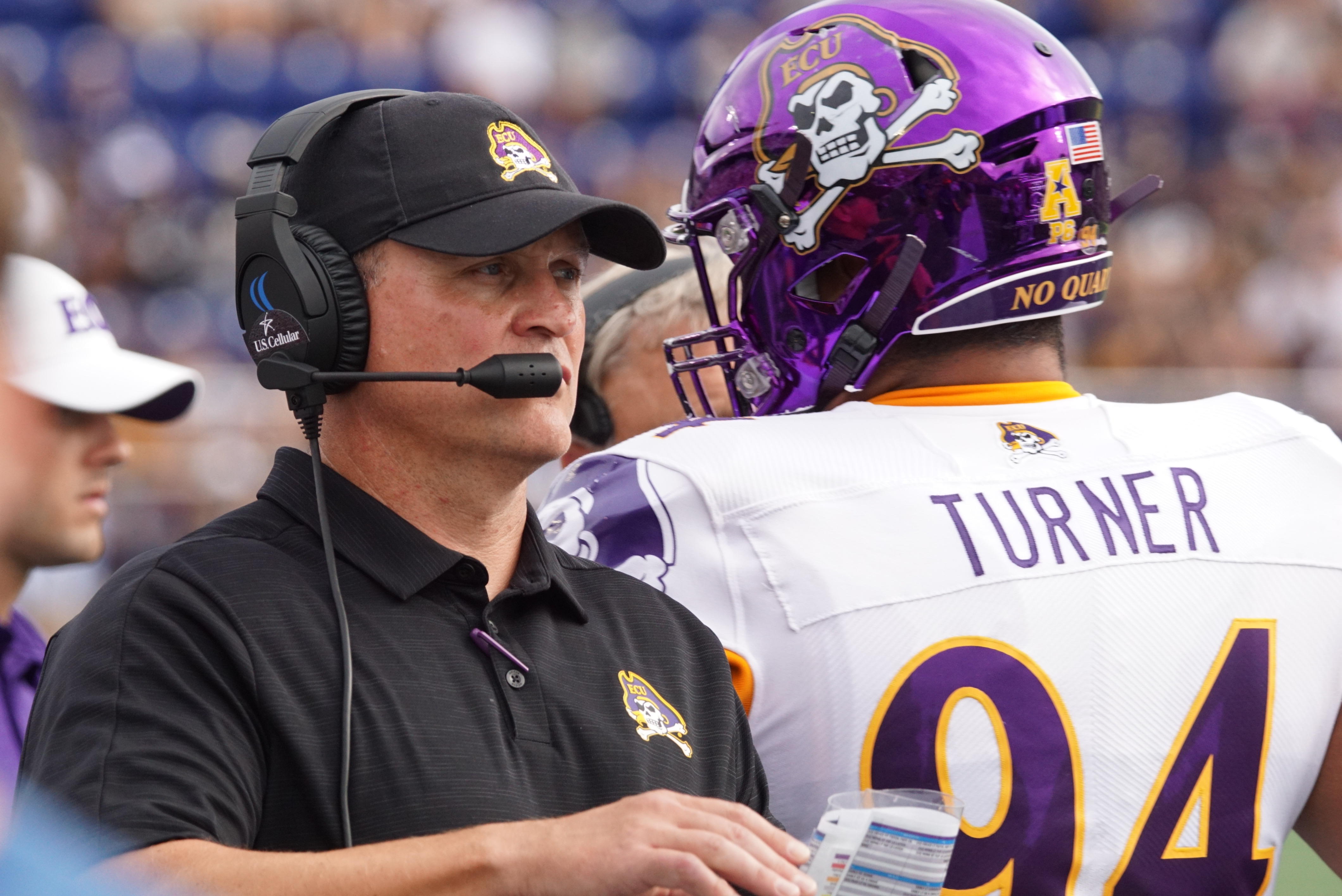 Offensive Coordinator: Donnie Kirkpatrick
Defensive Coordinator: Blake Harrell
Stadium: Dowdy-Ficklen Stadium (50,000)
Location: Greenville, NC
2020 Record: 3-6 Overall (3-5 AAC)
East Carolina had just three wins last year, but the Pirates finished the year with back-to-back victories by an average of 19.5 points, and returns of starters. ECU just might be a sleeper to finish in the top half of the AAC standings this year.
Coach Mike Houston has the pedigree behind him with a national title at FCS James Madison on his resume, as well as several other playoff appearances.
QB Holton Ahlers is a veteran who threw for 1,921 yards and 18 touchdowns in eight games last season. He is joined on offense by RB Rahjai Harris – who shared AAC Rookie of the Year honors after he rushed for 624 yards and four touchdowns – and WR Tyler Snead, who led the squad with 53 receptions to go with 524 yards and five touchdowns.

CB Ja'Quan McMillian earned all-conference honors thanks to a league-leading four interceptions.
7. Memphis Tigers
Memphis Head coach: Ryan Silverfield (8-4, second year)
Offensive Coordinator: Kevin Jones
Defensive Coordinator: Mike MacIntyre
Stadium: ​Liberty Bowl (58,325)
Location: Memphis, TN
2020 Record: 8-3 (5-3)
Memphis continued its most successful stretch in program history as the Tigers with an eight-win season in 2020. The season was capped off by Ryan Silverfield's first season as head coach with a 25-10 win against Florida Atlantic in the Montgomery Bowl.

Memphis returns 16 starters from last year, but will need to replace veteran QB Brady White, who had a school-record 10,690 passing yards in his career.
QB Grant Gunnell, a transfer from Arizona who started seven games with the Wildcats, is expected to take over under center.
The top four leading rushers from last year return, as does WR Calvin Austin III, an all-conference receiver who had 1,053 yards and 11 touchdowns in 11 games.

The defensive leader is S Quindell Johnson, who earned second-team all-conference honors and led the Tigers with 81 tackles and three interceptions.
6. Tulane Green Wave
Head coach: Willie Fritz (29-33, sixth year)
Offensive Coordinator: Chip Long
Defensive Coordinator: Chris Hampton
Stadium: ​Yulman Stadium (30,000)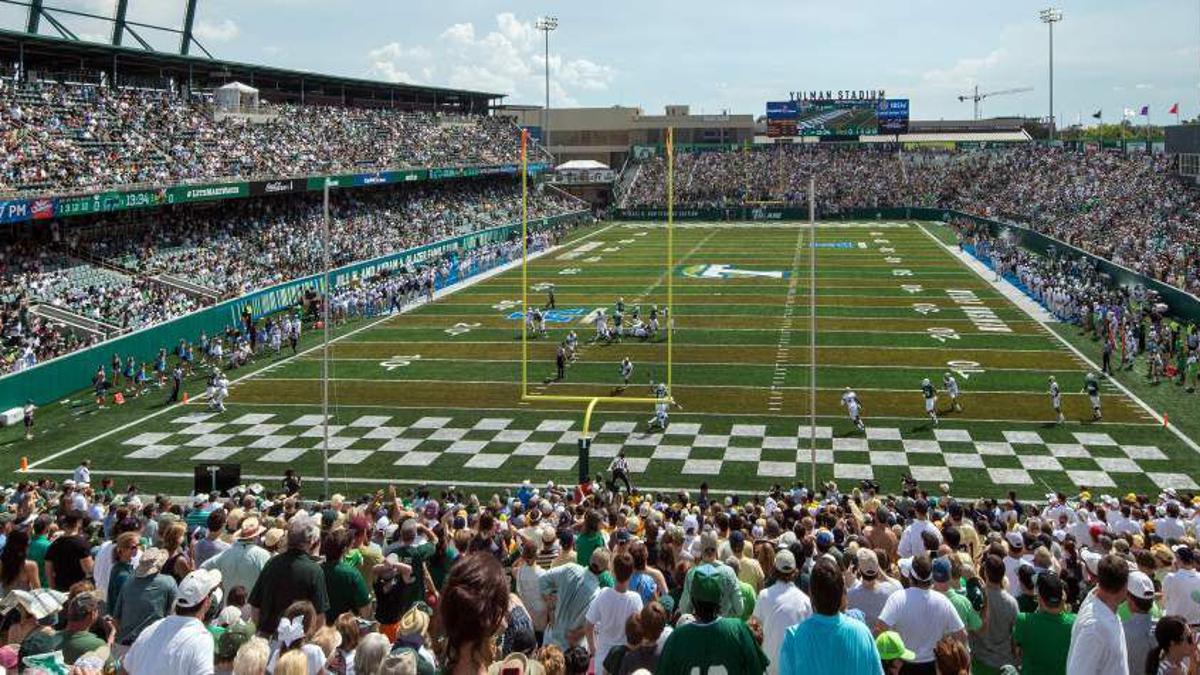 Location: New Orleans, LA
2020 Record: 6-6 (3-5)
Tulane has played in a bowl game in each of the last three seasons after the Green Wave went 6-6 during the 2020 campaign, closing the regular season with four wins in its final five games. This season was to start with a home game against Top 5 ranked Oklahoma at home but due to Hurricane Ida, the game was moved to Oklahoma's home of Norman.

Head coach Willie Fritz enters his sixth year in New Orleans with 16 returning starters from last season, including 10 on offense. The offense is led by QB Michael Pratt, who threw for 1,806 yards and 20 touchdowns as a true freshman.
RB Cameron Carroll led The American with 12 rushing touchdowns last season while RB Tyjae Spears averaged 7.4 yards per carry in three games before suffering a season-ending injury

LB Dorian Williams had 97 tackles and 15.5 TFL in 2020 as the Green Wave led The American in both tackles for loss and sacks.
5. SMU Mustangs
SMU Head coach: Sonny Dykes (22-14, fourth year)
Offensive Coordinator: A.J. Ricker/Garrett Riley
Defensive Coordinator: Jim Leavitt
Stadium: ​​​Gerald J. Ford Stadium (32,000)
Location: Dallas, TX
2020 Record: 7-3 (4-3)

SMU has gone a combined 17-6 in the last two seasons after the Mustangs finished with seven wins in 2020. The Mustangs were 7-1 to start last season, but looks to snap a two-game slide entering 2021 and the team had to withdraw from its Frisco Bowl bid last year due to COVID-19 reasons.
The Mustangs will have a new signal-caller this season as QB Tanner Mordecai, a transfer from Oklahoma, gets the nod to start the season in trying to replace departed Shane Bueschle.
RB Ulysses Bentley IV was The American's offensive rookie of the year in 2020 after he rushed for 913 yards and 11 touchdowns on 170 carries.
WR Reggie Roberson Jr. was limited to four games due to injury, but still had 22 catches for 474 yards and five touchdowns. He has made a full recovery and will look to be Mordecai's top receiving target this year.
K Blake Mazza was a Lou Groza Award finalist at Washington State in 2019 and has come to SMU as possibly the best kicker in the AAC now.
4. Tulsa Golden Hurricane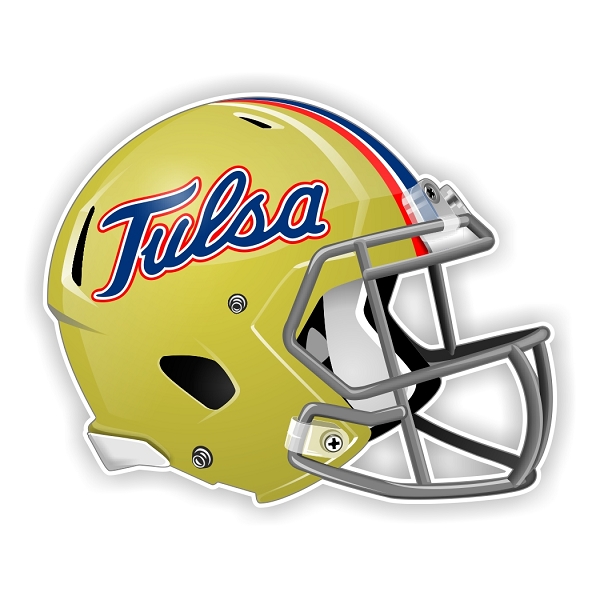 Head coach: Philip Montgomery (37-40, seventh year)
Offensive Coordinator: Philip Montgomery
Defensive Coordinator: Joseph Gillespie
Stadium: H. A. Chapman Stadium (30,000)
Location: Tulsa, OK
2020 Record: 6-3 (6-0)
Tulsa enjoyed an outstanding season in 2020 as the Golden Hurricane went 6-1 in the regular season and found its way way into The American Championship Game. Though Tulsa lost to Cincinnati and then lost in a close Armed Forces Bowl game to Mississippi State, the team still finished its best since a 10-3 mark in 2015–Coach Montgomery's second season for the Golden Hurricane.

This season, Tulsa has 18 returning starters returning. The Golden Hurricane though will have to replace the production of LB Zaven Collins, who won the Nagurski Trophy and Bednarik Award as the national defensive player of the year and NFL First Round pick of the Arizona Cardinals.

DT Jaxon Player is a returning all-conference first team pick who should keep Tulsa atop the defensive leaderboard, while QB Davis Brin s expected to take over as the Opening Day starter.

Like the defense, the offense will need to replace its leader in QB Zach Smith, who was a three-year starter. Davis Brin will be the opening day starter and has some experience. He has played in 4 career games all coming in 2020 where he completed 19-of-29 passes for 268 yards.
RB Shamari Brooks, who rushed for 1,081 yards in 2019, returns after missing all of last season with a knee injury, while WR Keylon Stokes led a deep group of receivers with 46 receptions for 644 yards and three touchdowns last year.
3. Houston Cougars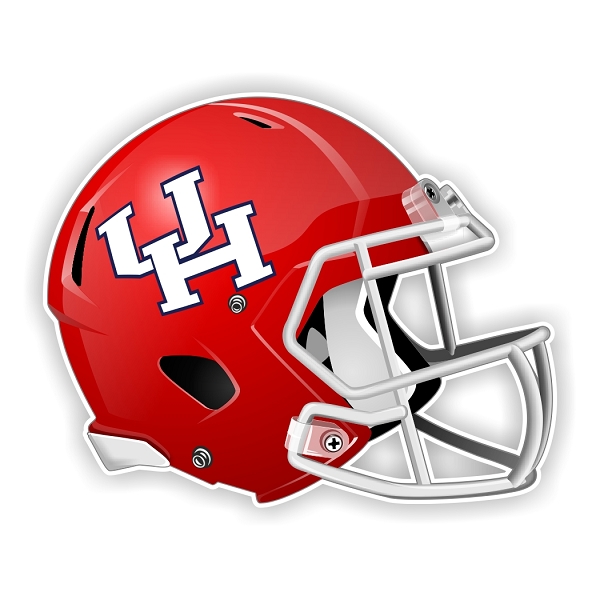 Head coach: Dana Holgorsen (7-13, third year)
Offensive Coordinators: Shannon Jones/Brandon Jones
Defensive Coordinator: Doug Belk
Stadium: TDECU Stadium (40,000)
Houston battled through an unconventional season to a three win season last year as the Cougars look to return to the form that produced winning seasons from 2013-18. The 2020 season ended with a New Mexico Bowl loss to Hawai'i.

Houston returns 18 starters from last year and expects to see a number of impact transfers in the lineup in 2021. The Cougars do not face Cincinnati or UCF — the top two teams in my predictions so this could help the Cougars within league play.

Possibly the top player for Houston is CB Marcus Jones, who earned All-America status as a return specialist last season and had four interceptions.

DE David Anenih is back after tallying 4.5 sacks and 6.5 tackles for loss – second on the team in both a year ago – and fellow DE Derek Parish was third in the categories.

QB Clayton Tune enters his third year as a starter and completed 170 of 285 passes for 2,048 yards and 15 touchdowns last season. Tune added five rushing TDs as well.

Top WR threat Marquez Stevenson is gone, and good targets Keith Corbin (Jackson State) and Tre'Von Bradley (UTSA) also have have moved on, but leading receiver Nathanial Dell is back after catching just 29 passes for 428 yards and three scores. But there should be other of talented receiving options for Tune via the transfer route. KeSean Carter is comes from Texas Tech, Seth Green arrives from Minnesota, and Jaylen Erwin left UCLA for the Cougars.
The backfield does lose leading rusher Kyle Porter is gone, but there is a wealth of potential at the RB position. Mulbah Car and Chandler Smith both saw action a year ago, while the group will be joined Texas Tech transfer Ta'Zawn Henry can play now after having to sit out last season. True freshman Alton McCaskell also could see some carries as one of Houston's highly toted recruits coming in this year.
2. UCF Knights
UCF Head coach: Gus Malzahn (0-0, first year)
Offensive Coordinators: Tim Harris, Jr./G.J Kinne
Defensive Coordinators: Travis Williams/David Gibbs
Stadium: Spectrum Stadium (44,206)
Location: Orlando, FL
2020 Record: 6-4 (5-3 AAC)

The UCF football program ushers in a new era in 2021. Head Coach Gus Malzahn comes over from Auburn and with him comes the power-spread offense. He also brings several assistant coaches that he worked with at Auburn, making the transition much easier. There will be plenty of offensive talent to score 40 points per game or more (UCF averaged 42.2 in 2020), and that's where the conversation begins about the Knights.
Heisman Trophy candidate and UCF quarterback Dillon Gabriel is one of college football's best players. He shredded defenses over the course of the last two seasons, accumulating a two year passing total of 7,223 yards, 61 touchdowns, and 11 interceptions. Gabriel also rushed for 247 yards and six touchdowns.
RB Bentavious Thompson is the likely starter in the backfield for the Knights. The senior has a wealth of experience that ran for 382 yards and five touchdowns last fall.
WR Jaylon Robinson is a speedster with the ability to take a short screen and score or get over the top of the safeties and score. He racked up receiving totals of 55 receptions, 979 yards, and six touchdowns last season. Transfers Nate Craig-Myers and Jordan Johnson should be two prime candidates to help Gabriel's passing attack. Craig-Myers played at Auburn at one time, and Johnson came over from Notre Dame after being one of the nation's most highly sought after wide receiver recruits for the class of 2020.
On defense, UCF must limit the number of big plays. Last season UCF was dreadful at stopping plays over 10 yards, and that must be turned around immediately. Newly hired Defensive Coordinator Travis Williams will bring a new look to the UCF defense. Look for a multiple defense predicated on speed and different formations to lead the way.
Upfront, DE Big Kat Bryant comes over from Auburn and the senior will be counted on to pressure the opposing quarterback. Fellow DE Tre'mon Morris-Brash is coming back for his junior season after recording three-and-a-half sacks in 2020. The interior presence will likely come from junior DT Cam Goode that registered three sacks last fall.
LB Jeremiah Jean-Baptiste could see an accelerated role as not only a linebacker, but a player that could come off the edge. Returning for his senior season will be Eriq Gilyard, who was responsible for 59 tackles and eight-and-a-half tackles for loss last season. He will likely pace the Knights in tackles this fall. Tatum Bethune also comes back for his junior year after 57 tackles and seven tackles for loss.
The secondary lost NFL talent but was still the unit that gave up the big plays. Inexperienced players must find new roles and be ready to make plays. But one returning starter in senior S Derek Gainous should provide the leadership in this group. He started four games during the 2020 season, and he was the fourth leading tackler with 46 total tackles.
1. Cincinnati Bearcats
Head coach: Luke Fickell (26-13, fourth year)
Offensive Coordinator: Mike Denbrock
Defensive Coordinator: Mike Tressel
Stadium: ​​Nippert Stadium (40,000)
Location: Cincinnati, OH
2020 Record: 9-1 (6-0)
Cincinnati has won double-digit games seven times since 2007 and they would have won 11 or 12 games (for an eighth double-digit season win total) last season if not for the COVID-shortened campaign. The team went undefeated in the regular season to get the Group of Five New Year's Six bowl bid and nearly defeated Georgia in the Peach Bowl.
The 2021 season looks like the Bearcats could breakthrough to possibly even higher level if all falls into place for this experienced team. If they win the Notre Dame and Indiana games and go undefeated in AAC play, this team deserves to be in the College Football Playoff this year.
The biggest hurdle to Cincinnati to winning the AAC has been their lack of offense. Coach Fickell had developed a stout defense but the offense was not scoring quite enough to hang with the likes of Memphis and UCF. That changed in 2020 as QB Desmond Ridder blossomed into a star and the Bearcats averaged 37.5 points per game, up from 29.6 in 2019. Ridder was named the AAC Offensive Player of the Year and could have been selected in the NFL Draft last spring if he so declared. Instead, he opted to return to school for his final season and can cement his status as the greatest Bearcat quarterback in school history. Ridder is a dual-threat player that threw for 229 yards per game and added 59.2 yards per game on the ground.
The Bearcat passing attack will be feature the tight end more than a number . Josh Whyle and Leonard Taylor are two of the top targets and Whyle will be one of the top players at the position in all of college football. The top WR should be Alec Pierce, but he was limited by a shoulder injury a season ago. Michael Young and a speedster in Tre Tucker should be the other wide out options for Ridder.
Leading RB Gerrid Doaks is gone so backup Jerome Ford is now stepping into the starting role. He was highly successful last season as the number two, averaging 6.6 yards per carry and garnering eight touchdowns so there shuld be no drop off in running production.
Possibly the biggest question mark on the whole team will be the offensive line. While the interior returns two starters, they need to replace a pair of all-conference tackles.
The Bearcat defense held opponents to 16.8 points per game and surrendered only 3.13 rushing yards per game. There are a couple of changes though as former defensive coordinator Marcus Freeman left for Notre Dame and(Mike Tressel was hired as his replacement. Also, last season's leading tackler (Jarrell White) left for the NFL.
Those changes aside, this should be a terrific defense once again. It all starts with game-changing pass rusher DE Myjai Sanders. He is likely a first-round NFL draft pick after this coming season and he anchors a strong defensive line with plenty of depth.
At linebacker, Joel Dublanko and Darrian Beavers are both back as super-seniors but the team will need to replace Jarell White (a first-team all-AAC pick last year).
Two more all-conference performers, must be replaced at safety as James Wiggins and Darrick Forrest moved on to the NFL. Bryan Cook and Ja'von Hicks will step in and both should perform nearly at the level of their prior starters. The CBs are outstanding and one of the best duos in all of college football in Coby Bryant and Ahmad Gardner. Gardner could propel himself into first-round NFL consideration and give the Bearcats a pair of top draft picks in the 2022 draft.
CSJ All-AAC 2021 Preseason Players of the Year
Offense
QB DESMOND RIDDER, SR. CINCINNATI
Defense
LB DIEGO FAGOT, SR., NAVY
Special Teams
PR MARCUS JONES, SR., HOUSTON
CSJ All-AAC 2021 Preseason Team
OFFENSE
QB Desmond Ridder, Cincinnati
RB Ulysses Bentley IV, SMU
RB Jerome Ford, Cincinnati
AP/WR Calvin Austin III, Memphis
WR Reggie Roberson, SMU
WR Jaylon Robinson, UCF
TE Josh Whyle, Cincinnati
C Sincere Haynesworth, Tulane
OL Tyler Smith, Tulsa
OL Cole Schneider, UCF
OL Dylan Parham, Memphis
OL Jaylon Thomas, SMU
DEFENSE
DL Myjai Sanders, Cincinnati
DL Jaxon Player, Tulsa
DL Morris Joseph, Memphis
DL Curtis Brooks, Cincinnati
LB Diego Fagot, Navy
LB Dorian Williams, Tulane
LB Justin Wright, Tulsa
CB Ahmad Gardner, Cincinnati
CB Marcus Jones, Houston
S Kendarin Ray, Tulsa
S Quindell Johnson, Memphis
SPECIAL TEAMS
K Blake Mazza, SMU
P Ryan Wright, Tulane
KR Tre Tucker, Cincinnati
PR Marcus Jones, Houston
Originally from LaMoure, North Dakota, Kent is a 1996 graduate of North Dakota State University. His prior writing experience is over 15 years having previously worked with D2football.com, I-AA.org, and College Sporting News before coming to College Sports Journal in 2016. His main focus is college football is the Missouri Valley Football Conference within the Division I FCS. And in 2017, he began also to look at the FBS Group of Five conferences of the American Athletic, Conference USA, Mid-American, Mountain West, and Sun Belt.
Reach him at this email or click below: