BETHLEHEM, PA. – No matter how you look at Lehigh's offensive statistics for 2019 and spring 2021, they look ugly.
The Mountain Hawks scored 15.73 points per game in 2019, and 5.3 points per game during Lehigh's winless three-game spring season. 2.4 yards per rushing attempt in 2019; 1.1 yards in the spring. In 14 games during the last two seasons, Lehigh scored 20 touchdowns. Total.
Lehigh's offensive struggles don't have one single source, but what is clear is that any success the Mountain Hawks have in 2021 will have to come from vast improvements across the board.
And that will require the offensive line to finally stay healthy, intact, and cohesive.
"We recognize that we had to make serious improvements in this area and it is evident that we are taking positive steps in our overall line play, resulting in really solid offensive production as camp moved along," head coach Tom Gilmore told me this week. "I believe that we have talent in this group and we will continue to improve with experience."
The Boys Are Finally Back In Town
It's very tempting to give Lehigh a pass on the struggles of the spring on offense, knowing that there were several games where Lehigh were one injury away from having to cancel.
In two of the spring games, Lehigh suited up with less than ten offensive linemen available, with some defensive linemen doing double duty. In their season-ending Rivalry game against Lafayette, there were only six offensive linemen that made the trip to Easton and head coach Tom Gilmore said they had to get creative just to get through practices.
The preseason Lehigh roster for the upcoming 2021 season really stands in contrast with those thin rosters of the spring, as coach Gilmore said that there was a full roster at the start of training camp, along with a large number of players that stayed in Bethlehem over the summer – which would mean sixteen offensive linemen.
Compared to a situation where six linemen made the trip to Easton in April, this is quite different.
"Like the rest of the team, the offensive line benefitted from a full summer of training," Gilmore said. "Almost the entire team was training together on campus and we made some significant gains after some setbacks over the pandemic months. We have better numbers than we've had in recent years and we've made some noticeable progress."
Gurth Brings Girth
OL Justin Gurth has started in every single game in his Lehigh career so far, whether at tackle or his natural position, center. When linemen were dropping like flies around him, the Mountain Hawks needed him desperately.
"It was definitely a challenging time," he said. "COVID didn't help at all. There were a lot of guys that had to be put on quarantine, had to miss a couple practices here or there, so there were a lot of factors out of out control that really affected everyone's play. There was still some good to come out of it, though. It forced a lot of younger guys to step up into places and be ready to play right away. So I'm excited to see those guys build on their experience in the spring and continue to grow, which is going to help us in the long run. That's something that we're excited to have back, to be healthy and ready to go."
This preseason he was named one of four team captains, and he's ready to show this Saturday.
"I know we got a challenging schedule, but I'm excited, and the guys are excited for challenge," he said "I think we've developed a lot in the weight room, working to get better every day , and we're super pumped."
Offensive Line: LFN's Analysis
LT
1. Jack Fris (Sr., 6-5, 290)
2. Renach Gena (Soph., 6-6, 285)
LG
1. Brendon Passarelli (Jr., 6-0, 310)
2. Jan Maciejewski (Sr., 6-4, 315)
C
Justin Gurth (Sr., 6-3, 300)
Charlie Aberle (Soph., 6-2, 275)
RG
George Padezanin (So., 6-3, 280)
Jackson Wiles (So., 6-1, 285)
RT
1. Jack Kempsey (Jr., 6-5, 295)
2. Christian Curatolo (Fr., 6-4, 280)
Analysis: A lot of game experience on this line – but now what's needed is more experience working together as a unit. The O line is the biggest I've seen at Lehigh in a while.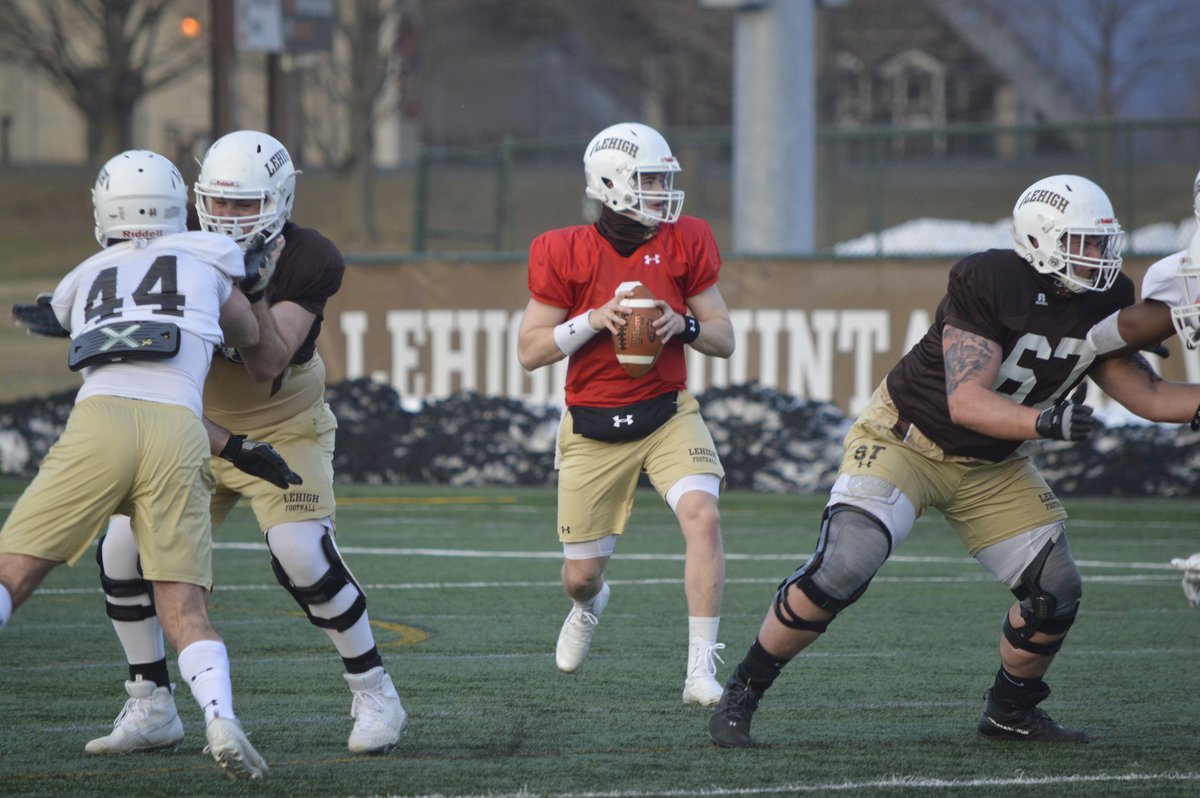 Cross Wilkinson Named the Starter
Today, QB Cross WIlkinson was named the starting QB for the Villanova game. It wasn't too much of a surprise, since the junior transfer from Toledo did start all three games in the spring. However, he was knocked out of two of them and hadn't really had any sort of experience yet in football that resembles "normal".
"Cross made some good plays in the spring and showed that he has the talent to play QB in this system," Gilmore said. "After several years of not playing in actual games before the spring, he continued to improve his timing and game instincts and has been able to build on that experience so far in this preseason. He has continued to improve throughout camp and is playing his best ball since arriving at Lehigh. He is now noticeably more comfortable in our offense and we are excited to see him in action this season."
The Wheeling, West Virginia native was a 3* QB out of high school, but didn't attempt a pas at Toledo and was planning on starting in the fall of 2020 before sports were suspended due to the COVID epidemic. He's had to wait a very long time to play anything resembling a normal season of football.
At the QB2 position there was a fierce competition between Alex Beesmer and Nigel Summerville. On this week's depth chart, Beesmer was listed as the only backup. He opted out of the 2020 Spring season, but he was the starter at the end of 2019 vs. Bucknell and Lafayette.
Three-Headed Monster At RB
The depth chart shows senior captain RB Rashawn Allen leading the way, closely followed by junior RB Zaythan Hill and a freshman transfer from Michigan (yes, that Michigan), RB Gaige Garcia. All three figure to get carries and/or receptions at different points.
Allen has been a major part of the RB rotation for the last three seasons, leading the team in the spring session with 128 rushing yards. His 49 yard touchdown run against Lafayette flashed some of the speed he has, while Hill also has shown some big-play ability as well, scoring 5 TDs in 2019.
Garcia comes from Michigan, and is a dual-sport athlete in both football and wrestling, When he got buried on the depth chart at Michigan and looked around at alternatives, the Catawissa, PA native saw Lehigh as a place where he could do both. "A perfect fit," he said.
"Our depth and talent at RB is excellent and all five of those players (including Jack Dipietro and Blake Hartman) and have made plays throughout the preseason," Gilmore said. "We have a good mixture of experience and youth in that group."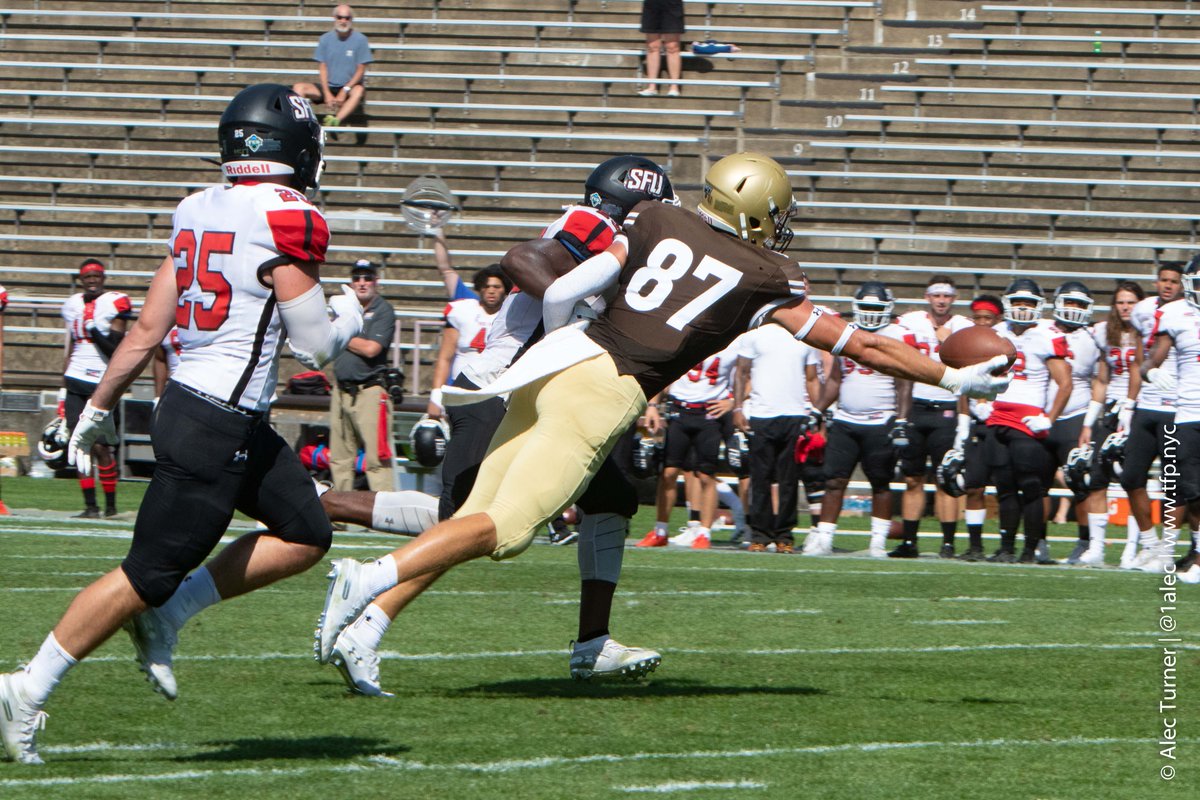 WR and TEs
"Since the end of the first week of camp, we have enjoyed a significant amount of success on offense," Gilmore said. "We also know we can improve much more as we gain experience, so the optimism is high. With the offensive line progressing and with a nice stable of talented skill players, we have the potential to be quite good."
WRs De'Shun Mickens, Johnny Foley and Eric Johnson will be the starters this weekend, along with star TE Alex Snyder. When healthy, we should see a lot of WR Jalen Burbage as well, with freshman Dajuan Field and sophomore Romello Miner as well.
They spread out the targets this spring – but didn't score any touchdowns. The only receiving touchdown during the spring came from WR Jorge Portorreal, who graduated and will be playing his final year of eligibility at Youngstown State.