Only one Ohio Valley team picked up a win last week – Jacksonville State – while everyone else lost. Of course six of the teams played FBS opponents, so those results are not too surprising. In FCS action, both Austin Peay and Southeast Missouri State lost well hyped out of conference games last week. Week three brings even more competitive non-conference games, including the game that probably got the most hype of any non-conference game over the summer.
BYE: None
Conference Game of the Week
Eastern Washington (1-1) at Jacksonville State (1-1)
Where: Burgess-Snow Field, Jacksonville, AL
When: Saturday September 14th, 4:00 pm
TV/Streaming: ESPN+ (subscription req'd)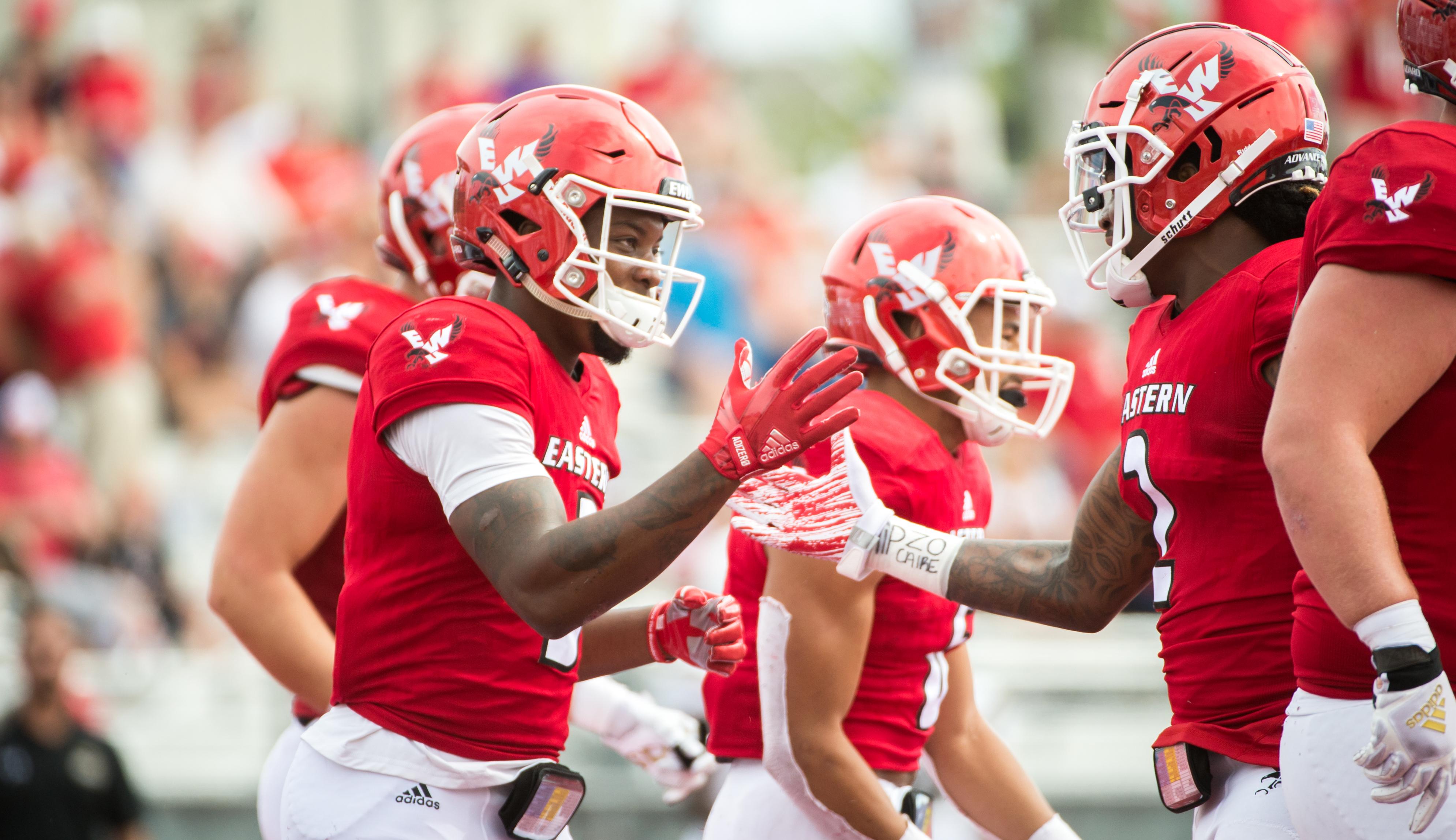 Eastern Washington Eagles
Last season's national runner up is playing their first FCS opponent of the year after losing to Washington and obliterating Lindenwood. This matchup has been circled on Eagle fans' calendars for quite some time. Dre'Sonte Dorton set a school record for receiving yards last week with 289, breaking the record previously held by Cooper Kupp. The Eagles have a potent offense as always, and the defense, though it doesn't get a lot of credit, is good as well. Coach Best couldn't have been happy giving up 31 points to a DII opponent, so you know he has been hounding that side of the ball in practice this week. They'll have to be better down in Alabama with the offensive firepower of their opponent.
Key Player: QB Eric Barriere is on the Walter Payton Award watch list for a reason. Despite being only a sophomore, he has already shown himself to be one of the best signal callers at the FCS level. He can beat teams with his arm or his legs. Barriere hasn't had to run as much in the first two games this year, but something tells me he is about to bust out in the run game this weekend. This game has all the makings of a high scoring game, a situation where Barriere thrives.
Jacksonville State Gamecocks
Jacksonville State wiped the bad taste from their opening loss with a solid win against a good Chattanooga team in week two. The offense is humming right along, but they have had a problem with inopportune turnovers at the wrong times. The Gamecocks must play a cleaner game on offense if they are going to hang with and beat a team the caliber of Eastern Washington. The most fascinating matchup in this game may be Dre'Sonte Dorton vs. the Jacksonville State secondary, led by Marlon Bridges.
Key Player: As QB Zerrick Cooper goes, so go the Gamecocks. Cooper has both dazzled and confounded his fanbase with his great, yet erratic play. Cooper is averaging 379 yards per game through the air and completing 77% of his passes. However he has thrown three awful interceptions, including one against SeLa that came back for a touchdown when the Gamecocks were diving to get back in the game. Cooper MUST be better against a top team like Eastern Washington.
Fearless Prediction: A much anticipated game, this should feature a lot of offensive fireworks. Jacksonville State is at home, but Eastern Washington protects the ball better. Eric Barriere gets the best of Zerrick Cooper. Eastern Washington 41, Jacksonville State 35
Fearless predictions for the rest of the slate
Eastern Kentucky (1-1) at Indiana State (0-2), Saturday September 14th, 1:00pm ISU Memorial Stadium, Terre Haute, IN, ESPN+ (subscription req'd)
Eastern Kentucky feels like they are ready to compete for the OVC title and playoff seed. They'll have to win this non-conference matchup first against a wounded Indiana State team that was stunned by Dayton last week. Two weeks ago ISU would have been the pick, but we are going with the Colonels here. Eastern Kentucky 27, Indiana State 19
Illinois State (1-1) at Eastern Illinois (0-2), Saturday September 14th, 3:00pm, O'Brien Field, Charleston, IL, ESPN+ (subscription req'd)
In this 108th meeting of what has been branded as the "Mid-America Classic," The Panthers don't have the talent to keep up with a Redbird team that seems destined for the playoffs. This Rivalry game won't feel too much like a Rivalry. Illinois State 37, Eastern Illinois 16
Tennessee State (1-1) vs. Jackson State (0-2), Southern Heritage Classic, Saturday September 14th, 7:00 pm, Liberty Bowl, Memphis, TN, No TV
This should be a fun HBCU "Classic" matchup against teams who appear to be fairly evenly matched. Too bad it's not being broadcast anywhere, on TV or the internet. Jackson State 20, Tennessee State 14
Austin Peay (1-1) at Mercer (2-0), Saturday September 14th, 7:00 pm, Five Star Stadium, Macon, GA, ESPN+ (subscription req'd)
Austin Peay plays its second straight big non-conference game when they travel to Mercer. The difference is, they win this one. Austin Peay 28, Mercer 27
UT Martin (1-1) at Southern Illinois (1-1), Saturday September 14th, 7:00 pm, Saluki Stadium, Carbondale, IL, ESPN+ (subscription req'd)
Will Southern Illinois have a letdown after their big win against an FBS opponent? UT Martin is hoping so which would let them escape with a win. But I'm taking the Salukis here. Southern Illinois 31, UT Martin 17
D-II Virginia-Wise (1-0) at Tennessee Tech (1-1), Saturday September 14th, 7:00pm, Tucker Stadium, Cookeville, TN, ESPN+ (subscription req'd)
Tennessee Tech pulled off a huge comeback last week against Samford. They keep it rolling against a non DI opponent this week. Tennessee Tech 57, Virginia-Wise 14
Murray State (1-1) at FBS Toledo (0-1), Saturday September 14, 7:00 pm, Glass Bowl Stadium, Toledo, OH, ESPN3 (subscription req'd)
Murray State doesn't have much of a shot against an FBS opponent. Toledo 40, Murray State 15
Southeast Missouri State (1-1) at FBS Missouri (1-1), Saturday September 14th , 7:30pm, Memorial Stadium, SEC Network Alternate, Watch ESPN App (cable subscription req'd)
The Redhawks should hang with the Tigers for a half, but they'll fall behind in the second half. Missouri 51, Southeast Missouri State 14
Jamie is a proud 2002 graduate of James Madison University. He's witnessed the growth of the program from no one in the stands in 1998, to the hiring of Mickey Matthews, to the 2004 National Championship, to the 2008 team, to the struggles in the early 2010s, and finally the rebuild under Mike Houston. He also allegedly really enjoys Washington, DC-based Stanley Cup winners.
Reach him at: