As the 2019 regular season continues to wind down and the hunt for a playoff spot heats up two of the Ohio Valley Conference's best teams take to the gridiron Saturday in the Show-Me State. League-leader UT Martin, undefeated in four conference games, hits the road to take on No. 24-ranked Southeast Missouri State at Houck Stadium in Cape Girardeau. It is the best conference start since 2006, when the Skyhawks won their only OVC championship.
It will the first of three straight games for the Skyhawks that will factor heavily in determining the OVC champion this season and which school(s) will represent the conference in the FCS playoffs. UT Martin takes on Jacksonville State and Austin Peay over the next two weekends. The Gamecocks are currently two games off the pace in the conference standings, while the Governors sit one game behind heading into Saturday's play. A win by SEMO positions the Redhawks nicely as their remaining conference foes currently have a combined 5-10 conference record.
BYE: Tennessee State (2-6, 1-3)
Conference Game of the Week:
UT Martin (5-2, 4-0) at Southeast Missouri State (4-3, 2-1)
Where: Houck Stadium, Cape Girardeau, Mo.
When: Saturday, October 26th , 1 PM.
TV/Streaming: ESPN+ (subscription req'd)
UT Martin Skyhawks
UT Martin, which opened the season with just one win in the first three games, enters Saturday's game on a four-game winning streak and has not been seriously challenged in winning all four against conference opponents.
The Skyhawks distribute the ball nicely, averaging 150.6 yards per game on the ground and 202.9 yards through the air this season. The defense is yielding 383.1 per game this season, with just 123.6 of those on the ground.
Key Players: QB John Bachus has turned in a workmanlike performance this season. He has completed 103-of-170 passes for 1,361 yards and 10 touchdowns for the Skyhawks. He has thrown just four interceptions on the year. Bachus has added 126 yards rushing on 56 rushing attempts and has scored a pair of TDs. His two favorite receivers have been Colton Dowell and Terry Williams, who have combined for 43 receptions and 581 yards. Dowell leads that tandem with 323 yards on 18 catches (17.9 ypc) and three touchdowns. Williams, meanwhile, has hauled in a team-leading 25 passes for 258 yards (10.3 ypc) and one scoring strike. The ground attack is paced by Peyton Logan, who has carried 83 times for 639 yards (7.7 ypc) and six touchdowns. He is averaging 91.3 yards per outing this season for the Skyhawks. If there is an area of concern that could play heavily into determining Saturday's outcome it could be the protection Bachus receives from his offensive line. He has already been sacked 18 times season. On the other side of the ball the Skyhawks will have to figure out how to limit the touches for SEMO standout receiver Kristian Wilkerson.
Southeast Missouri State Redhawks
The Redhawks look to capitalize on home-field advantage and knock the Skyhawks out of the top spot in the OVC standings and a win will certainly put SEMO in the driver's seat heading into the final weeks of the regular season.
Key Players: QB Daniel Santacaterina looks to go to the air often against the Skyhawks and take advantage of the talent of teammate Kristian Wilkerson. Santacaterina has thrown for 1,299 yards and 11 touchdowns this season. He has completed 88-of-173 passes and is averaging 185.6 yards per contest through the air. Wilkerson, who was voted the OVC offensive player of the week for his efforts in the Redhawks' win over Jacksonville State last weekend, leads the team with 30 catches for 684 yards and six touchdowns. He surpassed the 100-yard receiving plateau for the fourth time this season in the win over the Gamecocks and now has 10 such games in his career. His two touchdowns last weekend increased his career total to 29, sixth most in OVC history and just six off the conference record. SEMO has three players with significant numbers in the running game this season. Zion Curtis leads the way with 88 carries for 419 yards (4.8 ypc) and three touchdowns, while Geno Hess and Mark Robinson have combined for 697 additional yards. Hess tops that tandem with 70 carries for 369 yards (5.3 ypc) and Robinson is right behind with 69 rushes for 328 yards (4.8 ypc). Robinson has found the end zone six times for the Redhawks, while Hess has scored four times.
Fearless Prediction: With so much at stake for both teams: Southeast Missouri 24, UT Martin 21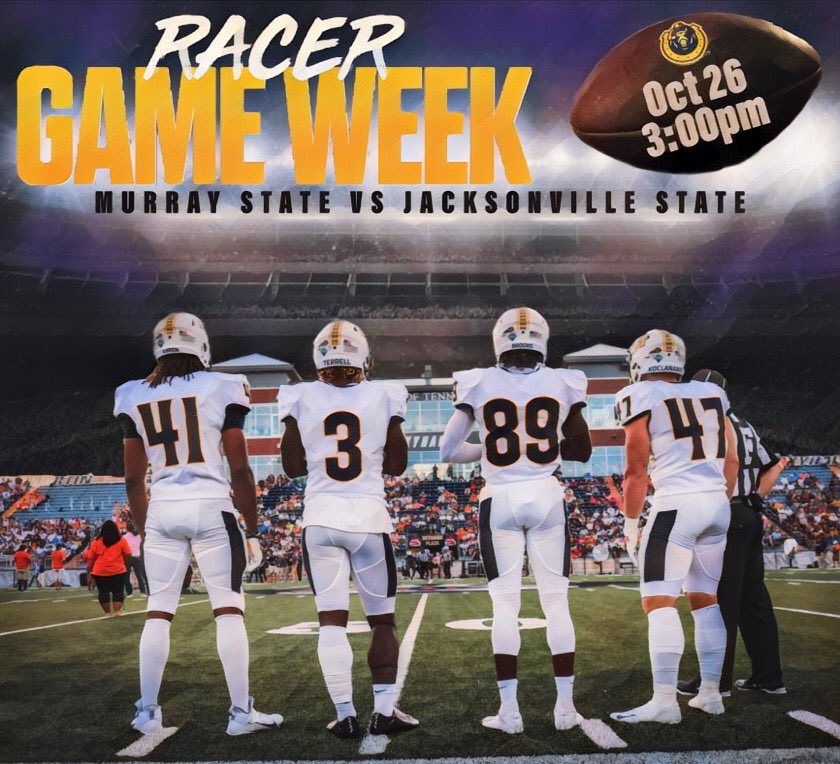 Fearless predictions for the rest of the slate
Murray State (4-4, 2-2) at Jacksonville State (5-3, 2-2)
Where: Burgess-Snow Stadium, Jacksonville, Ala.
When: Saturday, Oct. 26, 3 p.m.
TV/Streaming: ESPN College Extra, ESPN3 (cable subscription req'd)
The Racers and Gamecocks are in the same predicament: a loss on Saturday and any postseason hopes are certain to go by the wayside. And history favors JSU in this one.
The two teams have met 16 times over the years and Jacksonville State has won 14 of those matchups, the most recent, a 35-35 overtime contest in 2013. QB Zerrick Cooper and receiver Josh Pearson should have a big day on offense for the Gamecocks. Jacksonville State 35, Murray State 24
Austin Peay (4-3, 2-1) at Tennessee Tech (4-3, 1-2)
Where: Tucker Stadium, Cookeville, Tenn.
When: Saturday, Oct. 26, 1:30 p.m.
TV/Streaming: ESPN+ (subscription req'd)
Austin Peay looks to rebound from last week's disappointing loss to Tennessee State and remain in the hunt for the OVC title when the Governors travel to take on Tennessee Tech. The AP defense has a chance to make a statement against the Golden Eagles, especially on the ground where TTU manages just 82.9 yards per game. Austin Peay 34, Tennessee Tech 21
Eastern Kentucky (4-3, 2-1) at Eastern Illinois (0-8, 0-4)
Where: O'Brien Field, Charleston, Ill.
When: Saturday, Oct. 26, 2 p.m.
TV/Streaming: ESPN+ (subscription req'd)
With key conference tilts looming on the horizon Eastern Kentucky can ill-afford to look past winless Eastern Illinois if the Colonels harbor any hope of advancing to the postseason. A win over the Panthers would give EKU a 3-1 conference record and prepare the Colonels for key matchups against Austin Peay and Southeast Missouri State over the next two weekends.
Eastern Kentucky 31, Eastern Illinois 15.
A native of Bismarck, N.D., Ray is a graduate of North Dakota State University where he began studying athletic training and served as a student trainer for several Bison teams including swimming, wrestling and baseball and was a trainer at the 1979 NCAA national track and field championship meet at the University of Illinois. Ray later worked in the sports information office at NDSU. Following his graduation from NDSU he spent five years in the sports information office at Missouri Western State University and one year in the sports information at Georgia Tech. He has nearly 40 years of writing experience as a sports editor at several newspapers and has received numerous awards for his writing over the years. A noted sports historian, Ray is currently an assistant editor at Amateur Wrestling News.