College Sports Journal Ohio Valley Conference Previews, How To Watch: Week of 11/23/2019
Formed all the way back in 1948, the Ohio Valley Conference has long been among the top conferences in college football and has crowned two national champions in what is now known as the Football Championship Subdivision, or 1-AA for oldtimers, or to use the current vernacular, Boomers.
Eastern Kentucky, under the leadership of legendary coach Roy Kidd, claimed top national honors in 1979 and in 1982. EKU is one of nine schools to win at least two national crowns since the formation of the division in 1978.
So balanced has the conference been over the years that 12 times there has been at least two teams that have shared the conference title. This year could possibly make it 13 as Austin Peay and Southeast Missouri head into the final week of the regular season with identical 6-1 records in OVC play. Both are expected to be selected to play in the FCS playoff when the field is announced on Sunday.
There is still plenty to sort out as the placement and destinations for both teams remains up in the air.
If the Governors defeat Eastern Illinois on Saturday, they will assure themselves of the conference's automatic bid by virtue of their narrow 28-24 win over SEMO earlier this year. A loss to the Panthers opens the door for SEMO to claim the top spot.
The Redhawks can still claim a share of the OVC with a win over Murray State. They can win outright and receive the automatic bid with a win and an Austin Peay loss. If both AP and SEMO lose, that would elevate UT Martin into a tie for the league championship as all three teams would have identical records of 6-2 in conference play. Both of the losses by the Skyhawks have come against the current league leaders so they would be unable to earn the automatic bid and would have to rely on plenty of dominoes to fall into place in order to see their season continue past Saturday.
Hey, remember, it's the Ohio Valley Conference after all.
Whichever team does emerge as the league champion will see a title drought come to a close.
The Governors, who are seeking just the second OVC title in school history and first since way back in 1977. SEMO, meanwhile, is also seeking a second title in school history. The last time the Redhawks finished as conference champion was in 2010. UT Martin has also won just one OVC title in school history when the Skyhawks finished atop the standings in 2006.
Let's not forget, all of the other OVC schools also close out their seasons this weekend. Eastern Kentucky, which is currently sitting in fourth place in the league with a 4-3 record, plays at Jacksonville State, while Tennessee Tech plays at home against Tennessee State. The Gamecocks and Golden Eagles share the fifth-place spot in the standing with 3-4 records. UT Martin, which completed its conference schedule last week, plays at Southeastern Conference member Kentucky on Saturday.
Conference Game of the Week:
Murray State (4-7, 2-5) at Southeast Missouri (8-3, 6-1)
Where: Houck Field, Cape Girardeau, Mo.
When: Saturday, Nov. 23, 1 PM.
TV/Streaming: ESPN+ (subscription req'd)
One tends to believe that when two teams with similar offensive numbers and defensive statistics match up, anything can happen. Remember though, this is the Ohio Valley Conference where anything seems to always happen no matter what the statistics have to say.
Adding to the drama is the fact that so much is on the line when the Racers take on the Redhawks in a game that will go along way in determining the OVC's footprint in the upcoming FCS playoffs.
Murray State Racers
Midway through any season, with hopes aplenty, nearly every team envisions a strong finish as it bids for a conference championship and a chance to advance to the postseason. Murray State was one of those teams. But things went south as the Racers dropped four straight conference games to fall out of the OVC race.
MSU can earn a consolation prize, of sorts, by playing the roll of spoiler against Southeast Missouri, which dropped a narrow 40-38 decision to the Racers a year ago in Murray.
The Racers enter the game averaging 22.7 points per game, while the SEMO defense is allowing slightly more (25.1). SEMO figures to have a slight edge in the rushing game, averaging 42 more yards per contest than the Racers, who offset that with almost 60 yards more per game than the Redhawks.
Key players: QB Preston Rice likes filling the sky with footballs. One of the most efficient passers in the OVC, Rice has completed nearly 63 percent of his passes (247-394) for 2,648 yards and 18 touchdowns this season. One downside to his passing is that he has been intercepted 12 times this season. Rice has also accounted for 308 rushing yards, second on the team, on 118 carries (2.6 ypc) and one additional score.
Jared McCray paces the Racers with 382 yards rushing yards on 63 carries, an impressive 6.1 yards per carry, and four touchdowns. Taking McCray and Rice out of the statistical equation leaves little for the Racers to bank on. The rest of the team has combined for 175 carries and just 677 yards this season. A total of 16 other players have carried the ball for MSU this season.
LaMartez Brooks leads the Racers with 43 catches on the season for 793 yards and six touchdowns. His 18.4 yards average per catch is among the best in the OVC this season. But the productions falls off from there. DaQuon Green has caught 24 passes for 379 yards (15.8 ypc) and teammate Jacob Bell has 20 receptions for 305 yards (15.2 ypc). McCray has chipped in with 29 catches out of the backfield for 189 yards.
Southeast Missouri Redhawks
Plenty of spectators in Cape Girardeau will be multi-tasking on Saturday. Their eyes and ears will be on what is taking place 175 miles, even fewer as the crow flies, away in Clarksville, Tenn. while they await the outcome of what is transpiring in front of them in Houck Stadium.
In the end, their anxiety should be for naught, and it will be time to celebrate.
Southeast Missouri comes into Saturday's pivotal game riding a five-game winning streak and a sixth straight triumph is there for the taking by taking the game plan to heart.
The Redhawks, with so much at stake, should figure to take advantage of the homefield advantage and make a statement as they hopefully head into postseason play with a win over the Racers.
Key players: Daniel Santacaterina enters the game with 2,151 passing yards after completing 155 of his 285 attempts this season. He has thrown for 15 touchdowns, a respectable number, by any standard, but has also been intercepted 11 times in 11 games.
Santacaterina enjoys passing the ball to Kristian Wilkerson. And why not? Wilkerson is one of the top pass catchers in the nation after hauling in 55 passes for 1,149 yards (20.7 ypc) and nine touchdowns already this season for the Redhawks. Eastern Illinois did a nice job in limiting him to just four receptions for 56 yards last week in SEMO's 26-12 win against the Panthers. Don't expect Wilkerson to be held in check like that for a second consecutive week. Aaron Alston has added 602 receiving yards on 41 receptions this season, giving the SEMO signal caller and added weapon and taking some of the attention off Wilkerson by opposing secondaries.
SEMO counters the Racers by having three players who have combined to rush for more than 1,500 yards this season. Geno Hess leads that trio with 575 yards on 102 carries (5.6 ypc) and six touchdowns and teammates Zion Curtis and Mark Robinson have chipped in with 549 and 467 yards, respectively, heading into Saturday's finale. Curtis (five touchdowns) has carried a team-high 119 times and is averaging 4.6 ypc, while Robinson is averaging the same 4.6 yards on 102 carries. Robinson leads that group with seven touchdowns on the season for the Redhawks.
If this game is close down the stretch, SEMO's Kendrick Tiller could prove to be a difference maker. The junior kicker has kicked 13 field goals (18 attempts) this season. He is almost perfect from within 40 yards (11-12), but has struggled from outside that range by connecting on just two of six from beyond 40, one of those a 55-yarder earlier this season against Montana State.
With so much at stake, and the Redhawks being at home … and everything else: Southeast Missouri 35, Murray State 21.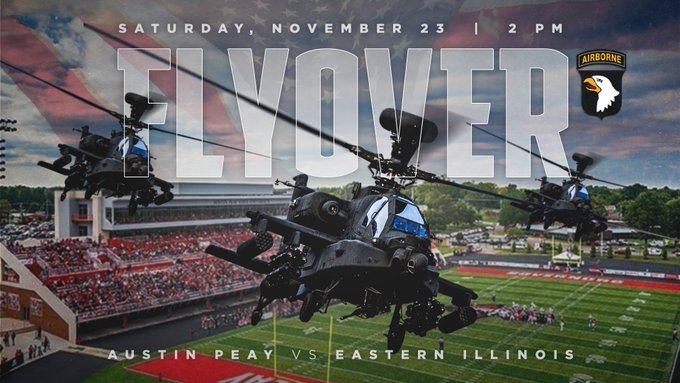 Fearless predictions for the rest of the slate
Eastern Illinois (1-10, 1-6) at Austin Peay (8-3, 6-1)
Where: Fortera Stadium, Clarksville, Tenn.
When: Saturday, Nov. 23, 2 p.m.
TV/Streaming: ESPN+ (subscription req'd)
Austin Peay needs to stay far, far away from any crystal balls or anyone associated with tarot cards and keep focused on the task at hand. The Governors simply cannot afford to look past Saturday and their game against Eastern Illinois.
Nothing, really, hangs in the balance: just a rare OVC championship and a trip to the FCS playoffs.
AP should have little trouble in making that a reality as they face a Panther team that allows just under 30 points per game, while managing to score just 15.5 points per contest. Once the lead is secure, look for plenty of new faces to get some important reps for the Governors as they prepare for a playoff run. Austin Peay 31, Eastern Illinois 18.
Eastern Kentucky (6-5, 4-3) at Jacksonville State (6-5, 3-4)
Where: Burgess-Snow Field at JSU Stadium, Jacksonville, Ala.
When: Saturday, Nov. 23, 1 p.m.
TV/Streaming: ESPN3 (cable subscription req'd)
Jacksonville State was once the kingpins of the OVC as the Gamecocks reeled off five straight conference titles before having that streak snapped earlier this year. And along with the championship streak being halted, any playoff hopes also ended as JSU has lost its last two games heading into this weekend's season finale against the Colonels. EKU, meanwhile, also found itself in the title hunt earlier this season, only to see those hopes fade away with back-to-back losses to Austin Peay (28-21 in overtime) and Southeast Missouri (38-31). The Colonels should prevail: Eastern Kentucky 34, Jacksonville State 32.
Tennessee State (2-8, 1-6) at Tennessee Tech (6-5, 3-4)
Where: Tucker Stadium, Cookeville, Tenn.
When: Saturday, Nov. 23, 1:30 p.m.
TV/Streaming: ESPN+ (subscription req'd)
There will be no postseason for Tennessee State or Tennessee Tech when the two teams take the field on Saturday at Tucker Stadium. That doesn't mean the game is void of any importance. Pride and bragging rights will be on the line when the two teams meet for the 33rd time. TSU, which holds a 19-13 edge in the all-times series, enters the game on a three-game losing streak, while the Golden Eagles had their modest two-game winning streak snapped last weekend in a 22-10 loss at Eastern Kentucky. This one goes the way of TTU: Tennessee Tech 31, Tennessee State 23.
UT Martin (7-4, 6-2) at Kentucky (5-5, 3-5 SEC)
Where: Kroger Field, Lexington, Ken.
When: Saturday, Nov. 23, 3:30 p.m.
TV/Streaming: SEC Network
With its postseason life hanging in the balance, a UT Martin win over Kentucky would likely be enough to sway the voters into giving the Skyhawks a shot at continuing its season. Kentucky also has plenty to play for. A win over UT Martin, or a win in the season finale next week against Louisville, would make the Wildcats bowl eligible for the fourth straight season. The odds favor Kentucky as the Skyhawks have not defeated an FBS opponent in coach Jason Simpson's tenure at UT Martin. Don't expect a repeat of Kentucky's 59-14 blowout of the Skyhawks in the 2014 season opener in the only previous meeting between the two schools. Kentucky 31, UT Martin 21.
A native of Bismarck, N.D., Ray is a graduate of North Dakota State University where he began studying athletic training and served as a student trainer for several Bison teams including swimming, wrestling and baseball and was a trainer at the 1979 NCAA national track and field championship meet at the University of Illinois. Ray later worked in the sports information office at NDSU. Following his graduation from NDSU he spent five years in the sports information office at Missouri Western State University and one year in the sports information at Georgia Tech. He has nearly 40 years of writing experience as a sports editor at several newspapers and has received numerous awards for his writing over the years. A noted sports historian, Ray is currently an assistant editor at Amateur Wrestling News.