Clemson vs. LSU (Sugar Bowl)
When: Monday, January 13th, 8:00 PM EST
Where: Mercedes Benz Superdome, New Orleans, Louisiana
TV/Streaming: ESPN, WatchESPN (subscription req'd)
Clemson (1st ACC, 14-0, 9-0)
The Clemson Tigers will attempt to earn their second straight title and their third championship in four years on Monday, Jan. 13, when they face the LSU Tigers in the College Football Playoff National Championship. Kickoff at Mercedes-Benz Superdome is set for 8 p.m. ET.
Another Clemson championship would be Clemson's fourth football title in school history, joining the 1981, 2016 and 2018 squads.
Clemson enters the contest coming off of a thrilling semifinal performance in which the Tigers overcame a 16-0 first-half deficit to earn a 29-23 victory against No. 2 Ohio State in the Fiesta Bowl. The victory was Clemson's fifth-largest comeback in school history, the second-largest under Head Coach Dabo Swinney and its largest in postseason play.
Ohio State outgained Clemson by 99 yards, snapping a streak of 28 consecutive games in which Clemson had outgained its opponent. The 28-game streak was Clemson's longest on record, far surpassing a 16-game streak across the 1959-60 seasons. The victory was Clemson's first in a game in which it was outgained since 2017 in a 38-31 victory against NC State in which
Clemson was outgained by 76 yards.
Clemson has made a bowl appearance for the 15th consecutive year, adding to its current school record that began in 2005. In total, it will be Clemson's 46th bowl appearance, with the Tigers entering their upcoming bowl schedule with an existing 25-20 all-time record in bowl play.
Key Player: QB Trevor Lawrence entered 2019 bowl season having completed 491-of-734 career passes for 6,452 yards with 64 touchdowns and 12 interceptions in 1,474 snaps in 28 career games (24 starts) … also entered the bowl season with 584 rushing yards and eight rushing touchdowns on 137 career carries … a year earlier, started the final 11 games in 2018 as a true freshman in helping Clemson become the first major college football team in the modern era to go 15-0 … helped the squad win each of its last 10 games by 20 points or more.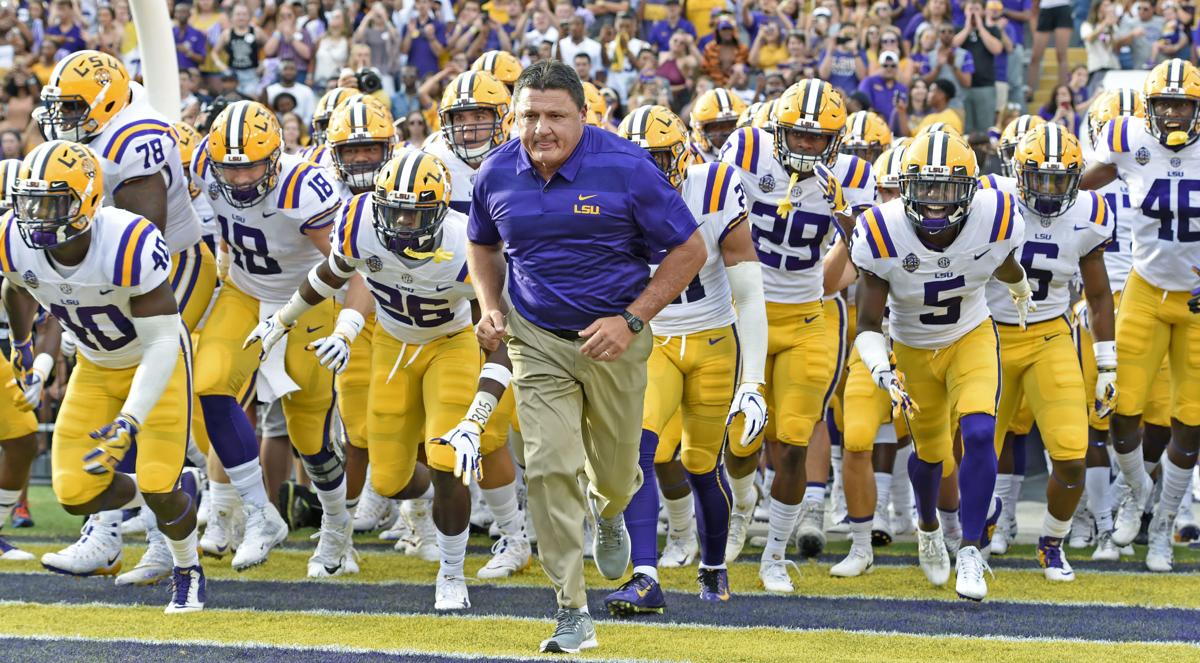 LSU Tigers (1st SEC West, 14-0, 8-0 SEC)
The Tigers were dominant all season and got here by winning the SEC Crown by defeating Georgia and by boat racing Oklahoma in the CFP Semifinal. Coach Ed Orgeron has put together a team that has been very good on both sides of the ball.
LSU averaged 47.8 points a game and a whopping 7.8 yards a snap and led by Heisman winner in QB Joe Burrow. The senior is second in the country in passing yards (4,715), first in completion percentage (77.9) and first in passing touchdowns (48). LSU is No. 1 in total offense (554.4).
The Tigers were solid on defense once again as this has been the strong side of the ball in past years as well. Under the direction of coordinator Dave Aranda, LSU is holding teams to just 21.2 points a game.
LSU has competed in 51 bowl games (with 50 being sanctioned by the NCAA) in its history, going 26–23–1 in NCAA sanctioned bowl games. The Tigers have played in 19 straight bowl games since 2000, the fourth longest active streak in the NCAA and second longest in the SEC.
Key Player: QB Joe Burrow threw for 4,715 yards and 48 touchdowns to just six interceptions this season as he thrived in the more spread offensive sets. Burrow connected on 77.9 percent of his throws and torched some of college football's best defenses (Florida, Auburn, Alabama and Georgia). Stardom is something he's been able manage well in the SEC title game and the CFP semifinal, but the stages just keep getting bigger and bigger. He will need to show his Heisman poise and also avoid turnovers, which could be killer against Clemson.
Fearless Predictions:
Chuck: Like the FCS Championship game this year, there is zero doubt that the two best college football teams in the subdivision are playing for the College Football Championship. There's also little doubt that these two teams are very, very evenly matched. The X factor could be that LSU is essentially playing a home game in the Mercedes-Benz Superdome. Be prepared for as much Ed Orgeron as you can stand this offseason as "Burreaux" and LSU find a way to win. LSU 49, Clemson 41
Jamie: Ths should be an excellent game. But if tonight is anything like this weekend, its not good to be wearing purple. Clemson 37, LSU 35
Ben: This is the battle of the titans in my opinion. Other than some scheme and size mismatches I don't see many teams outside of each other as worthy opponents. LSU is a machine that plug and plays athletes where they are needed to be successful. Clemson is a group of incredibly talented playmakers. Joe Burrow may be the next all-star, but I think he needs to win this game to cement his place in LSU history and going into the NFL process. While he could be as hot as everyone says Trevor Lawrence is a comeback king. His record since high school is a resounding 70+ wins and two losses. I'm not betting against Trevor Lawrence for America's sweetheart. Clemson 49, LSU 45