Louisiana Tech vs. Miami (Walk On's Independence Bowl)
When: Thursday, December 26th, 3 PM CST
Where: Independence Bowl, Shreveport, La.
TV/Streaming: ESPN
Independence Bowl History
The first Independence Bowl was played in 1977 and saw Louisiana Tech defeat Louisville 24-14. Louisville returned the following season and dropped a 35-13 decision to East Carolina. Louisiana Tech also appeared in two other Independence Bowls, a 34-34 tie against Maryland in 1990 and a 17-10 win over Northern Illinois in 2008. This year marks La Tech's fifth appearance in the game, which matches Ole Miss for the most Independence Bowl appearances in history.
Miami, meanwhile, is appearing is appearing in a bowl game for the 41st time in school history, but just its second trip to the Independence Bowl. The Hurricanes lost to South Carolina 24-21 in the 2014 game.
Louisiana Tech Bulldogs (9-3 Overall, 6-2 C-USA)
Bowl History: Louisiana Tech has played in 11 previous bowl games and has a 7-3-1 record in those games heading into the game against Miami. The Bulldogs are on a five-game winning streak in bowl games dating back to 2014 when they defeated Illinois 35-18 in the Heart of Dallas Bowl.
Coach: Coach Holtz, no, not that one, the other Coach Holtz. Skip Holtz is in his seventh year as coach at Louisiana Tech and has elevated La Tech to one of the top programs in Conference USA.
A year ago he guided the Bulldogs to bowl eligibility for a fifth straight season, a feat no other C-USA team had achieved in that span and joined Wisconsin as the only two teams in the nation to win five consecutive bowl games from 2014 to 2018.
The son of legendary coach Lou Holtz, he was the coach at South Florida for three seasons and spent time at the helm of Connecticut and East Carolina. His ECU teams won back-to-back Conference USA championships in 2008-09.
2019 Season: Louisiana Tech opened the season with a 45-14 loss to Texas before reeling off eight straight wins and establishing themselves as one of the top teams in Conference USA. Back-to-back losses to Marshall (31-10) and UAB (20-14), followed by a convincing win over Texas-Antonio (41-27) allowed the Bulldogs to finish tied with UAB atop the C-USA West standings with 6-2 records.
2019 Bulldogs: Louisiana Tech relies heavily on its passing game where the Bulldogs have averaged 277.3 yards per game this season. The rushing offense has chipped in with 167.9 yards per game to help the Bulldogs put points on the board at a 34.0 per game clip, which explains plenty in looking at the gaudy 9-3 overall record.
Key Players: J'Mar Smith (6-1, 218), a redshirt senior, paces the La Tech offense from his quarterback position. He has completed 223 of 331 passes this season for 2,814 yards and 17 touchdowns. He has been intercepted just four times on the year.
In keeping with Holtz's high-power passing offense, the Bulldogs have three receivers who have at least 500 receiving yards this season. That group is paced by Malik Stanley (6-3, 212), a redshirt senior, who has 37 catches for 574 yards and three touchdowns. Teammate Adrian Hardy (6-2, 200) has added 41 catches for 525 yards and one touchdown. He is a redshirt junior. Griffin Hebert (6-3, 217) had added 511 yards on 28 catches, six of which have resulted in scores for the Bulldogs. Hebert is a redshirt sophomore.
The running attack is fueled by Justin Henderson (5-10, 218), who has gained 967 yards on 166 carries (5.8 ypc) and has 15 TDs to his credit on the year.
The defense is led by a quartet of standouts. L'Jarius Sneed (6-1, 193), a senior, leads the team in tackles with 72 (42 solo) from his safety position. His defensive backfield mate Amik Robertson (5-9, 183) has added 60 (44 solo) tackles of his own. That tandem has also combined for eight interceptions, with Robertson lead the way with five picks.
Linebackers Connor Taylor (6-0, 223) and Collin Scott (6-0, 231) rank second and third, respectively, on the team in tackles. Taylor, a senior, has 66 (34 solo) tackles, while Scott, a redshirt senior, has chipped in with 64 (20 solo) stops of his own.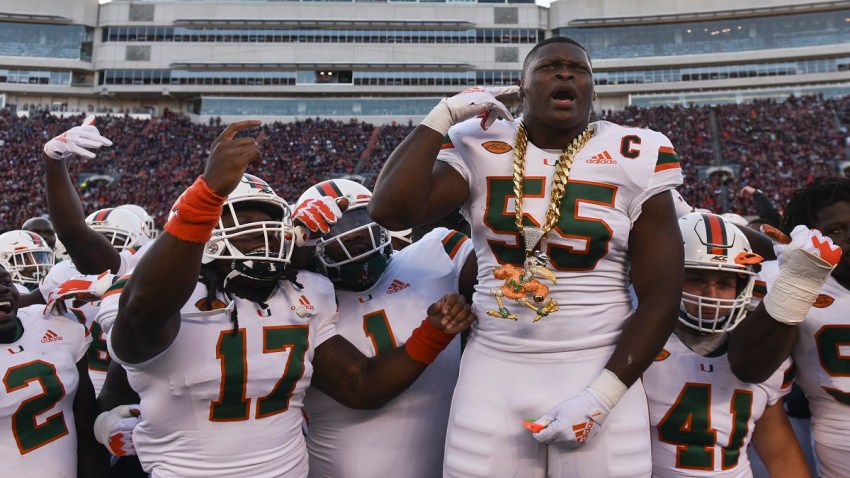 Miami Hurricanes (6-6 Overall, 4-4 ACC)
Bowl History: Miami's first bowl appearance came at the end of the 1934 season when the Hurricanes dropped a 26-0 decision to Bucknell in the 1935 Orange Bowl. It took 11 years to return to a bowl game, a 13-6 win over Holy Cross in the 1946 Orange Bowl.
Coach: Manny Diaz, a former defensive coordinator at Miami (2016-18) is in his first season at the helm of the Miami program after replacing Mark Richt who retired following the 2018 season. Diaz, the son of former Miami mayor Manny Diaz, also spent time as an assistant at Middle Tennessee, Louisiana Tech and Mississippi State.
2019 Season: Miami opened the season with a 24-20 loss to bitter rival Florida and dropped its second game in as many outings the following weekend when they fell on the road at North Carolina 28-25. They have been up and down all season. A three-game winning streak was the high-water mark this season as the Hurricanes defeated Pittsburgh (16-12), Florida State (27-10) and Louisville (52-27) in successive weeks.
2019 Flames: Miami is not the Hurricanes of old, but they still have a penchant for a high-tempo offense reminiscent of the days of old. Miami, like Louisiana Tech, likes to put the ball in the air. A lot. The Hurricanes average 257.2 yards per game through the air and go to the ground seemingly just often enough to keep opposing defense honest. Miami averages just 121.8 yards per game when running the ball. The scoring numbers clearly indicate the .500 record posted this season. The Hurricanes average 27.8 per game on offense, while the defense is allowing 20.8 points per contest.
Key players: Jarren Williams (6-2, 216) leads the Hurricanes from his quarterback position. A redshirt freshman, Williams has completed 160 of 256 passes this season for 2,093 yards and 19 touchdowns and has been intercepted just six times.
When Williams and the Hurricanes go to the air, it's highly probable one of three standouts are on the receiving end. Tight end Brevin Jordan (6-3, 235) is the top pass catcher this season with 35 catches for 495 yards and two TDs, while KJ Osborn (6-0, 206) and Mike Harley (5-9, 169) have combined for 83 catches for 876 yards and eight more scores. Osborn, a redshirt senior, has 45 catches for 491 yards and five touchdowns, while Harley has added 38 catches for 485 yards and three touchdowns of his own.
The running game is spearheaded by DeeJay Dallas (5-10, 214), a junior, and sophomore Cam'Ron Harris (5-10, 201). Dallas has carried 115 times for 613 yards (6.0 ypc) and has scored eight touchdowns, while Harris has added 545 yards on 102 carries (5.3 ypc) and five touchdowns. The rest of the Hurricane roster has combined for just three more touchdowns on the ground.
Linebacker Shaquille Quarterman (6-1, 241), a senior, leads the Hurricanes in tackles with 96 (47 solo) stops this season, including 15.5 TFLs, second behind Greg Rosseau (6-6, 251), who has 18 tackles for loss on the season.
Michael Pinckney (6-1, 226), a senior linebacker, has 64 tackles (40 solo) this season while safety Gurvan Hall (6-0, 187) has added 61 (34 solo) tackles of his own.
Fearless Predictions:
Ray: Both teams rely mostly on passing the ball, but with Louisiana Tech holding an advantage at running the football, the nod in this one has to go to the Bulldogs. Louisiana Tech 31, Miami 27
Chuck: Every once in a while a bowl flips the script, and this is my nomination for the "flip the script" bowl. All signs point to Louisiana Tech winning against a Miami team that only barely became bowl eligible and has endured a miserable season overall, but a Miami win can at least point to a bright future. Miami 34, Louisiana Tech 22
A native of Bismarck, N.D., Ray is a graduate of North Dakota State University where he began studying athletic training and served as a student trainer for several Bison teams including swimming, wrestling and baseball and was a trainer at the 1979 NCAA national track and field championship meet at the University of Illinois. Ray later worked in the sports information office at NDSU. Following his graduation from NDSU he spent five years in the sports information office at Missouri Western State University and one year in the sports information at Georgia Tech. He has nearly 40 years of writing experience as a sports editor at several newspapers and has received numerous awards for his writing over the years. A noted sports historian, Ray is currently an assistant editor at Amateur Wrestling News.