CSJ 2021 Conference USA Championship Game Preview — Western Kentucky at UTSA
WESTERN KENTUCKY AT UTSA
WHEN: FRIDAY, DECEMBER 3, 7:00 PM EST
WHERE: ALAMODOME, SAN ANTONIO, TEX.
TV/STREAMING: CBS SPORTS NETWORK / CBS SPORTS APP
The Conference USA championship this year will take place in a location it has never been–San Antonio, Texas. The home standing UTSA Roadrunners, who won the C-USA West Division will host the East Division champions of Western Kentucky.
It looked like UTSA would have a chance to go into this game undefeated but the Roadrunners lost their last regular season game at North Texas to finish with a 11-1 record. UTSA had already wrapped up the West Division title the week prior.
Western Kentucky needed a win at Marshall last week to win the East Division crown. The Hilltoppers did just that with a 53-21 rout of the Thundering Herd.
These two teams are fairly new to Conference USA. UTSA joined in 2013, while WKU joined in 2014. UTSA will be moving to the American Athletic Conference in 2023, while WKU will remain in C-USA after this latest round of conference realignment.
WKU has won the C-USA title twice in its only two prior appearances in this championship game–winning both in 2015 and 2016. This is the first ever appearance in the championship game for UTSA.
Here is a comparison of the two teams statistically this season:
Season Stats
| Western Kentucky | Stats | UTSA |
| --- | --- | --- |
| 43.3 | Avg. Points Scored | 36.9 |
| 27 | Avg. Points Allowed | 22.2 |
| 525.1 | Avg. Total Yards | 433.5 |
| 411.3 | Avg. Total Yards Allowed | 346 |
| 16 | Giveaways | 12 |
| 27 | Takeaways | 23 |
These two teams played earlier this season with UTSA holding off WKU in a barnburner of a game that ended with the Roadrunners on top 52-46.
UTSA won the game with a big performance by QB Frank Harris, who passed for 349 yards and six touchdowns, while also catching a 23-yard score on a trick play. RB Sincere McCormick rushed 23 times for 120 yards (5.2 average) and WR De'Corian Clark had seven receptions for 160 yards and three touchdowns.
The loss for WKU was its fourth of the season but the Hilltoppers (were 1-4 overall after this defeat) would ot lose again to capture the rematch. In this game, the duo of QB Bailey Zappe and WR Jerreth Sterns continued racking up big numbers despite losing the game. Zappe threw for 523 yards – the third-most in program history – and Sterns had 195 receiving yards – the fourth-most in program history.
See highlights of this prior meeting below: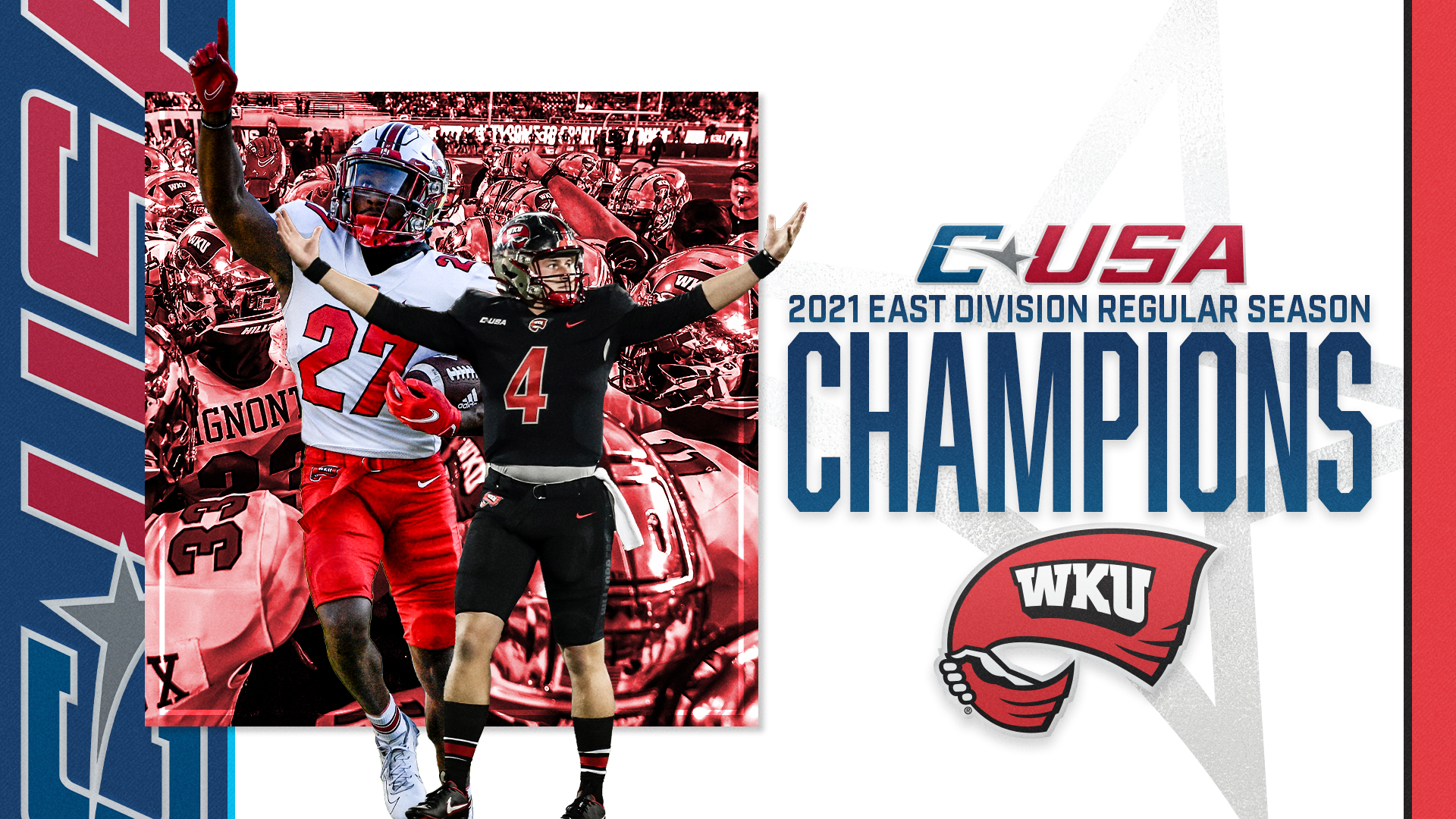 Western Kentucky Hilltoppers (8-4, 7-1 C-USA)
LOCATION: Bowling Green, Ky.
HEAD COACH: Tyson Helton (22-15 @ WKU & Overall)
Western Kentucky finished 5-7 last year including a Lending Tree Bowl loss to Georgia State. This summer, WKU was predicted to finish third by the members of the media.
The Hilltoppers bested this mark this year, although WKU lost all but its FCS non-conference games. WKU started the season with that FCS win over Tennessee-Martin but then lost its next four games in a row–at Army, vs. Indiana, at Michigan State, and finally the C-USA opener at home to its opponent in this game–UTSA.
After that though, WKU found its winning groove and has won seven games in a row to capture the C-USA East Division crown.
WKU's main issue with the five win season a year ago was the offense. The Hilltoppers in the off-season looked to a high scoring FCS school in Houston Baptist to get their offense. WKU head coach Tyson Helton went and hired away Zach Kittley from HBU, where he was their offensive coordinator to the same position at WKU. With the coaching change also came their quarterback and big-time wide receiver.
That move seemed to be the difference for a near .500 team with a fairly strong defense to one that will be playing for a conference championship.
Those two transfers in WR Jerreth Sterns and QB Bailey Zappe have made a big difference. Sterns has caught 127 passes for 1,539 yards and 12 touchdowns, while Zappe has passed for nearly 5,000 yards with 52 touchdowns, nine picks, and three rushing scores for the top passing attack in college football.
The WKU defense picked things up on its side after that UTSA loss. After giving up 52 points in that game, the defense has not yielded more than 21 points in a game since.
BEST WIN: at Marshall, 53-21
WORST LOSS: at Michigan State, 48-31
KEY PLAYER: QB Bailey Zappe
In the win over Marshall on Saturday, Western Kentucky was down 14-6 at halftime but went wild from there in an eventual 53-21 win. QB Bailey Zappe put up 328 yards with four scores. This is just a snap shot of what WKU has done offensively this year. Zappe has shot-up the NFL draft boards this year and likely will be picked at least in the top three rounds.
After leading the nation with 458.3 yards per game, Zappe was faced with a decision as he was about to graduate from HBU. There was the potential to capitalize on his performances and head to the NFL Draft. Houston Baptist was also scheduled to play in the 2021 FCS Spring season. However, in the December of 2020, Zappe entered the transfer portal, securing a move to Western Kentucky.
In his HBU career, he threw for 10,004 passing yards, 79 touchdowns, and 39 interceptions, and his transition to FBS has been shown he can put up similar numbers. He has six games with over 400 yards passing.
He will need to put these types of numbers in this game for the Hilltoppers to win this road game in what is expected to be a similar shootout type of game like the one in the regular seaosn.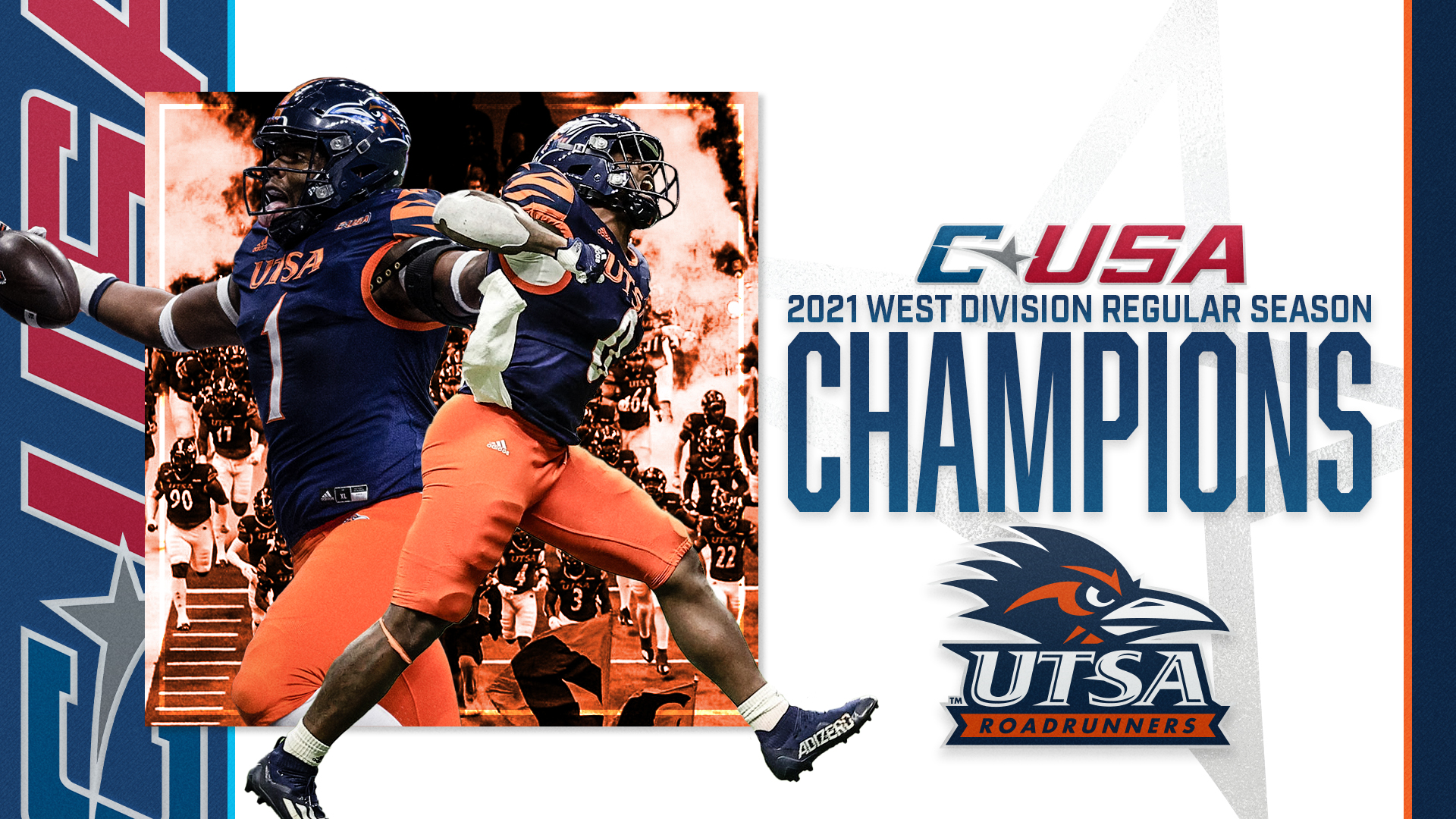 UTSA Roadrunners (11-1, 7-1 C-USA)
LOCATION: San Antonio, Tex.
HEAD COACH: Jeff Traylor (18-6 @ UTSA & Overall)
UTSA is coming off a 7-5 season where the Roadrunners were second in the C-USA West Division. UTSA also played in the First Responder's Bowl but lost to Sun Belt champion Louisiana.
The expectations coming into this season were picked second behind UAB, who had won this division three years in a row prior to UTSA knocking them off this season.
UTSA got off on a great start this season including an opening day win at the Big 10's Illinois. The Roadrunners would also defeat Memphis and UNLV, along with FCS Lamar, in their non-conference play.
The Roadrunners would run through its C-USA play unscathed before losing last week at North Texas.
That game last week was one that was uncharacteristic for this UTSA team. The team seemed to not be able to convert third downs, had five penalties, and lost three fumbles in the 54-23 defeat to North Texas.
That is not the type of team UTSA has been all season. In fact, the team only lost four fumbles prior to the UNT game and was one of the least penalized teams in C-USA this year.
QB Frank Harris in t hat UNT game had just 59 yards, and also led the rushing attack on 10 carries for 97 yards and a TD.
Overall, it has been Harris and RB Sincere McCormick supplying a balanced offense for the Roadrunners this year. Harris has passed for 2,688 yards with 26 touchdowns, while McCormick has 1,275 yards and 12 scores on the ground.
The UTSA defense has given up its share of points–as seen in the game at WKU earlier this season (46) and last week to UNT (54) but overall, is averaging giving up just over 22 points per game. The Roadrunners have forced 23 turnovers so just under two per game on the average.
BEST WIN: at Illinois, 37-30
WORST LOSS: at North Texas, 45-23
KEY PLAYER: RB Sincere McCormick
I feel the UTSA offense will need to be like it was in the prior meeting and really how it was in all of its 11 wins this season. McCormick though to me is the key. He is a smaller back at just 5'9″ but is also 205 pounds. He has shown the ability to grind out tough yardage and has scored in goal line situations.
He also has shown he can be a receiving threat out of the backfield having caught 19 passes for 176 yards.
He has been the main running back for UTSA and is in most the games throughout. He will need to have a similar performance he had at WKU for the Roadrunners to win the crown.
Fearless Forecast:
Mistakes of turnovers and untimely penalties will likely be what decides this game. I think this game will be another shootout type of game but the defenses will get a couple more stops to keep it a little less high scoring.
The home field will be a help inside the Alamodome that might see its largest crowd of the season to see if its home standing Roadrunners can win the C-USA crown. The largest crowd of the season UTSA has had was its last home game against UAB, which was the clinching win for UTSA to capture the C-USA West Division. That game saw 35,147 and that kind of crowd will generate a lot of havoc for WKU on offense.
I think this game will be close throughout though and WKU will need a key drive like it did in the loss earlier. The UTSA defense will give up some yardage but will cause a late turnover to seal the game. UTSA 41 Western Kentucky 34
Originally from LaMoure, North Dakota, Kent is a 1996 graduate of North Dakota State University. His prior writing experience is over 15 years having previously worked with D2football.com, I-AA.org, and College Sporting News before coming to College Sports Journal in 2016. His main focus is college football is the Missouri Valley Football Conference within the Division I FCS. And in 2017, he began also to look at the FBS Group of Five conferences of the American Athletic, Conference USA, Mid-American, Mountain West, and Sun Belt.
Reach him at this email or click below: