KENT STATE vs. NORTHERN ILLINOIS
WHEN: SATURDAY, DECEMBER 4, 12:00 PM EST
WHERE: FORD FIELD, DETROIT, MICH.
TV/STREAMING: ESPN / WATCHESPN
The Kent State Golden Flashes and Northern Illinois Huskies will meet in the MAC Championship.
This is a rematch from the November 3rd meeting, which Kent State won in a wild affair at home, 52-47. Now the two will face off at Ford Field in Detroit, Michigan to crown the Conference Champion.
Kent State has not won a MAC title in 49 years and this game will be its second ever appearance in the MAC Championship. The Golden Flashes only other MAC title game appearance was in 2012, and Northern Illinois was on the other side that year as well. In the highest-stakes conference championship in league history — as an Orange Bowl appearance was on the line — the Huskies edged the Golden Flashes, 44-37 in double overtime.
Northern Illinois has been to the most MAC championship games in the history of the league (the conference's first championship game took place in 1997. The Huskies with this appearance are making their ninth championship game in their history–three more than their nearest current conference mate (Toledo(former member Marshall also has 6)).
The Huskies have a 4-4 record in their prior eight contests but have won their last meeting in the 2018 season. NIU had made their eight appearances all within the last 16 years.
Season Stats
| Kent State | Stats | Northern Illinois |
| --- | --- | --- |
| 33.4 | Avg. Points Scored | 30.8 |
| 34.6 | Avg. Points Allowed | 33.5 |
| 488.3 | Avg. Total Yards | 424.3 |
| 475 | Avg. Total Yards Allowed | 453.1 |
| 10 | Giveaways | 16 |
| 23 | Takeaways | 8 |
Kent State Golden Flashes (7-5, 6-2 MAC)
LOCATION: Kent, Ohio
HEAD COACH: Sean Lewis (4th Season, 19-22 @ KSU & Overall)
The Golden Flashes were picked to get to Detroit as the MAC East Division media poll and they delivered on that prediction.
Kent State is in Detroit after Kent State's divisional title hopes came down to a single play in overtime against Miami (OH), but the Golden Flashes prevailed in a 48-47 overtime thriller.
Kent State has one of the most electric offenses in the country, averaging more than 33 points per game on the 10th most plays per game. Behind senior QB Dustin Crum, the Golden Flashes waste no time getting up and down the field and is used to playing in high-scoring affairs.
The Flashes offense began a season ago in an abbreviated pandemic season of just four games. Kent State led the FBS in scoring with 49.8 points per game while ranking among the country's top 10 in rushing offense and passing offense alike. Attaining a 3-1 record with an electrifying, up-tempo scheme branded as the "Flash Fast" offense but was not quite good enough as Buffalo went unscathed to win the MAC East title.
Coach Sean Lewis' team did, however, win the school's first ever bowl game–a two point win in the Frisco Bowl a season ago over Utah State.
This season has been much of a repeat of last year's schedule. But the team did get off this year to a rocky start. Kent State scheduled a grueling non-conference lineup, featuring three Power Five road games at Texas A&M, Iowa, and Maryland. Each outing delivered a similar script — the Golden Flashes showed promise in the first half, they moved the ball but struggled to finish drives, and the game slipped out of reach in the second half. Kent State lost all three games by three scores by an average margin of 25 points.
The Golden Flashes offense as mentioned earlier is headed by QB Crum in the read option offense but he has several key surrounding pieced including RBs Marquez Cooper and Xavier Williams, as well as WR Dante Cephas. Cooper is a 1,000 yard rusher, while Williams has three games this year where he rushed for over 100 yards. Cephas is one of 30 FBS receivers to eclipse the 1,000-yard threshold heading into this conference championship weekend.
On defense, the Golden Flashes have given up their share of points this season, and if fact caused the firing defensive coordinator Tom Kaufman this midseason. The Flashes have improved since that firing in the midseason but has seen in their last game, still gave up 47 points in a win. While the defense has given up its share of points, the defense has helped in the winning ways in garnering turnovers. In fact, KSU is second in the FBS in turnover margin at a +15, and the CBs played a major role in crafting that lofty ranking. Elvis Hines enters this title game with three interceptions and 10 pass breakups, while Montre Miller trots into Detroit with four picks and eight breakups.
Key Player: QB Dustin Crum
Crum has been Kent State's signal caller since 2017 so he understands what he is doing behind center. Crum is the definition of a dual threat quarterback as he has put up outstanding numbers both with his arm and legs.
As a passer, Crum has connected on 69.2 percent of attempts in 2019 and increased that number to 73.5 percent in 2020. While that rate dipped to 65.0 percent this season, Crum continued to make smart decisions when deciding to throw. He tossed four combined interceptions in 2019 and 2020. This season, the senior continued his interception-averse ways by starting 10 consecutive contests without throwing a single pick.
As a runner, he is the perfect fit for Kent State's RPO-heavy offense. The zone read specialist accumulated 565 yards on the ground this year, adding 11 touchdowns by means of his legs — tied for fourth in the FBS among quarterbacks.
Crum will need to continue these traits and follow a similar script that saw Kent State win the earlier match-up with NIU for the Flashes to come out on top in this game.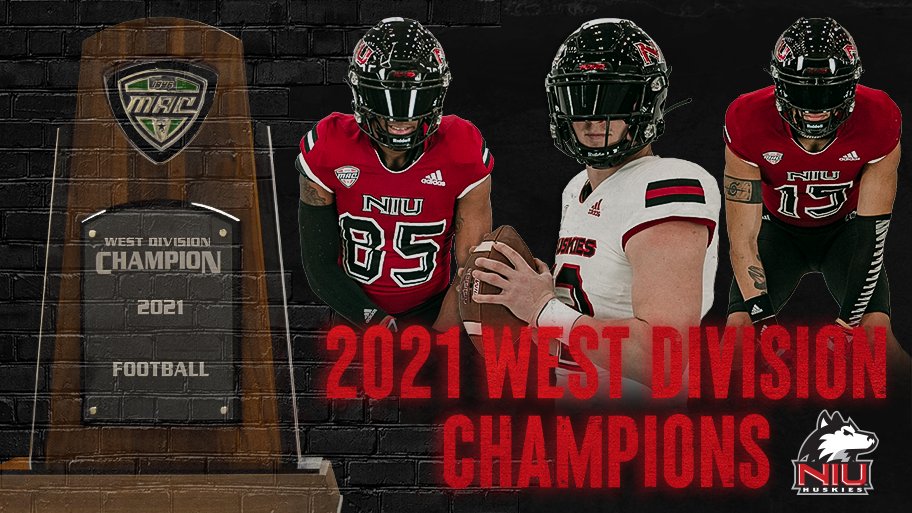 Northern Illinois Huskies (8-4, 6-2 MAC)
LOCATION: DeKalb, Ill.
HEAD COACH: Thomas Hammock (3rd Season, 13-17 @ NIU & Overall)
While KSU was picked to win its division, Northern Illinois was really the complete opposite. The Huskies finished the abbreviated 2020 season winless at 0-6 with of course all six losses coming against fellow MAC squads.
That last season left prognosticators thinking NIU would again finish at the bottom of the MAC West Division standings.
But NIU has proven those folks wrong and won the MAC West title for a MAC divisional winning record setting ninth time.
The Huskies started the season off that seemed to predict how this season fully would go for this team. NIU started its season at the ACC's Georgia Tech and started the game off well with a 14-0 lead. However, Georgia Tech would score the game's next 21 points to give the Yellow Jackets the lead late in the fourth quarter.
With under two minutes to go, the Huskies got the ball back and QB Rocky Lombardi would lead them on a thrilling drive. With just 38 seconds remaining Lombardi found RB Clint Ratkovich out of the backfield for a 3-yard TD pass that would bring NIU within a single point. Coach Hammock kept the offense out there for the 2-point conversion. Lombardi rolled out and directed his receiver back, and fired a strike to Tyrice Richie to give NIU a 22-21 lead. The Huskies would seal the deal when the defense blocked a 60-yard field goal as time expired.
NIU would go on to lose its next two against Wyoming at home and at Michigan. After an FCS win over Maine, the Huskies would win their first four MAC contests before falling at their MAC championship game opponent Kent State.
But the Huskies would rebound to win its next two including the MAC West clincher against Buffalo two weeks ago in overtime. Overall, NIU has been the cardiac kids all season with five of its wins coming on drives that finished with a score coming in the final minute/OT.
In the season finale against Western Michigan, the Huskies sat some key players, including Lombardi, opting for rest and recovery for the MAC Championship Game that resulted in a WMU win 42-21.
Lombardi has been the key to the offensive success for the Huskies but has used his running game behind him as well. There is a trio of backs that have helped with the running game. Jay Ducker leads the Huskies with 892 rushing yards. But Ratkovich and Antario Brown have also been in the mix.
The leading pass catcher is WR Trayvon Rudolph, who has had a stellar freshman season with 827 yards and seven touchdowns on his 46 catches. He also has five rushes for 106 yards and a touchdown and has scored on a kickoff return as well.
The defense has been led by CB C.J. Brown, who led the team in tackles with 94 total tackles and has 2.5 TFL but also its three LBs in Lance Deveaux Jr., Nick Rattin, and Dillon Thomas sit at #2, #3, and #4 in tackles for the team. Overall, the defense has not put up great statistics but has held the team in game when needed.
Key Player: QB Rocky Lombardi
Lombardi will not flash you with outstanding precission or great speed but he does possess a willingness to do anything to keep a play alive. He can use his legs in certain situations and, because of that, he is second on the team in rushing touchdowns, with five.
He also is the first NIU quarterback to throw for 2,300 yards in seven years. On the season he has 2314 passing yards, 390 rushing yards, 18 total touchdowns (13 passing, five rushing), and has thrown seven interceptions and been sacked just seven times.
The key for the Huskies will be to keep this game close and to get possession of the ball late. This is when Lombardi seems to shine to get his team to a winning score late in the game when he is under pressure.
Fearless Forecast:
This games comes down to how well the NIU defense can hold down the Kent State prolific offense. It could not do that in the two team's meeting earlier in the season. But having played, the Huskies might be able to see what went wrong with its play before.
The MAC championship game seems to have some crazy results if the past is any indication. The underdog team, which NIU is for this game, has won this game several times.
On paper, this game should be a Kent State victory in a similar fashion to what they did at home to NIU earlier this season but I think this game will come down to the wire and as has happened most of this season for the Huskies, it will come down to a Lombardi led drive late in the game to see if NIU can pull it out.
I believe Lombardi will be able to do this and NIU will come home with their fifth MAC title win. Northern Illinois 38 Kent State 36
Originally from LaMoure, North Dakota, Kent is a 1996 graduate of North Dakota State University. His prior writing experience is over 15 years having previously worked with D2football.com, I-AA.org, and College Sporting News before coming to College Sports Journal in 2016. His main focus is college football is the Missouri Valley Football Conference within the Division I FCS. And in 2017, he began also to look at the FBS Group of Five conferences of the American Athletic, Conference USA, Mid-American, Mountain West, and Sun Belt.
Reach him at this email or click below: