UTAH STATE AT SAN DIEGO STATE
WHEN: SATURDAY, DECEMBER 4, 3:00 PM EST
WHERE: DIGNITY HEALTH SPORTS PARK, CARSON, CALIF.
TV/STREAMING: FOX / FOX SPORTS LIVE
The Mountain West title game participants were not known until the last weekend of play. San Diego State needed a win over Boise State, while Utah State needed SDSU to beat Boise State and also to defeat New Mexico to get into this game.
Those two actions happened and with a better conference record, SDSU will be the host in this game.
It marks the first time these two teams have played this season and is an unlikely pairing for a conference championship game. Neither had great preseason odds to win their divisions.
SDSU is 2-0 in conference championship games but hasn't played in one since 2016. They shocked many this season by going 11-1 with their lone loss to Fresno State 30-20. Since then, the Aztecs have won four in a row including a 27-16 win over Boise State last week. The team leans heavily on its defense which ranks seventh in the nation in points allowed per game.
Utah State is even more of a surprise to be here after its win the MWC. The Aggies suffered three losses this season to Wyoming, BYU, and Boise State but still won the top spot in the Mountain division.
SDSU has had a big edge in this match-up historically. The Aztecs has a 13-2 edge in this and is 8-2 at home in this series. SDSU beat the Aggies in 2020 38-7 but USU won the last match-up hosted by SDSU in 2019.
San Diego State looks to claim the 22nd conference championship in school history, the fourth Mountain West championship but the first since 2016. SDSU has won the two prior MWC Championship games and were back-to-back champions in 2015 & 2016.
Utah State was in the first ever MWC Title game in 2013 but fell to Fresno Sate that year. The Aggies last won a conference title the year before this in its last season in the Western Athletic Conference in 2012.
Here is a breakdown statistically between these two squads for this season: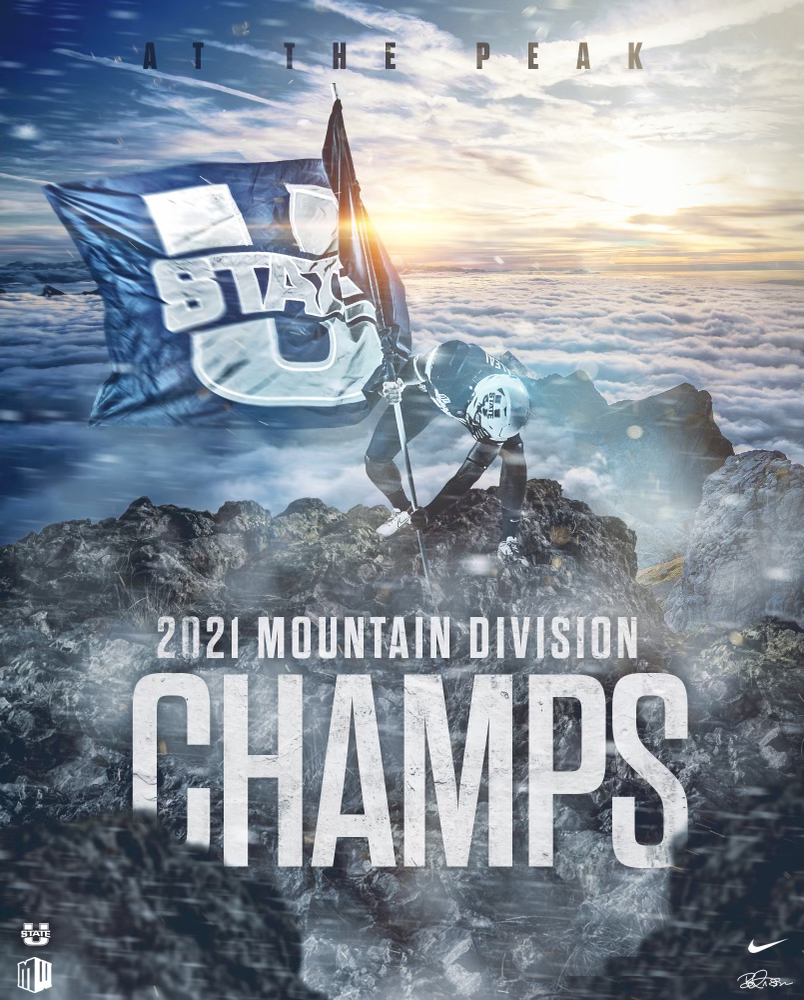 Utah State Aggies (9-3, 6-2 MWC)
LOCATION: Logan, Utah
HEAD COACH: Blake Anderson (1st Season, 9-3 @ USU, 60-40 Overall)
Utah State won the Mountain Division of the Mountain West via a tie-breaker with Air Force as both teams finished 6-2 in conference play, but the Aggies defeated the Falcons on the road, 49-45. USU was picked to finish fifth in the Mountain Division in the preseason media polls.
Utah State is appearing in the Mountain West Championship game for the second time in its nine years in the MW, as it lost at Fresno State (24-17) in the inaugural championship game in 2013.
Utah State is 6-0 on the road for the first time in school history and those six road wins are a school record. In fact, there have only been three teams in school history to not lose or tie a road game (1907 (1-0), 1911 (2-0), 1923 (4-0)). USU is also one of just three teams in the nation to go 6-0 on the road this year (Cincinnati, Houston) and one of eight teams not to lose a road game (Air Force, Cincinnati, Georgia, Houston, Notre Dame, Pittsburgh and San Diego State).
The Aggies have exceeded expectations in the first year under Coach Blake Anderson, cranking up the offense to be second in the Mountain West behind Fresno State. The Aggies have also done well on third downs with a strong midrange passing attack that can open things up and work deep.
Veteran QB Logan Bonner – a playmaker at Arkansas State before following Anderson over to Utah State – has grown in his first season in Logan. Bonner and WR Deven Thompkins have been the key duo in the passing game.. Bonner's thrown for 32 touchdowns this season, while Thompkins has 87 catches for 1,543 yards and nine scores.
The Aggie defense has struggled at time especially against the run as was seen two games ago against Wyoming where the Cowboys were able to run almost at will. The Aggies will need to improve on this as SDSU likes to run the ball.
Key Player: WR Deven Thompkins
Thompkins is a part of the second best offense in the league and can do it not just with his pass receiving skills, but also with his legs too. He earned all-league honors for the first time in his career and is the first Aggie wide receiver to earn first-team all-conference honors in over two decades.
Thompkins leads the nation in receiving with 1,543 yards (128.6 ypg). Thompkins is also first in the MW and fourth in the nation in all-purpose yards with 1,803 (150.3 ypg), third in the MW and 11th in the nation in receptions with 87 (7.2 pg), fifth in the MW and 33rd in the nation in yards per reception (17.7), and sixth in the MW and 24th in the nation in receiving touchdowns with nine (0.75 pg). Thompkins, who set the school record for receiving yards in a season this year, also has eight 100-yard receiving games to tie for first nationally.
The Aggies will need to find ways as a key to their victory in getting Thompkins the ball to give USU this victory.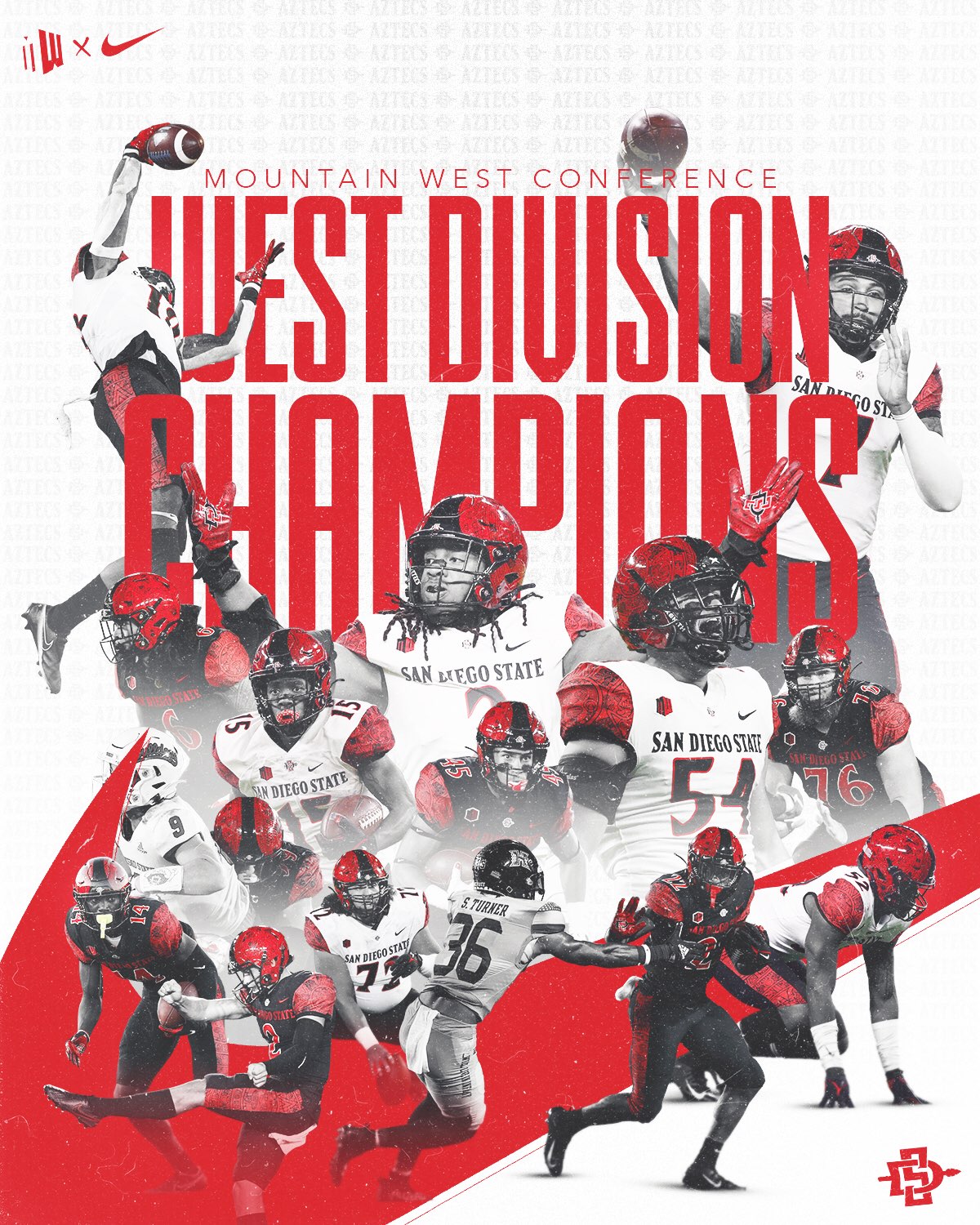 San Diego State Aztecs (11-1, 7-1 MWC)
LOCATION: San Diego, Calif.
HEAD COACH: Brady Hoke (4th Season, 28-17 @ USU, 93-75 Overall)
The Aztecs have been a quite team for an eleven-win squad this year. SDSU likely is getting shadowed by what Cincinnati is doing in the Group of Five ranks this year but otherwise this team would be the talk of the college football world as the G5 team that could go to a New Year's Six Bowl game.
San Diego State tied the school record for victories (11) this season (also: 1969, 2015 and 2016). This is the 99th season in program history and the Aztecs have never won 12 games in a campaign so a win in this title game or in their bowl game later would make this the winningest Aztec team in their history.
The Aztecs were projected third in the preseason rankings but have more than jolted past that prognostication. This year's team is five games better than last season, going from 4-4 to 11-1. That is tied for the fifth-largest turnaround in the nation.
This team is headed by a stingy defense and a strong offensive running game.
That defense is headlined by DE Cameron Thomas, who by the Pro Football Focus has the most quarterback hits in the nation (18), the most quarterback pressures (72). He is the team leader in tackles for loss (20.0), sacks (11.5) and quarterback hurries (19).
Overall, the team defense is ranked 11th in all of FBS in team defense and is second in the country against the run.
The offense is headed by RB Greg Bell, who has rushed for 940 yards and nine scores this season.
There is a quarterback question with the Aztecs as Lucas Johnson left last week's game against Boise State and had a brace on his right knee, His back-up in Jordan Brookshire came in reserve and played extremely well in leading SDSU to the come-from-behind win when he arrived though.
The team also boosts a couple of special team players that are amongst the best in all of college football. P Matt Araiza currently leads the nation in punting (51.5) and is on pace to set an FBS record while KR Jordan Byrd is 11th nationally in kickoff return average (29.4). Meanwhile, the Aztecs have blocked three punts this season to rank sixth in that category.
There is also some question this week of the team having some COVID-19 infections. It is not clear right now who might be sidelined because of this for SDSU.
Key Player: RB Greg Bell
The key all season long for the Aztecs is to keep games close and use the running game to win games. This likely will be what SDSU tries to do in this game with Bell being the top rusher. Utah State's defense has struggled against the run–ranking near the bottom in the MWC in yards per play at 4.46; San Diego State is second in yards per rush at 4.32 per play.
Look for SDSU to exploit this and also to control the clock with Bell and his running mates as a key for the Aztecs winning this game.
Fearless Prediction:
I think this game will be close but on paper San Diego State has most of the advantages with defense and special teams, while I would give the nod to Utah State with a more potent offense. Playing at its temporary home in Carson might seem like an advantage but there may be nearly as many Utah State fans at this venue as Aztec fans.
SDSU has played most of its games close–in fact lead the country in one score victories with six and tied with Louisiana with the most without a loss. I think this will be another one score victory for SDSU but in a lower scoring defensive type struggle. San Diego State 24 Utah State 20
Originally from LaMoure, North Dakota, Kent is a 1996 graduate of North Dakota State University. His prior writing experience is over 15 years having previously worked with D2football.com, I-AA.org, and College Sporting News before coming to College Sports Journal in 2016. His main focus is college football is the Missouri Valley Football Conference within the Division I FCS. And in 2017, he began also to look at the FBS Group of Five conferences of the American Athletic, Conference USA, Mid-American, Mountain West, and Sun Belt.
Reach him at this email or click below: