This weekend saw the best-ever spring weekend of FCS football in history, with a near-full slate of thrilling Missouri Valley conference action, a back-and-forth affair in the OVC, the start of SoCon play, and even a good old-fashioned FCS over FBS upset. It's like a typical FCS football weekend. Except it's February 22nd.
At CSJ, we brought together our writers to discuss a thrilling weekend of action and to take a peek at the week ahead. (To get all the results and links to all the official recaps and even video highlights of most of the action, click here.)
What was the least surprising result of the weekend?
CHUCK BURTON: Furman came out and looked like the SoCon favorites in their 35-7 win over Western Carolina. The Catamounts looked like a rebuilding team, and Furman looked like they were ready for a run. It's early, but Furman/Wofford could be the game of the year in the SoCon.
JAIMIE WILLIAMS: North Dakota State cruising past Youngstown State 25-7 with a suffocating defense and run game.
KENT SCHMIDT: NDSU winning at home against Youngstown State. The Bison look like the same way they won games the past decade–a strong defense and just enough offense to get a comfortable win.
ROB BUTLER: James Madison accumulated more than 350 rushing yards and six scores on the ground, thrashing Morehead State 52-0 at Bridgeforth Stadium. It was JMU's 28th shutout in program history, as it has blanked an
opponent in four straight seasons.
BEN SCHLIEGER: JMU obliterating Morehead State. The fact that they were the third highest blowout this weekend is a tiny surprise, but 52-0 is not. Good on them for starting the season on an electric note.
What was the most surprising result of the weekend?
BEN: 100% the biggest surprise was Tarleton State putting a clinic against New Mexico State 43-17. With COVID taking away from their roster, whooping up on a low-level FBS team is fantastic. Tarleton State seems to belong at the FCS level so far.
JAIMIE: FCS Newcomer Tarleton State not just beating an FBS team, but demolishing New Mexico State. The outcome of the game was never in doubt.
ROB: Tarleton State beating New Mexico State. The Aggies looked rusty
against the Texans inside the Sun Bowl at UTEP in El Paso, Texas.
Tarleton State dominated the game from start to finish and the Texans
won convincingly – 43-17 over New Mexico State.
KENT: Tennessee Tech defeating defending OVC co-champion Austin Peay 27-21. Austin Peay does have its third coach in just over a year's time, but I thought that the talent remaining on the team would be enough to overcome that coaching challenge for the Governors. But the Golden Eagles were ready to play and got the home win. This lone OVC contest in Week 1 might be a precursor to a very interesting OVC race the rest of this spring.
CHUCK: Like many, I was surprised that North Dakota cut through Southern Illinois' defense like a hot knife through butter 44-21. It's a tremendous achievement for UND as the Fighting Hawks enter the brutal Missouri Valley for the first time – and it remains to see if they can keep this up on the road – but they became a team to watch right away.
The Game of the Week, without any question, was South Dakota State/UNI.
CHUCK: The game was every bit as great a game as it seemed on paper – and it was almost a shame that someone had to lose. Everyone here picked a close game, and it played out almost exactly as everyone here thought, a close, defensive game ended with the Jackrabbits on top 24-20 when the clock read 0:00. WHY DID MARK FARLEY NOT USE HIS TIMEOUTS?? I'll be wondering about that for weeks.
KENT: In my first live in-person game in 13 months, this was the drag down dog fight that most of us experts though it would be with SDSU scoring the game winning touchdown with 19 seconds to go. SDSU won this game starting true freshman QB Mark Gronowski as the two more experienced signal callers had missed practice time due to COVID-19 reasons leading up to the game–even though both were dressed in this contest. It will be interesting to see if SDSU stays with Gronowski the rest of the way or if J'Bore Gibbs or Keaton Heide will be under center later in the season.
JAIMIE: Easily the one we all expected to be the best, South Dakota State vs Northern Iowa. Both teams proved they have championship caliber defenses and holes on offense. South Dakota State had just enough to get by. These two may see each other again in late April.
ROB: UNI had a 20-17 lead midway through the fourth quarter, but the Jackrabbits, who had just eight total yards in the second half up to that point, got rolling when they needed to.
This week, the Big Sky and Southland get their parties started. Hopefully most of these games will get contested as this pandemic hopefuly starts to wane. Any fearless predictions about the Big Sky?
(Check out Ben's extensive Big Sky Preview here.)
BEN: Fearless prediction for the Big Sky Conference from the Big Sky Expert: Anyone outside of EWU and Weber State are not title contenders without upset wins and no more than one loss. COVID is the last defense from a Wildcat/Eagle title.
ROB: Weber State is the unquestioned favorite to claim a
fourth straight Big Sky title. Eastern Washington missed the playoffs
in 2019 despite extending its run of consecutive winning seasons to 13, but Idaho could throw the Big Sky for a spin when they open against Eastern Washington. Can they get the upset?
KENT: I know Weber State, Eastern Washington and UC Davis are the favorites and rightly so this spring especially without recent playoff contenders Montana, Montana State and Sacramento State (along with Portland State) opting out of this spring season. However, I have my eye on Idaho and eighth year Coach Paul Petrino. The Vandals open the season at home with Eastern Washington this week and think their transition from FBS play back into FCS three years ago might see a better team now knowing how to play in the Big Sky and one that very well could contend for a playoff spot this spring.
JAIMIE: Weber State looks loaded for bear this Spring. They don't see Eastern Washington on their schedule and should cruise to a 6-0 record. I expect that Eastern Washington will be 5-1 at worst and they will also make the playoffs.
CHUCK: Without the Treasure State schools hanging over the conference, it could be a free-for-all with some really powerful teams like Weber State, UC Davis and Eastern Washington all vying for the top spot. Two of them start out on the road, too in tough games: Eastern Washington at Idaho and Weber State at Idaho State. If one of those home teams win, it's going to be a very wild spring.
.. and the Southland?
(Check out Rob's detailed Southland Conference Preview here.)
ROB: Sam Houston State seek a return to the FCS playoffs following seven straight NCAA trips from 2011-17 that began with two title game appearances. It's too McNeese State Cowboys are ineligible for the playoffs due to APR penalties – they seem to be legit. I am looking forward to Southeastern Louisiana at Sam Houston this weekend – that should reveal a lot.
JAIMIE: To me, the Southland has three teams that would not surprise me if they win the conference – Sam Houston, Nicholls and Southeastern Louisiana. You cant take much from Nicholls walloping Division II Lincoln (MO) by more than 80 points last week, so throw that result out. If Sam Houston gets back to respectable on offense, I think they are the team that ultimately wins the conference.
BEN: The Southland has three competitive teams that could challenge for the title and or a playoff win or two. Sam Houston, Southeastern Louisiana and McNeese all have an interesting opportunity to make waves.
CHUCK: Everything seems to hinge on Sam Houston, but how good are they? No Southland team has a harder early schedule than the Bearkats (at home vs. Southeastern Louisiana and at home vs. Nicholls). If they get through that gauntlet, they probably cruise to the title. What if they don't?
KENT: Nicholls got things going last week with a rout of DII Lincoln (MO) with a strong performance from former LSU/Missouri QB Lindsey Scott Jr. The defending co-Southland champs look to repeat and show those Texas and Arkansas schools (Sam Houston State, Lamar, Stephen F. Austin, Abilene Christian, and Central Arkansas) that are moving away from the SLC for "greener pastures" that this league still belongs to a school staying in this league.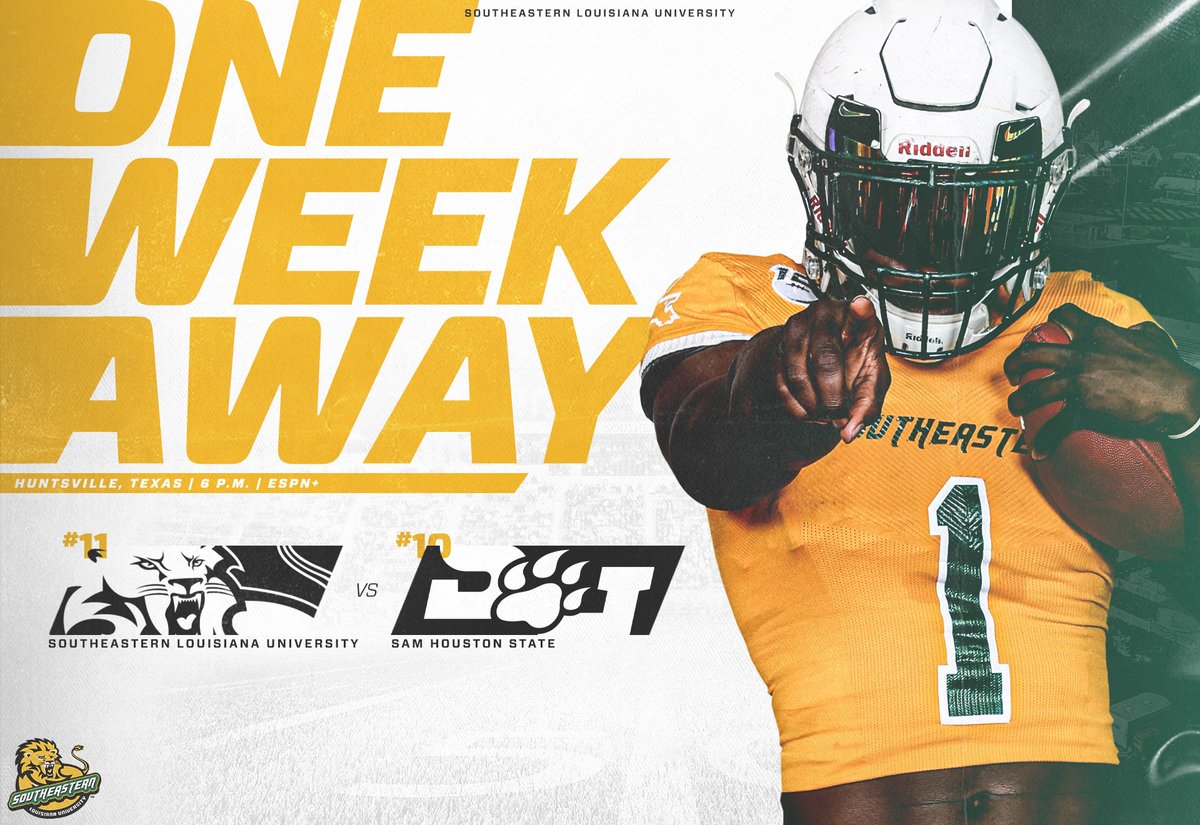 Finally, what's this week's Game of the Week?
JAIMIE: Lets kick the Southland off with a bang. Southeastern Louisiana and Sam Houston play this week. The winner has an inside track to the league title. The loser is squarely on the bubble for the playoffs. There is little room for error in the Southland with only six at large bids. If four of them go to the "Big 3", that leaves two bids for everyone else. The loser of this game might need to run the table.
ROB: Southeastern Louisiana at Sam Houston. Sam Houston is led by QB Eric Schmid and DB Zyon McCollum; their strong defensive line is led by DL Joseph Wallace. The Lions are led by QB Cole Kelley and WR Austin Mitchell. Whoever wins this game could be declared the early favorite to win the conference.
BEN: This week is packed with rivals, good matchups, and potential to distinguish conference favorites. SDSU vs. North Dakota should be another huge, marquee match up – which team takes a step closer towards the fireball that is NDSU in the pursuit of becoming David rather than Icarus? Also, I think Prairie View vs. Grambling and Tarleton St. vs Dixie St. are important measuring stick games for old and new teams – one old Division I Rivalry, and one new.
KENT: South Dakota State at North Dakota. UND won its first ever MVFC contest at home last week easily over what many thought might be a dark horse MVFC contender in Southern Illinois. The Fighting Hawks were dominate on defense and used turnovers to win that game easily over the Salukis. The test gets tougher though this week for UND with Top 5 ranked SDSU coming to town in the Jackrabbits second straight road game to begin this spring season. After an emotional win over the team that knocked them out of the 2019 playoff in Northern Iowa, SDSU will need to use a similar game plan really as the UNI game to get another road win.
CHUCK: For me it's that very last game of the week on Sunday, surprising Tennessee Tech at Jacksonville State. The Gamecocks are thought to be a good team this spring; they always seem to be every year, not to mention they upset Florida International this past fall. But Tennessee Tech showed me a lot with their impressive win vs. Austin Peay last weekend, 27-21, and showed that they could have a special offensive combo with QB Bailey Fisher and WR Metrius Fleming. Can they beat Top 25 opponents in back-to-back weeks, something they've never been able to do as a program?