FCS Game of the Week: No. 3 Sam Houston State vs. No. 7 Richmond (at McLean Stadium, Waco, TX)
In the grand scheme of things, perhaps a football game is a very small thing to many people in Texas at the moment.
With the devastation of Hurricane Harvey and the torrential rains that accompanied it, the postponement of a football game, even one against two of the best teams in FCS, Sam Houston State versus Richmond, was only a footnote in the disaster that is still unfolding.
The original game, scheduled to be played in Huntsville on the campus in Sam Houston last Sunday evening, was postponed due to the historic nature of the storm. Huntsville is about 50 miles due north of Houston, and got about 20 inches of rain.
Postponing the game was the only thing both schools could do, but there was no real alternative to make up the game unless it was Labor Day weekend. Bye weeks didn't align, and the cost of flying everyone out a second time would be hurdles to overcome.
Things looked grim about rescheduling the game, but Baylor athletic director Mack Rhoades stepped up to offer a solution: play the game in Waco in McLane Stadium on Friday, a day before Baylor's home opener vs. Liberty.
In a very generous move by Baylor, which is a little more than 100 miles away from Huntsville, Texas, admission to both games is free, and for families affected by the hurricane, Baylor will also be offering free parking and a free meal as well.
It should probably be called the Miracle Game because it was a miracle that game was played at all.
It also should be one heck of a showcase for FCS football.
Richmond quarterback Trey Lauletta is back for the Spiders, and he will be eager to show off the fact that he's completely healthy and ready to guide Richmond towards the CAA title and another FCS Playoff bid – a bid that would be kicked off very well with a tough road win in Texas.
And Sam Houston, last year's FCS semifinalist loaded with returning talent on both sides of the ball, is eager to prove to FCS Nation that they can beat a team from the CAA – in last year's playoffs, they were utterly crushed by the eventual champions James Madison 65-7, and you know they can't wait to erase the memory of that CAA defeat.
It might not be on ESPN, but it will be a Friday Night game that will take the focus off of rain and put the focus on a damn good football game. And I think Jeremiah Briscoe and P.J. Hall, playing with a little bit of extra inspiration, takes the victory.
Sam Houston State 35, Richmond 27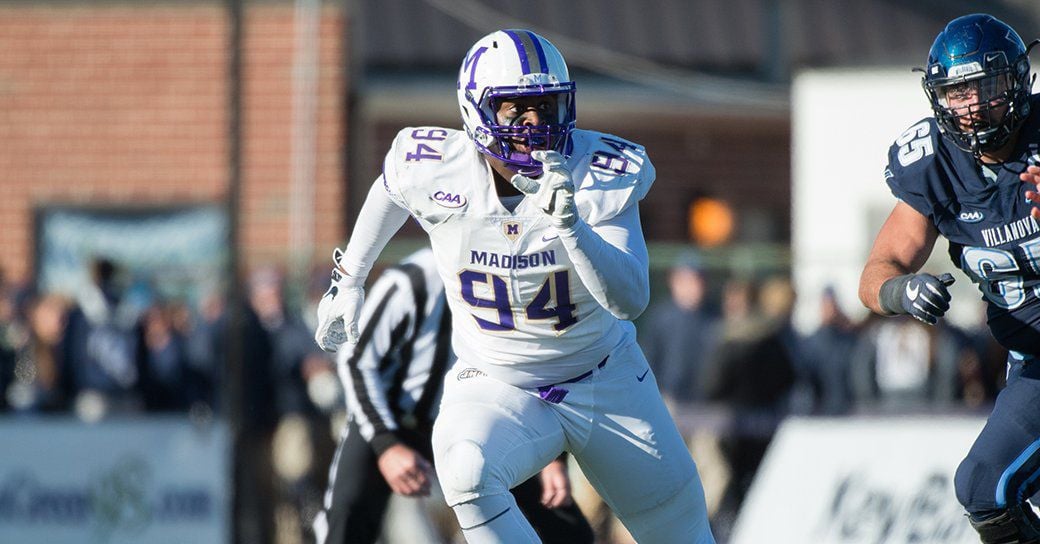 Spotlight On: James Madison DL Cornell Urquhart, Jr.
As is the case with most sons in college, James Madison senior Cornell Urquhart periodically has received texts from his father. And as is the case with most sons in college, these messages often involve motivation.
The texts Cornell Urquhart Jr. gets from Cornell Urquhart Sr., however, are uncommon in that they relate to on-field effort and perseverance as a defensive lineman.
The father's recent digital communication deals with the experience Cornell Urquhart Jr., a Benedictine graduate, is currently going through during physically challenging days in preseason practice as a JMU defensive tackle.
"I've been there," said Urquhart, the elder.
He played defensive end at Virginia Tech as a 6-foot-3 235-pounder during the early 1980s, alongside tackle Bruce Smith, one of the greatest former Hokies. Urquhart, a realtor in the Richmond area, clearly recalls the perseverance and toughness required to successfully complete training camp. He said he "plants seeds" by texting his son inspirational tidings.
Said Urquhart Jr.: "One thing my dad always stresses is a positive mindset."
Read More In the Richmond Times-Dispatch
Fearless Predictions This Week In FCS
Thursday, August 31st
Maine at No. 16 New Hampshire. It's odd to play a big Rivalry game as the first game of the year, but it does make for a great matchup that will probably be a close, heated battle that the Wildcats barely win. Wildcats 24, Black Bears 16.
Kennesaw State vs No. 19 Samford. Watch out for the Owls, who will upset the Bulldogs here. Owls 29, Bulldogs 19.
No. 10 North Dakota at Utah (FBS). For a new offensive coordinator, North Dakota Fighting Hawk defense is probably not the one you want to be facing. It should be a defensive struggle all the way through, but one I think Utah will win. Utes 22, Fighting Hawks 9.
Duquesne at No. 6 South Dakota State. Last year, Montana fans invited a NEC team out to play and beat them, but not before seeing exactly how good St. Francis (PA)'s best player was, Lorenzo Jerome. I think something similar may happen here with Duquesne running back A.J. Hines – he'll ooh and aah over Jack fans, but South Dakota State will end up ahead in the end. Jackrabbits 42, Dukes 32.
Saturday, September 2nd
No. 9 Villanova at No. 17 Lehigh. The Mountain Hawk offense will be too hard to stop. Mountain Hawks 31, Wildcats 28.
No. 8 Youngstown State at Pitt (FBS). You wouldn't be blamed if you wanted to pick the Penguins to upset the Panthers here – a veteran Youngstown State team with plenty coming back vs. a Pitt team that had five NFL players depart from last year's team. But I won't be the one to pick it. It will be a nail-biter, though. Panthers 35, Penguins 32.
Mississippi Valley State at No. 2 North Dakota State. It's as big a mismatch as you think. Bison 55, Delta Devils 0.
No. 4 Eastern Washington at Texas Tech (FBS). It's going to be a great matchup, with Eastern Washington's powerful offense, led by quarterback Gage Gubrud, and Texas Tech's historically powerful offense. Despite the fact that Pat Mahomes is now in the NFL, you can still expect a broken scoreboard and a narrow Texas Tech win. Red Raiders 55, Eagles 46.
No. 14 Charleston Southern at Mississippi State. Last year, Mississippi State got upset 21-20 at the hands of South Alabama, and to me it seems very unlikely that they'll be victimized on Week 1 for two years in a row. Bulldogs 42, Bucs 20.
Furman at No. 11 Wofford. Like Maine/New Hampshire, Furman/Wofford is an old school Rivalry that is being played the first weekend of the season. Hard to picture the Terriers fall flat in such a big game in every sense. Terriers 31, Paladins 17.
Newberry (D-II) at No. 12 The Citadel. Newberry isn't exactly a chump of a D-II school, but the Bulldogs should still feast here at home. Bulldogs 34, Wolves 13.
No. 24 North Carolina Central at Duke (FBS). One of the title contenders in the MEAC play their ACC neighbors once again. Once again, this should be a mismatch. Blue Devils 45, Eagles 3.
No. 25 North Carolina A&T at Gardner-Webb. Last season, this would have been a battle of top running backs, but with NCAT's Tarik Cohen graduation and Gardner-Webb's Khalil Lewis dismissed from the program, this game looks a lot different. The Aggies seem to have enough returning to win a tough opener on the road. Aggies 24, Runnin' Bulldogs 13.
No. 15 Central Arkansas at Kansas State (FBS). Just a very bad spot for the Bears, who face a team with a ton of returning starters that are itching to get head coach Bill Snyder to a College Football Playoff spot. Wildcats 49, Bears 13.
Butler at No. 18 Illinois State. The Bulldogs return a lot of pieces from their 4-7 team last year, but the Redbirds do too, as well as some NFL-caliber talent in the defense. Redbirds 42, Bulldogs 10.
No. 21 Grambling State at Tulane (FBS). Willie Fritz, the former head coach at Sam Houston State, knows what he's getting in Grambling, which is not good for Grambling. Green Wave 52, Tigers 0.
Montana Western (NAIA) at No. 22 Weber State. The Wildcats should have enough to beat the Bulldogs in their home opener – as long as they don't take Montans Western lightly. Wildcats 31, Bulldogs 17.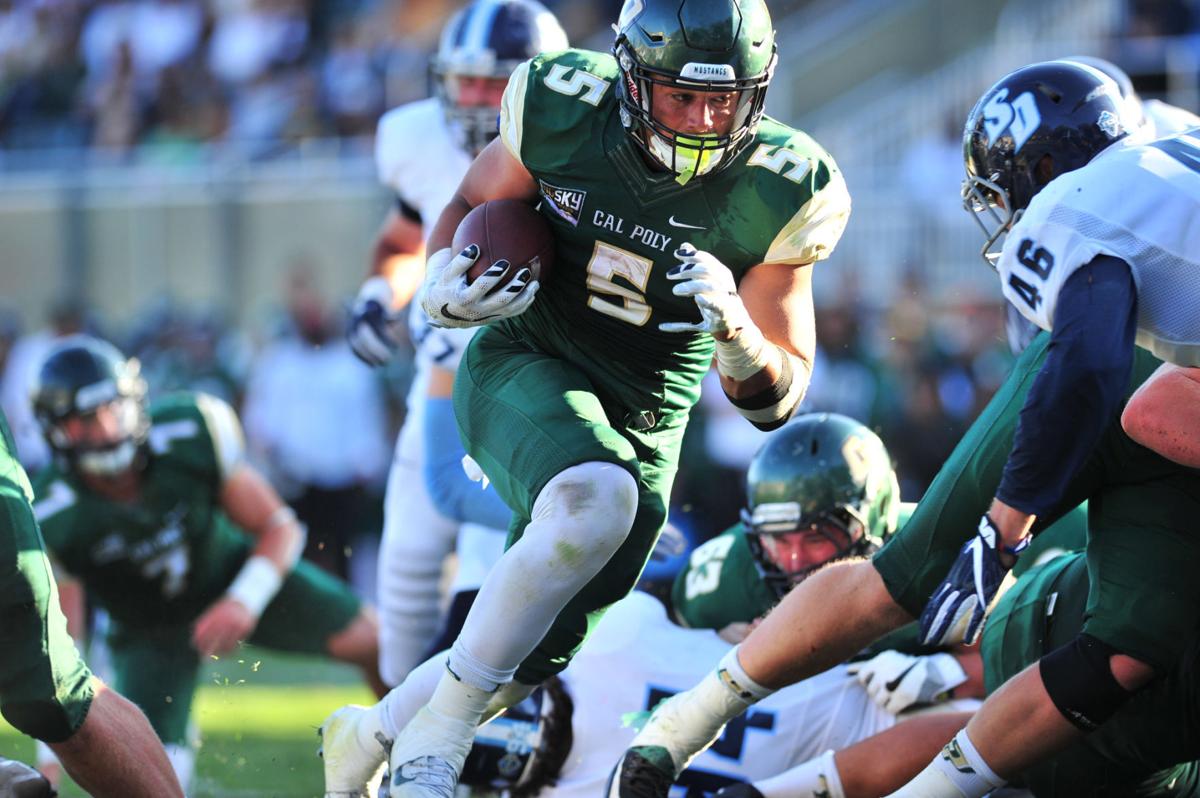 Special: FBS Upset Alert! Five Possible FCS over FBS Upsets
No. 23 Cal Poly (0-1) at San Jose State (FBS). The Mustangs were close to coming from behind and beating Colgate last weekend, and they should be more up to game speed than the Spartans – which is a bigger advantage than people think. Add to that a rookie head coach for San Jose State, and position problems – and the fact that Cal Poly simply has more talent – that equals a victory. Mustangs 31, Spartans 17.
Abeline Christian at New Mexico (FBS). Throw out the records; throw out the fact that Wildcats are entering their first-ever game as a full-fledged Division I member; throw out the fact that they have a new head coach. The Lobos are one of the very worst teams in all of FBS, with a completely rebuilt defense and a one-dimensional rushing offense. If the Wildcats can stall the Lobos running attack and get enough plays on offense, I think they win. Wildcats 27, Lobos 13.
No. 1 James Madison at East Carolina (FBS). The Dukes, aside from being defending FCS National Champions, are every bit as equal to the Pirates in terms of football talent, even with some players suspended from the game. The better team wins this game. Dukes 49, Pirates 42.
No. 20 Northern Iowa at Iowa State (FBS). The issue here, again, is one of history: two years ago, Iowa State lost to the Panthers and two years later, Iowa State is still in a place of unmet expectations while Northern Iowa is in the conversation for Missouri Valley football champions. Expect offensive frustration to mount for the Cyclones and another win over their in-state rivals for the Panthers. Panthers 31, Cyclones 19.
Montana State at Washington State (FBS). It's like a Cougar curse: Washington State can't shake FCS teams in Week 1. Making matters worse is Montana State has exactly the sort of mobile quarterback, Chris Murray, that will give them fits to defend. Bobcats 52, Cougars 48.