FCS Playoffs 'Til I Die: Two Weeks Til Selection Sunday, Zero Autobids Offered
Two weeks to go, and how many autobids have been clinched? How about… none?
Yes, Virginia: Though FCS powerhouses North Dakota State and James Madison are pretty much sharpies in the field at this point, technically both could lose their autobids in the Missouri Valley and CAA, respectively, if they lose both their games and stuff happens.
The same rule applies with Monmouth of the Big South and San Diego of the Pioneer League – looking very good for the autobid, but still, technically, could lose it, if they slip up in their last two games.
Other conferences are about as muddled as can be, most notably the OVC, Patriot League, and Southland. The Southland in particular is about as clear as a bowl of very good gumbo, with four teams with a 5-2 record and a multitude of scenarios at play.
Confused? You're not alone. You've come to the right place to try to make some sense of the playoff field.
Once again, a quick recap of the rules for the ability to qualify for the FCS Playoffs:
The field for the FCS Playoffs is determined at the conclusion of the FCS regular season, which is the Sunday before Thanksgiving.
There are 10 conferences that get autobids to the playoffs, the Big Sky, Big South, CAA, Northeast, Missouri Valley, Ohio Valley, Patriot League, Pioneer Football League, Southern, and Southland Conferences.
Two conferences, the SWAC and MEAC, choose to send their champions to the Celebration Bowl, a postseason event that's separate from the FCS playoffs. (Additionally, the SWAC also plays a championship game, and also have scheduled some games on Thanksgiving or beyond.) What this means is that their conference champions play in the Heritage Bowl and not the playoffs, though second-placed teams that don't have Thanksgiving or later games could be considered instead.
A third, the Ivy League, chooses FCS playoff irrelevance instead of participation in the greatest Division I playoff system ever created.
Projected Conference Champions/Autobid Winners
Big Sky
8-2 (6-0) Weber State isn't making it easy, but they manage to keep winning and sit alone atop the Big Sky with an undefeated record. This week's game vs. 8-2 (5-1) Montana will determine the autobid – if they win, they will own head to head victories against any of the teams in the tiebreaker they could face for the autobid, even if they lose to 3-7 Idaho State to close the regular season. If Montana beats the Wildcats, and then beat 7-3 (4-1) Montana State next week, the Grizzlies will win the autobid instead. The only way the Bobcats would get the autobid is if they win their last two and Weber State lose their last two.
Big South
We are so close to pulling out the sharpie to put 8-2 (5-0) Monmouth into the bracket. What's needed is for the Hawks to finish off 6-3 (3-2) Campbell this weekend. If they do, Monmouth will win the Big South and the autobid. The only hope for 8-2 (4-1) Kennesaw State to win the Big Sky autobid is if Monmouth loses their last two games, and the Owls win their last two games.
Colonial Athletic Association
It is theoretically possible 9-1 (6-0) James Madison will lose the autobid. It would involve losing to 5-5 (4-2) Richmond this week, the Dukes losing to 2-8 (0-6) Rhode Island next week, and Richmond beating longtime Southern rival 4-6 (2-4) William and Mary next week. Could it happen? Hey, it's the CAA: anything could happen. Do we think it will happen? Let's just say I've put James Madison in my field of 24.
In the at-large department, bubble teams around the country are going to be continuing to root for chaos. 6-4 Albany, if they win out, will have a great case for an at-large bid, same as 6-4 Towson. But bubble teams are probably rooting big-time for Albany to lose to 5-4 New Hampshire, then have the Wildcats next week lose the Musket to 5-5 Maine, eliminating a bunch of CAA teams from the at-large pool, or at least put them even further out on the bubble.
Missouri Valley
In the same vein, 10-0 (6-0) North Dakota State, could lose their last two games against 4-6 (3-3) South Dakota and 6-4 (4-2) Southern Illinois, while 7-3 (5-1) Northern Iowa could beat 7-3 (4-2) South Dakota State and 1-9 (1-5) Western Illinois. Possible? Remotely. I don't think that happens.
Northeast
With Robert Morris' stunning, thorough 41-21 win over Duquesne, the 6-4 (5-0) Colonials have set up a NEC championship game in New Britain, CT against 9-1 (5-0) Central Connecticut State, who are undefeated against FCS competition this year. It should be a heck of a championship game at Arute Field this weekend, which we think, narrowly, will go to the Blue Devils at home.
Ohio Valley
Everything fell in place this weekend for 7-3 (5-1) Austin Peay, who currently hold the tiebreaker against 7-3 (5-1) Southeast Missouri State. The formula is simple – if the Governors beat 4-6 (2-4) Murray State and 1-9 (1-5) Eastern Illinois to close out the season, Austin Peay wins the autobid. If they lose once, and SEMO beats… Eastern Illinois and Murray State, SEMO wins the autobid.
6-4 (5-2) UT Martin has a slim chance at winning the autobid, which broadly involve winning their final conference game and the Panthers and Racers becoming the 2015 Carolina Panthers and the 1986 Chicago Bears, respectively, and going 4-0 against Austin Peay and SEMO. The Skyhawks might want to focus instead on winning their last two games in order to possibly make the FCS playoff field. If the Skyhawks finish at 8-4, with a win over FBS Kentucky to finish the year, the FCS subcommittee would almost literally have no choice but to include them in the field – and it's hardly an insurmountable task.
Patriot League
An utter mess is brewing in the Patriot League. Only one team, 5-5 Holy Cross, has the potential of winning the conference and autobid with seven Division I wins (if they beat Fordham and Georgetown to close out the year). But even if they do, they need help, because currently, against all odds, if 3-7 (3-1) Lafayette wins their last two games, they will be the Patriot League champs no matter what Holy Cross does (since the Leopards beat them last week).
Holy Cross, Lafayette, Lehigh, and even Bucknell could still all win the Patriot League, and the determination of the title and autobid will not be settled this week. In one way or another the Rivalry game against Lafayette and Lehigh, the 155th meeting of the most-played football game in college football, is going to have some role in crowning the champions.
Pioneer
7-2 (6-0) San Diego is as close to a sure thing for the playoffs as there is – unless, as happened one season, PFL commissioner Patty Viverito declared the Toreros suddenly ineligible for the postseason after they played their final regular season game, after violating one of the league's non-scholarship rules. Barring that sort of hail-mary pass, as long as San Diego either beats 2-8 (0-6) Jacksonville or 5-5 (3-3) Morehead State, they are in.
Southern
The path to the SoCon championship is clear, and it involves two games. If 7-3 (6-1) Furman beats 6-3 (5-1) Wofford this weekend, Furman wins the SoCon championship outright and gets the autobid. If Wofford wins, it will come down to the winner of next week's Wofford/Citadel game (6-4, 4-2), assuming The Citadel beats Chattanooga this weekend. Currently, we are picking Furman to win this weekend, so they are our projected autobid winners.
Where things start to get weird is any at-large bids the SoCon receive as a result of these game. Are at-large teams around the country rooting against Wofford twice? If Furman loses to Wofford and beats the NAIA school point in a glorified scrimmage next week, they'd be 8-4 and awfully hard to keep out of the at-large pool, even though they'd only have seven Division I wins. But if Furman beats Wofford this week, it looks like the Wofford/Citadel game would be a battle of a 6-4 and a 7-4 team. At 6-5, Wofford would be out, and The Citadel at 8-4 would be a mortal lock – but the SoCon would only have one at-large bid out of the pool.
Bottom line, it looks like the SoCon could have one or two at-large teams. Bubble schools are hoping it's just one, and a Furman win and a Citadel win against Wofford offers that possibility.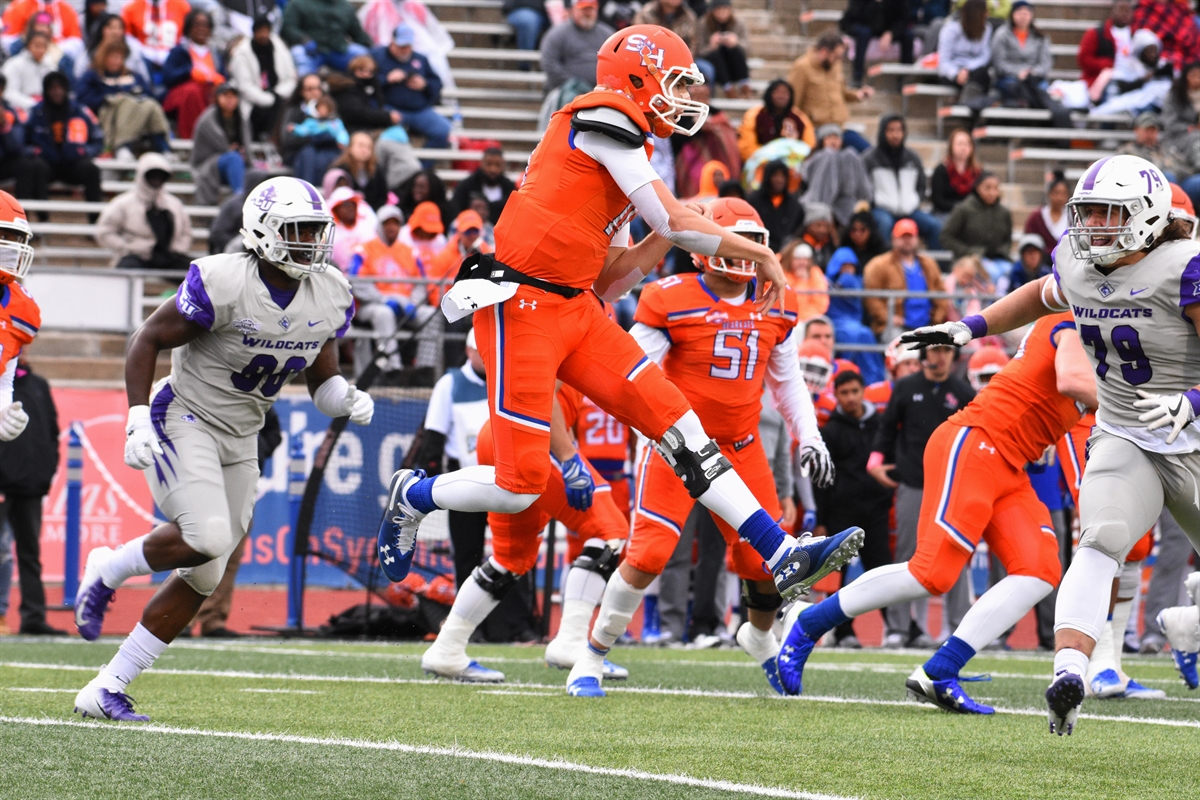 Southland
Where to begin? As this thread on the message board Any Given Saturday spells out, it is impossible to figure out currently which of these five teams will win the conference and autobid: 6-4 (5-2) Sam Houston State, 7-3 (5-2) Central Arkansas, 6-4 (5-2) Nicholls, 6-3 (5-2) Southeastern Louisiana, and even 6-4 (4-3) McNeese State. So many potential outcomes are possible that it's literally impossible to predict what will happen.
If you see the thread, you'll see that most of the scenarios show that Sam Houston State or Central Arkansas are the likeliest winners of the conference. If you're an at-large team, you're probably hoping that Central Arkansas wins the autobid, as their at-large resume, with a win over FBS Western Kentucky, is the best of any Southland team by a wide margin. But Sam Houston State, on paper, has the easiest path to the title, with games against 2-8 Northwestern State and 4-6 Houston Baptist to close the year. Have "easy games" been a good guide in the Southland, though? Still, that's who we'll go with at the moment.
When I look into my Southland crystal ball, I see a slew of 7-4 and 7-5 teams that are going to have a sweaty time on Selection Sunday, but it seems inevitable that they will capture at least one at-large berth – perhaps two.
Seeding
North Dakota State (↔️)
James Madison (↔️)
Weber State (↔️)
Northern Iowa (1 ⬆️)
Sacramento State (2 ⬆️)
Montana (2 ⬆️)
Illinois State
Furman
Next Teams Up: South Dakota State, Montana State, Wofford, Central Arkansas
After the FCS Playoff Subcommittee released their initial seedings last week, probably the biggest switch was putting Central Arkansas in the rankings, though their loss this weekends put their seeding in doubt. Also, the CAA's cannibalism has really wrecked their chances at getting a second seed.
Rest of the field:
Already at 8 or more D-I Wins: Central Connecticut State, James Madison, Monmouth, Montana, North Dakota State, Weber State
Currently at 7 D-I Wins: Austin Peay, Central Arkansas, Furman, Illinois State, Northern Iowa, Montana State, Sacramento State, San Diego, South Dakota State, Villanova
Currently at 6 D-I Wins: Albany, Bethune-Cookman, Dayton, Jacksonville State, Kennesaw State, McNeese State, Nicholls, North Carolina A&T, Robert Morris, Sam Houston State, Sacred Heart, Southeastern Louisiana, Southern Illinois, The Citadel, Towson, UT Martin, Wofford
PLAYOFF PICKS: Albany, Austin Peay, Central Arkansas, Central Connecticut State, Kennesaw State, Monmouth, Montana State, Lafayette, Sam Houston State, San Diego, South Dakota State, Southeast Missouri State, Southern Illinois, Villanova, The Citadel, Towson
Last Four In:
Albany, Kennesaw State, Southeast Missouri State, Towson
First Four Out:
South Carolina State, Wofford, Nicholls, UT Martin
A word here on the MEAC. As mentioned earlier, the MEAC sends its champion to the Celebration Bowl to face off against the SWAC champions. But there is an opportunity for a second-placed team to qualify for the FCS Playoffs if they are not invited to the Celebration Bowl.
Currently, the situation around the MEAC is complicated. Florida A&M is competing in the MEAC, but they are under a self-imposed championship and postseason ban. So their games "count", but they cannot play in either the FCS playoffs or the Celebration Bowl, though they are undefeated in MEAC play.
Currently there are three teams with some excellent resumes: North Carolina A&T (6-3, 4-2), Bethune-Cookman (6-3, 4-3), and South Carolina State (6-3, 4-2). The Aggies have beaten a potential FCS Playoff team (Elon) while the Bulldogs have upset a potential FCS Playoff team as well (Wofford).
In our projections, we have North Carolina A&T doing what needs to be done to make the Celebration Bowl, with South Carolina State in the field. In order for the Bulldogs to qualify as a bubble team, they need to win their last two games to finish 8-3 and have North Carolina A&T beat Bethune-Cookman this weekend. That is what we are predicting, but just outside the bubble at the moment.
Potential 1st Round Matchups
Lafayette at Villanova
Central Connecticut State at Albany
Sam Houston State at South Dakota State
Austin Peay at Central Arkansas
Southern Illinois at Southeast Missouri State
Monmouth at Towson
San Diego at Montana State
The Citadel at Kennesaw State
Potential 2nd Round Matchups
Austin Peay/Central Arkansas winner at No. 1 North Dakota State
Monmouth/Towson winner at No. 2 James Madison
San Diego/Montana State winner at No. 3 Weber State
Southern Illinois/Southeast Missouri State winner at No. 4 Northern Iowa
Central Connecticut State/Albany winner at No. 5 Sacramento State
Lafayette/Villanova winner at No. 6 Montana
Sam Houston State/South Dakota State winner at No. 7 Illinois State
The Citadel/Kennesaw State winner at No. 8 Furman