I have to be honest here -I have a lot of ties to where I sit today to the North Dakota State and South Dakota State Division I transition that happened in 2004.
The move by both schools got me into this writing gig with a renewed interest to these two old D-II North Central Conference (NCC) foes and within their new Division I home.
And as two to the Top 3 ranked teams in the FCS meet this Saturday in Brookings, excitement for this game is at an all-time for myself and I would imagine for just about every NDSU and SDSU fan, student, and alumnus – and very well could be for all FCS fans throughout the country.
You see, ESPN College Gameday will be in Brookings for the first time in the state of South Dakota and arguably the biggest FCS game that the ESPN show will ever be telecasting.
Yes, ESPN College Gameday has been to Fargo twice but was more or less just a showcase of the Bison as the two opponents for NDSU those years were two unranked teams in Delaware State and Incarnate Word in 2013 and 2014. The only other FCS games involved James Madison twice against two ranked teams in 2015 against Richmond and in 2017 versus Villanova. And never has two Top 5 ranked teams been showcased on the ESPN show.
But when I started college at NDSU to when I graduated in the early-to-mid 1990s, this NDSU-SDSU game was not a rivalry at all to most NDSU students, fans, and alumni. SDSU to me was just another game. It was no different than playing Nebraska-Omaha or Mankato State in the old NCC days to me.
To be quite honest about the only question in my college span about this "rivalry" was if future NFL star place kicker Adam Vinatieri would nail a 50+ yard field goal or not for the Jackrabbits after watching him nail 60 yarders in pregame play.
Back then, the rivalry was the University of North Dakota for NDSU. And for SDSU, its rival was the University of South Dakota. I thought even at the transition that this NDSU-SDSU rivalry would not be much of anything.
You can see results showing that this was not much of a rivalry. Looking back at the results from 1980 to 1996 (my earliest childhood memory to when I graduated college), NDSU won 16-of-17 meetings. NDSU in this span won five Division II national titles, finished as the D-II runner-up twice and had 13 overall D-II playoff appearances. SDSU did not even have one playoff appearance and only had nine winning seasons with the most wins in a season over this span being seven games.
Boy have times a changed over the last 15 years!
NDSU and SDSU moved up from the Division II ranks together and created what most (including myself) would consider a manufactured rivalry at the time of its inception in 2004 called the Dakota Marker that was present for the first D-I clash between these two schools. The trophy is a model replica of the quartzite monuments that marked the border between North and South Dakota when Dakota Territory was split into two states along the Seventh Standard Parallel (45°56'07" N) in 1889.
I wrote a column during the time when I highlighted that I felt that this was not going to be much of a rivalry as it was very one-sided towards NDSU. But the move to Division I propelled South Dakota State into much more football prominence over their D-II days.
Since the Marker was established as the trophy, the two schools have played 19 times overall (with four meetings coming in the FCS playoffs). NDSU leads now in the series by just a 13-6 margin, and 9-6 in the regular season. No other team has come close to this level of regular season success against the Bison.
The rivalry got off on a great start for South Dakota State and I think was the key to becoming into one of the best in the FCS. The Jackrabbits won the first Dakota Marker in that 2004 season 24-21 and really kicked off the back-and-forth winning for each team.
South Dakota State in their D-II and early D-I days had arguably the worst stadiums of the four major Dakota schools, but now arguably has the best as the only outdoor facility in the former Dakota Territory. I have been in the old Coughlin-Alumni Stadium in November and you had to wear a parka to stay warm even inside the press box in the 16,000 capacity facility.
But now, SDSU boosts on the same grounds the re-named Dana J. Dykhouse Stadium. It was done in stages starting in 2014 until its finishing in 2016 to now the largest capacity stadium in all of the Dakotas at 19,340 that includes several luxury suites and a new press box. It now is on par with NDSU's 18,700 seat Fargodome, if not surpassed.
SDSU also boosts one of the best FCS teams in the country yet again—something it has had the last several years. The Jackrabbits have made the FCS playoffs every year since 2012 and also made it in 2009 so has just one less appearance overall then NDSU.
The Jackrabbits have lost the last two years in the FCS semi-finals, last year falling to the Bison and losing to the other power of recent years in James Madison in 2017. They have been so close, and look to get to the next step of getting to Frisco, Texas for the national title.
This year will be the most electric atmosphere in Brookings for his Bison-Jackrabbit clash, with the ESPN show and what has been announced as a sell-out crowd for the first time in the three years of the new SDSU stadium.
When this so-called rivalry was made, I thought this would never materialize into anything. However, I can now say that I was wrong from what I thought back in 2004. This is now one of the best if not the best rivalries in the FCS, and the whole college football nation now will get to see what this Dakota Marker game is all about.
May the best Dakota team win on Saturday!
********************************
FCS Game of the Week:
North Dakota State (7-0, 3-0) at South Dakota State (6-1, 3-0)
Where: Dana J. Dykhouse Stadium, Brookings, S.D.
When: Saturday October 26th, 2:00 PM CDT
TV/Streaming: Midco/NBC North Dakota/ESPN+ (subscription req'd)
North Dakota State Bison
NDSU leads the all-time series 62-42-5 with the first game between the schools coming in 1903. Last season, NDSU won 21-17 in September and 44-21 in the national semifinals on Dec. 14. Saturday's contest will mark the 12th consecutive game (playoffs included) in the series that both teams have been nationally ranked, and the seventh in that span in which both teams have been ranked in the top 10.
This year, the Bison despite being a relatively young team have left off of last year's perfect 15-0 squad and now have won 28 games in a row (the second best streak only to the same program when NDSU won 33 in 2012-14. The Bison have a conference-leading average of 39 points per contest. They are an overall dangerous team offensively but starts with the ground game. They have scored 21 rushing touchdowns and rushed for about 287 yards per game — both which rank first in the MVFC.
The Bison defense has been suffocating this season, as they have held opponents to 10 points and under in four of their seven games. Only one opponent, Delaware, has scored more than 20 points on the Bison this season. NDSU only allows about 85 rushing yards per game while only allowing about 177 passing yards per game. Both rank first in the MVFC.
Key Player: QB Trey Lance has been great at time but last week showed some wear (even though NDSU defeated Missouri State 22-0). The redshirt freshman has the highest passing efficiency in the conference (183.9), thrown the second-most touchdowns (15) and is second for total yards per game (249.1). He has completed 69.9 percent of his passes, which leads the conference, while scoring seven rushing touchdowns, which is tied for second in the conference. ance is fourth in the nation with a 183.90 passing efficiency to go with 22 total touchdowns and zero interceptions.Expect the Jackrabbit defense to put a spy on Lance this week and show some unique defensive sets. The key for Lance is to read those defenses and get the Bison in the right play call and not stall as SDSU will not be fully stopped on their offensive side so scoring touchdowns will be needed for the Bison to continue their win streak.
South Dakota State Jackrabbits
SDSU had its streak of scoring in 17 consecutive quarters end when it was shut out in the second quarter of the Oct. 12 game at Youngstown State. The Jackrabbits have scored in 24 of 28 quarters thus far this season. The Jackrabbits homefield advantage has been kinder to SDSU in the recent series history. SDSU is 4-3 at home against the Bison since 2004, including a 33-21 victory in the last meeting in Brookings in 2017. That game was the last loss in either the regular season or postseason for NDSU.
South Dakota State is in the midst of a 15-game home winning streak and has compiled a 24-2 record (.923 winning percentage) at Dana J. Dykhouse Stadium since the facility opened in 2016. Ironically, that streak began with that 2017 game against NDSU.
SDSU's offense is producing 236.9 ypg (13th in FCS) and 35.4 ppg (20th in FCS).
The Jackrabbits defense currently rank sixth among FCS teams in both scoring (15.6 points per game allowed) and total defense (291.6 yards per game allowed).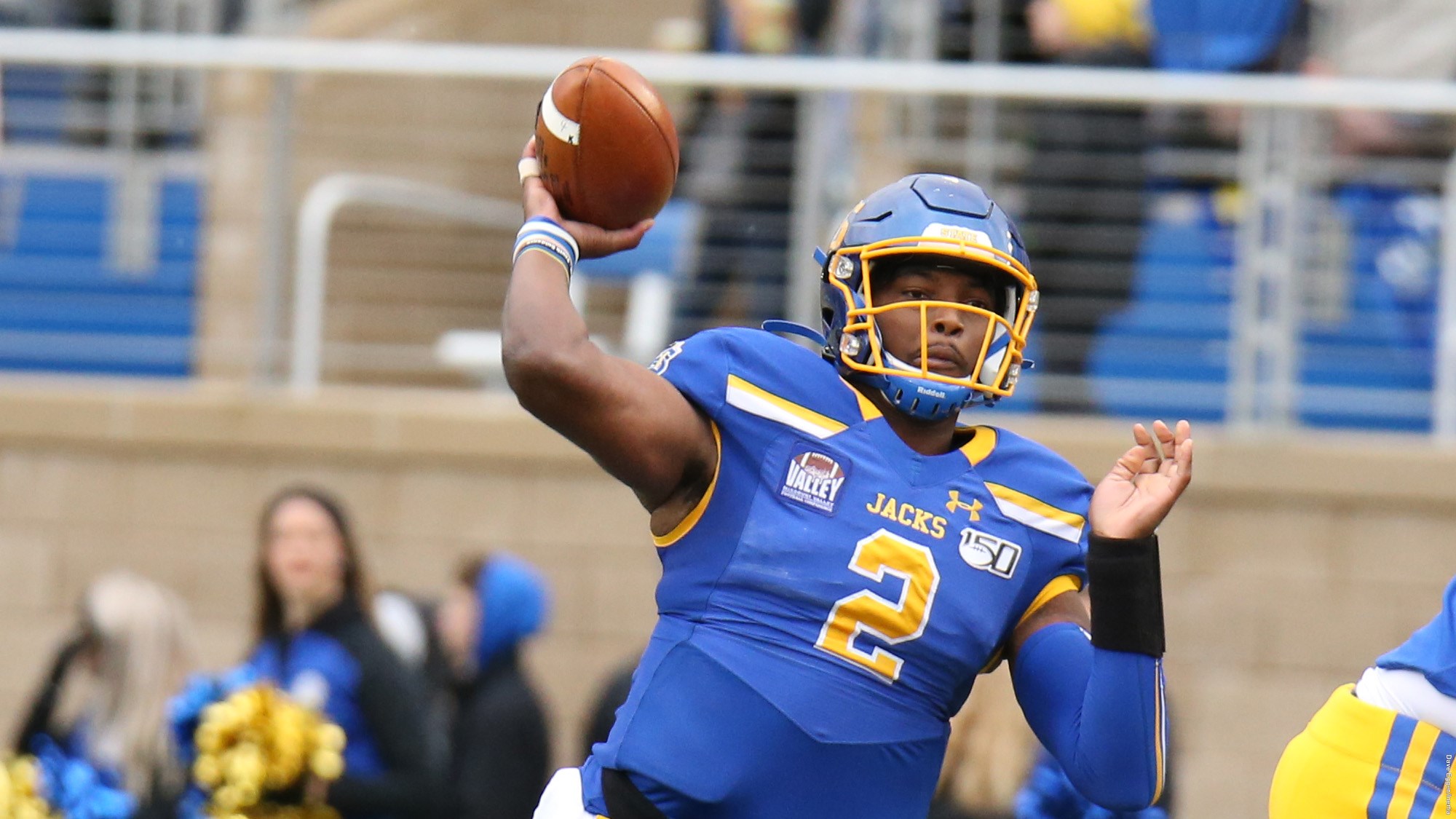 Key Player: QB J'Bore Gibbs like Lance for NDSU is a redshirt freshman. He did have an injury following the lone loss to FBS Minnesota to start the season. He had to sit out the first two home games of the season but has been back for the last four contests. In his last outing, Oct. 19 at Indiana State, Gibbs accounted for four touchdowns – three passing and one rushing – in a 42-23 Jackrabbit victory. He completed 18-of-28 passes for a career-high 274 yards and matched his career best with the three touchdown passes. Gibbs has 14 total touchdowns and a 149.57 passing efficiency in five games he has played. He will need to put up some similar numbers in this game in what I expect to be fairly high scoring.
Fearless Prediction: While it is an honor to host ESPN College Gameday, the Jackrabbits will have to work around all the distractions that come with this. Both teams are very strong on the defense but I clearly expect both offenses to get their share of plays in this game. But as with two evenly matched teams, this game will come down to defensive stops and which defense can win the turnover battle. SDSU has shown it can compete as it narrowly lost at Minnesota but really that was the only tough game so far. The Jacks are not battle tested yet. NDSU, instead has had wins over four currently ranked teams in the Top 25 in all major polls including UC Davis, Northern Iowa at home and Delaware and Illinois State on the road. With two young quarterbacks and several other young players, this early experience will come into play. Expect the Bison to win this one but it will be taken into the fourth quarter. NDSU 31, SDSU 27
Originally from LaMoure, North Dakota, Kent is a 1996 graduate of North Dakota State University. His prior writing experience is over 15 years having previously worked with D2football.com, I-AA.org, and College Sporting News before coming to College Sports Journal in 2016. His main focus is college football is the Missouri Valley Football Conference within the Division I FCS. And in 2017, he began also to look at the FBS Group of Five conferences of the American Athletic, Conference USA, Mid-American, Mountain West, and Sun Belt.
Reach him at this email or click below: