LEHIGH FOOTBALL: Getting To Know Your 2023 Non-Conference Opponents
Since I can't do anything half-assed, here's a detailed Lehigh fan's guide to the Mountain Hawks' 2023 non-conference opponents. There's no easy win penciled in here, as you will see.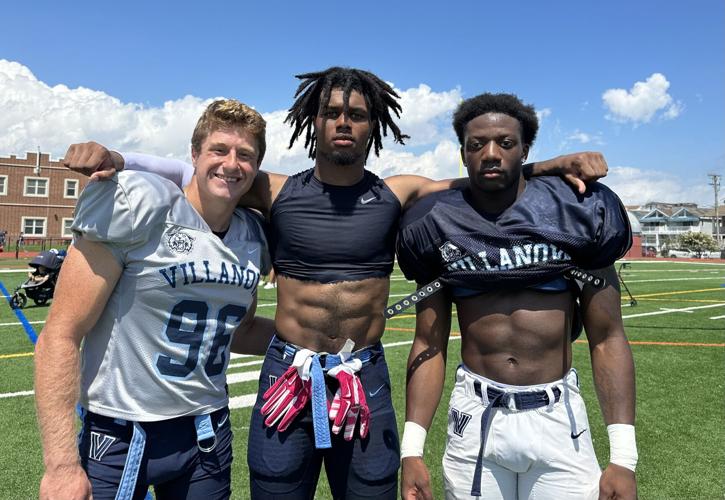 September 2nd, 12:00 PM, Murray Goodman Stadium: Villanova
It's become a sort-of rite of passage for Lehigh football that they play Villanova as their perennial tough challenge to start the season. With the exception of COVID Spring 2021, Lehigh has faced off against Villanova to start the season every season since 2016 – most of them by lopsided scores.
Since resuming the series in 2004, the Wildcats have gone 11-1 against the Mountain Hawks, the lone win being, of all things, legendary Lehigh head football coach Andy Coen's first intercollegiate victory in 2006. (My favorite part of that 31-28 win was that then-Villanova head coach Andy Talley was so furious after the game at his team for looking past Lehigh, that week he planned to have a Sunday morning scrimmage to show his displeasure.)
Aside from a rare upset and a couple of close calls, the "rivalry that isn't" demonstrates why it's not a rivalry: In the last four meetings, Villanova's margin of victory has been at least three touchdowns.
Last year's 45-17 defeat sadly was a typical Villanova/Lehigh matchup of the last six years – an offensive coming out party for many of the Wildcats, including QB Connor Watkins, who racked up 298 yards passing and 3 passing touchdowns in an efficient 11-for-15 passing performance to go with 25 yards rushing and a rushing score.
It will be a baptism of fire for head coach Kevin Cahill against a team that some think might be a prime bounceback candidate to make a run at the CAA title and get back to the FCS Playoffs. Don't be fooled by their preseason pick of 7th in the conference – they will be a huge challenge.
2022 At A Glance: It was seen as a disappointment, considering they entered the season ranked No. 5 in the nation, but the Wildcats' 6-5 season ended on a high note when they beat their hated Rivals Delaware to close out the year. QB Connor Watkins, a major talent, started off strong but had a very uneven year, with 11 INTs and only a 55% completion percentage.
Biggest Departure: WR Dez Boykin (20 catches, 469 yards, 2 TDs) from Whitehall was a big competitor for the Wildcats over the years and seemed to relish scoring against Lehigh.
Names To Watch In 2023: Nineteen members of Villanova's football program have "Gr." listed next to their names under "Eligibility", which shows how many 5th year players and redshirted players are now a normal part of Villanova's roster. Worryingly for Lehigh, leading receiver WR Jaaron Hayek and athletic LB Daniel Abraham (26 tackles, 2 INT) are two of those players. Sophomore LB Shane Hartzell out of Perkasie (74 tackles, 9 TFL) became one of the best linebackers in the CAA as well.
September 9th, 4:00 PM, Duane Stadium: Merrimack (at North Andover, MA)
In contrast to Villanova, Lehigh has played the Warriors of the NEC exactly once – in 2019, when Lehigh managed to eke out a defensive-minded 10-3 victory over Merrimack, who was in transition to Division I at the time. LB Keith Woetzel was a monster underneath in that game with 12 tackles, 8 solo, as Merrimack was held to 303 total yards while holding onto the ball for 36:49 of the game.
Since that game, however, Merrimack has morphed into a much different team. Anyone expecting a relatively easy 10-3 win this time around might be sorely disappointed.
The Warriors, who upset Holy Cross in the fall of 2021 35-21 the week after Holy Cross upset UConn, was picked to finish second in the league and will be entering their first season eligible to qualify for the FCS Playoffs. Lehigh will be their home opener the week after the Warriors serve as Holy Cross' home opener.
2022 At A Glance: An 8-3 record was an amazing accomplishment for the Warriors, only losing to Holy Cross, Harvard, and eventual NEC Champions St. Francis (PA). It was the most wins in a season in Merrimack history.
Biggest Departure: RB Victor Dawson was the Warriors' leading rusher and workhorse last season with 744 yards, 4.9 yards per carry and 10 rushing TDs.
Names To Watch In 2023: OL Nick Reimer has been a two-year starter for the Warriors and is from Allentown Central Catholic, starting every game. Defensively Merrimack will be a very deep and experienced team with junior DL Brandon Roberts (42 tackles, 10 1/2 TFL) leading the way.
September 16th, 12:00 PM, Murray Goodman Stadium: Cornell
2022 was full of a bunch of tough losses for the Mountain Hawks, but the winnable 19-15 defeat to Cornell was by far the most agonizing non-conference loss on the Lehigh schedule. Cornell LB Connor Henderson scored the only touchdown of the second half on a 31-yard interception return, and while Lehigh had a chance to drive and win the game with just over four minutes to play, the Mountain Hawks' final drive stalled at the Cornell 12 yard line. Multiple red zone chances were squandered.
Cornell was picked to finish seventh in the eight-team Ivy League this season, but to me that seems wrong because they return quite a few pieces from last year's team, including their leading tackler and starting QB. I'm not sure they are ready to be handed the Ivy League title just yet, but I would consider them a dark horse to make a title run.
Lehigh will be Cornell's first opponent of the season when the Big Red head to Murray Goodman. The Ivy League kicks off their season later than the rest of FCS and have no bye weeks.
2022 At A Glance: Picked to finish dead last, the Big Red ended with a morale-boosting 5-5 record, including a perfect 3-0 out of conference record against Lehigh, Colgate, and VMI. Close single digit losses to Harvard and Penn show how close Cornell was to a winning record.
Biggest Departure: WR Thomas Glover (540 yards, 6 TDs) was the Big Red's leading receiver last season.
Names To Watch In 2023: Worryingly for Lehigh, athletic QB Jameson Wang (1,650 yards passing, 559 yards rushing, 22 TDs) and NFL prospect LB Jake Stebbins (76 tackles, 2 1/2 TFL, 2 fumble recoveries) return from the team that beat them last season.
September 23rd, 1:30 PM, Memorial Field: Dartmouth (at Hanover, NH)
Personally, I can't wait for this game for a specific reason – my father, sister, and brother-in-law all went to Dartmouth. It's also been more than 25 years since the Mountain Hawks beat the Big Green in football, and frankly, I want the bragging rights back. I'm not wishing for a 2-9 season, but if it is, and the wins are over Dartmouth and Lafayette, I will be more than happy.
Hanging over Dartmouth's offseason has been the tragic accident of head coach Buddy Teevens down in Florida. Teevens suffered spinal cord injuries and his right leg was amputated after he was struck by a Ford F150. Teevens' bike was not illuminated, according to the state highway patrol's preliminary report, and he was not at a crosswalk nor wearing a helmet. Dartmouth assistant Sammy McCorkle will serve as interim head coach for the 2023 season as Teevens' rehabilitation continues up in Boston.
The Lehigh game will be Dartmouth's home opener, the Big Green's first home game in more than a decade without Buddy Teevens on the sidelines. Dartmouth was picked to finish sixth in the Ivy League.
2022 At A Glance: Dartmouth disappointed greatly last season, limping to a 3-7 record and only beating Valparaiso and fellow Ivy cellar-dwellers Brown and Columbia. Their veteran defense kept them in games (13th nationally, averaging allowing 20.5 points per game), but an offense only averaging 20.10 points per game was in large part their undoing.
Biggest Departure: DL Shane Cokes (53 tackles, 8 1/2 TFL, 4 1/2 sacks) highlight eight starters on defense that left or graduated.
Names To Watch In 2023: Dartmouth's rushing attack will be led by 5th year senior QB Nick Howard, a dual threat option with 24 rushing TDs in the last two seasons, and they will be running behind a big offensive line returning four starters including German national OL Konstantin Spörk at left tackle.
September 30th, 1:00 PM, Kessler Field: Monmouth (at West Long Branch, NJ)
Lehigh's final challenging out-of-conference game will take place near the Jersey Shore as the Mountain Hawks take on Monmouth of the CAA. The Hawks – er, the other Hawks, have won four consecutive contests against Lehigh to cut their all-time record against them to 5-4. At one time, Monmouth playing Lehigh was an "easy win". Now, with Monmouth in the CAA, fielding a full complement of football scholarships, no roster restrictions and redshirting, it's the Jersey Hawks who have beaten Lehigh but double digits in their last two meetings in 2017 and 2022.
The Hawks have been picked to finish 8th in their conference, but like Villanova might be a little bit underseeded in the stacked CAA.
2022 At A Glance: Monmouth's offense carried them to a 5-6 record, notably knocking off then-ranked Villanova 49-42. The Hawks came out on the losing end of several shootouts that might have been enough to get them into the playoffs – 52-49 to Fordham, 52-48 to Towson, and a particularly agonizing 48-46 to Rhode Island in 7OTs.
Biggest Departure: QB Tony Muskett, who played in the USFL this spring and summer, threw for 17 TDs, and threw for almost 2,000 yards. QB Marquez McCray, a graduate transfer from Sacred Heart, will be the Hawks' opening day starter.
Names To Watch In 2023: You could probably put any Monmouth offensive player you'd like here, but last year's leading rusher RB Jaden Shirden has 2,216 career rushing yards and ranks seventh in program history – and he's only a junior. He'll be looking to make his case for the Walter Payton award when the Mountain Hawks come to town.