This year, North Dakota State will play for its unprecedented eighth Division I title in football to close out a dominating decade of football when they face one of just three schools to win a national title this decade in James Madison. James Madison knocked the Bison off in the semifinal playoff round in 2016 and the two met again for the 2017 national title with the Bison taking the second contest. NDSU also is in a current FCS best 36-game winning streak.
We'll review how the Bison come into this game with a 15-0 record and some the factors and reasons that they are playing again in Frisco at Toyota Stadium this year.
How were the Bison viewed in the preseason?
I felt that NDSU would likely be right in the contention again for another Missouri Valley Football Conference title but likely would not be undefeated due to having a new coach (Matt Entz) and a redshirt freshman (Trey Lance) quarterback starting.
I felt South Dakota State and Illinois State would be the biggest competition for the Bison within the MVFC.
As for the preseason media poll, NDSU was the unanimous pick for the MVFC crown
How did the Bison finish 12-0 within the 2019 regular season?
North Dakota State became just the fourth team to go unbeaten in an eight-game MVFC schedule, joining the 2013 and 2018 Bison and the 2009 Southern Illinois teams.
The Bison out-of-conference slate had one eventual playoff team in future confernce mate and long time in-state rival North Dakota, along with Butler and 2018 playoff teams in UC Davis and Delaware. NDSU easily handled Butler (a game played in Minneapolis' Target Field), North Dakota in Fargo and Delaware on the road. UC Davis gave the Bison their toughest out-of-conference game in one that was not decided until the final minutes of the game in what was a 27-16 NDSU victory.
https://www.youtube.com/watch?v=p92DYi5eenc
The MVFC slate was next and NDSU blew out its first three in-conference foes of Illinois State, Northern Iowa, and Missouri State by a combined 105-17.
When in South Dakota … Corso picks North Dakota State!

Pat McAfee is distraught 🤣

(📍 @NationalGuard) pic.twitter.com/7ETA04Cfcc

— College GameDay (@CollegeGameDay) October 26, 2019
The biggest and closest game came next at South Dakota State. An ESPN Gameday show appearance for this Dakota Marker rivarly game. NDSU used a RB Adam Cofield 71-yard touchdown run in the fouth quarter to propel the Bison to a 23-16 victory.
NDSU blew out its next three conference foes by a combined 162-52 over Youngstown State, South Dakota, and Western Illinois.
The Bison ended their season with a close road contest at Southern Illinois that was tied 7-7 at the half before NDSU closed out the Salukis with two second half touchdowns and the Bison defense shutout SIU for a 21-7 victory.
By going as the only undefeated playoff eligible team, NDSU received the #1 seed in this year's FCS playoffs.
How did North Dakota State win its opening round playoff game?
NDSU opened the playoffs in the second round with a tough win over Nicholls 37-13.
FCS Second Round Playoffs: Top Seeded North Dakota State Starts Slow, Finishes Strong in Win over Nicholls, 37-13
How did the Bison beat Illinois State in the quarterfinal round?
The Bison played MVFC foe Illinois State in what would be the closest game this season thus far with a 9-3 all field goal victory.
FCS Quarterfinal Round Playoffs: Top Seeded North Dakota State Wins Defensive Struggle over MVFC Mate Illinois State, 9-3
How did NDSU defeat Montana State in the semi-final round?
The rematch against the Bobcats, who NDSU defeated easily in the second round in the 2018 playoffs saw the Bison win similarly in this year's playoff game, 42-14.
FCS Semifinal Round Playoffs: Lance, Watson Key Top Seeded North Dakota State to a 42-14 Win over Montana State
What is the prior history of postseason play for North Dakota State?
The Bison have made it to the FCS playoffs now ten years in a row. NDSU won five straight national titles with wins over Sam Houston State in 2011 and 2012, Towson in 2013, and Illinois State in 2014, and Jacksonville State in 2015. The streak ended in 2016 to its championship game opponent this year of James Madison in the semi-final round but the Bison got revenge in 2016 in defeating the Dukes for its FCS tying sixth national title. NDSU won its record setting seventh FCS title last year with its win over Eastern Washington.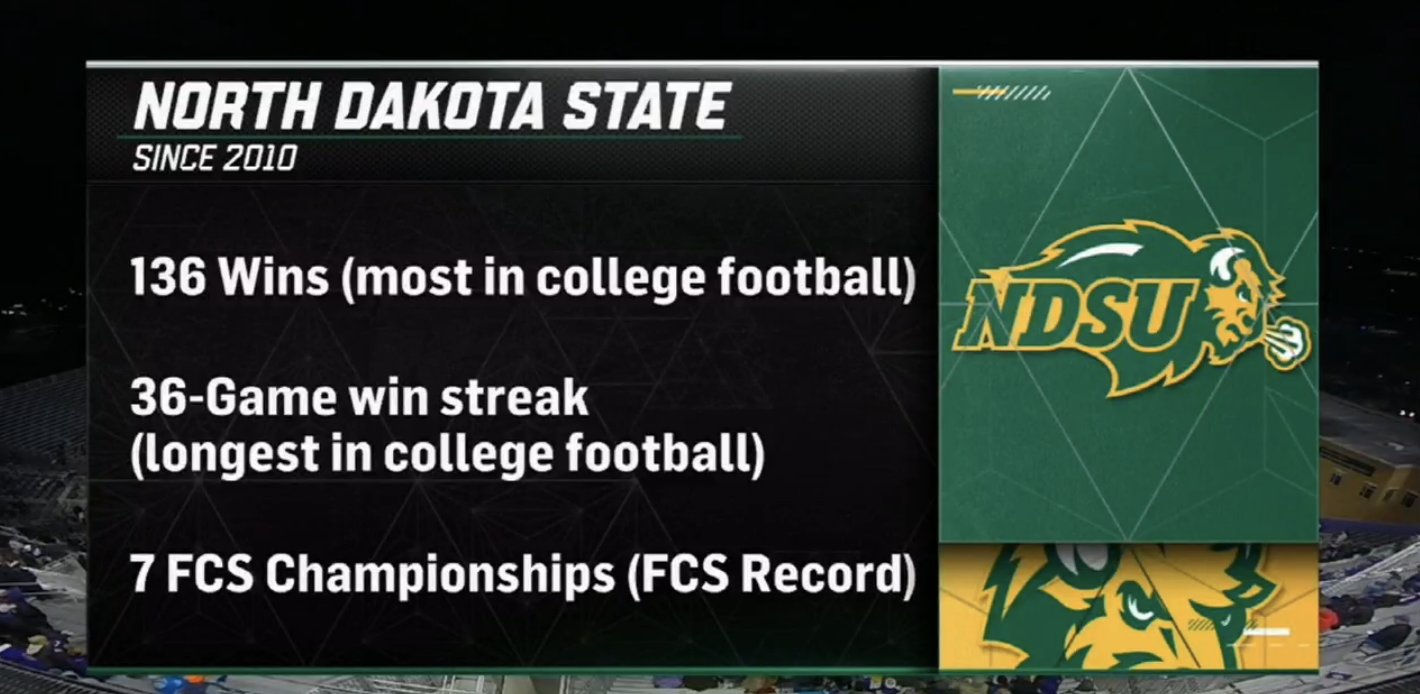 The Bison advanced to the quarterfinal round in 2010 in its first playoff berth before falling 38-31 in overtime to eventual national champion Eastern Washington. NDSU won two games against Robert Morris and Montana State prior to that loss. In total, NDSU is an astonishing 38-2 in their Division I playoff history.
But NDSU also has a storied Division II playoff history—making that division's playoffs 17 different seasons from 1976 to 2000. NDSU also played in six bowl games prior to the D-II playoffs starting in 1973.
In total, NDSU has won 14 national titles in 1965, 1968, 1969, 1983, 1985, 1986, 1988, 1990, 2011, 2012, 2013, 2014, 2015, and last year. NDSU also finished as the runner's up in 1967, 1981 and 1984.
NDSU had a 30-12 record in the D-II playoffs and won five of their six bowl games.
Of the national championships during the DI and D-II playoff era, NDSU went undefeated four prior times in 1986, 1988, 1990, and 2013 enroot to those year's national championships.
NDSU transitioned to Division I in the 2004 season and became postseason eligible in 2008.
Ready for Frisco
NDSU this year reminds me of the 2014 team again with the coaching change (then from Craig Bohl to Chris Klieman) to last year to this year with Klieman going to Matt Entz. The Bison, however, have done better than that team as this team comes into the national title game undefeated but that team lost a game in MVFC play to Northern Iowa.
This year's team had a number of new starters to begin the season much like the 2014 but reloaded well.
The Bison had a tough game in the rematch with Illinois State and really in much of the second round contest against Nicholls. The Bison offense seemed to be very conservative in those games. That changed with the semifinal game against Montana State.
The Bison defense, however, played extraordinary in all three playoff games so far. NDSU gave up just 30 points total in the three games and has shown it can perform well against both running and passing teams all season long.
NDSU ranks fourth in the FCS in rushing offense (288 yards per game) . The Bison are first in the FCS in scoring defense (11.8 points per game) and passing defense (134.3) and No. 2 in total defense (269.9), They also have the second best point differentials at plus-391 (568 to 177).
The offense has been headed by STATS Jerry Rice Award winner Trey Lance as the best freshman of the year. Lance was also the MVFC Newcomer, Freshman and Offensive Player of the Year in the MVFC. Lance is also a finalist for the STATS Walter Payton Award that will be announced the night before the national title game on January 10th. He was the FCS leader in passing efficiency (187.5) and yards per passing attempt (9.99) and ranks second in completion percentage (.689) during the regular season. He has thrown 220 career passes with 23 touchdowns and zero interceptions, and his 2,187 passing yards this year are sixth in MVFC history by a freshman quarterback.
DE Derrek Tuska headed the Bison defense this year as the MVFC defensive player of the year. As of the end of the regular season, he was the MVFC's active career leader with 26.5 sacks, which ranks sixth all-time at NDSU. Tuszka ranks third in the conference with 10.5 sacks this season and 10th in the FCS with 0.95 sacks per game. He has 37 total tackles including 15.5 tackles for loss plus three pass breakups, one forced fumble and six quarterback hurries.
NDSU is only in its 12th year of being FCS playoff and championship eligible so it is remarkable that the Bison are playing in an eighth national title game. But as can be seen from their storied history, making playoff runs and championship games is something that this program is known for. We shall see January 11th in Frisco if the Bison will hoist their eigth Division I trophy and 16th national title overall.
Originally from LaMoure, North Dakota, Kent is a 1996 graduate of North Dakota State University. His prior writing experience is over 15 years having previously worked with D2football.com, I-AA.org, and College Sporting News before coming to College Sports Journal in 2016. His main focus is college football is the Missouri Valley Football Conference within the Division I FCS. And in 2017, he began also to look at the FBS Group of Five conferences of the American Athletic, Conference USA, Mid-American, Mountain West, and Sun Belt.
Reach him at this email or click below: