St. Francis (PA) at Lehigh Preview: Two Teams Looking To Start on Right Track
The Lehigh Mountain Hawks secured a win over their bitter Rivals Lafayette, won a share of the Patriot League Championship, and won the league's autoqualifier for the FCS playoffs, putting them in the postseason for the second straight season.
Sounds like a terrific year? Not exactly.
The St. Francis (PA) Red Flash had started out last season 4-2 and managed to knock out Liberty, a powerful team on its way to FBS, 16-14.
Sounds like a terrific year? Not exactly.
At Murray Goodman Stadium this upcoming Saturday, two teams that had some wonderful high moments last year enter the 2018 season will be looking to come up winners, looking to build on the good parts of last season while fixing the parts that were broken.
"The outcome from last year wasn't what we wanted but it's about should-of-could-ofs," St. Francis (PA) head coach Chris Villareal said at the Red Flash football media day this August. "We could have started 5-1 and then we let injuries and other shortcomings derail our season."
After that 4-2 start, the Red Flash didn't end the season well in 2017, losing four of their last five games to limp to a 5-6 season. As a result, the Red Flash were picked as a middle-of-the-pack team.
"I am not worried about where we are predicted in the league right now," Villareal also said. "We got humbled a bit last year. I want our guys to have fun and sometimes its hard to have fun when you have expectations that are extremely high. I like where we are right now. We have to become a consistent football team again. There's always a little luck involved to win a championship but I am excited about where we are and think we are going to make a run at this."
Where St. Francis has optimism is with their offense, where their signalcaller with one of the best names in all of college football, QB Bear Fenimore, returns for his final year of eligibility. He passed for 1,893 yards and 14 TDs last season, though much of it came early in the season.
He also returns a tough receiver matchup problem for opposing defenses in WR Kamron Lewis, who had 65 catches for 909 yards and six TDs last season, making him the most reliable weapon the St. Francis (PA) offense had last year.
Overall the SFU offseason was one of discovering where the adversity was, and fixing it – that's what the Red Flash will be looking to demonstrate on Saturday.
For Lehigh, who boasted one of the top offensive attacks in FCS last season, they too will be looking to show that they have fixed some of the issues that plagued them last year.
Last year Lehigh lost all of their out-of-conference games, starting the season 0-5 before dramatically turning things around to go 5-1 in Patriot League play.
Head coach Andy Coen doesn't want a repeat of that.
"The good thing about our kids is that they understand that they don't want to be the type of champions that are 5-7," he said this week. "We need to win games out-of-conference."
"For us to reach our ultimate goal and compete on a national level, we need to do really well in non-conference," senior S Sam McCloskey said this week.
Another thing that Lehigh needs is to demonstrate that a lot of their defensive issues from last season are finally behind them. A tweaked defensive scheme and some new energy from the defense has folks optimistic coming out of camp.
"Our defense has vastly improved," Coen said. "We've done a lot of different things. We'll have much better linebacker play. In camp you can see how much more competitive they are. They are much improved from last year.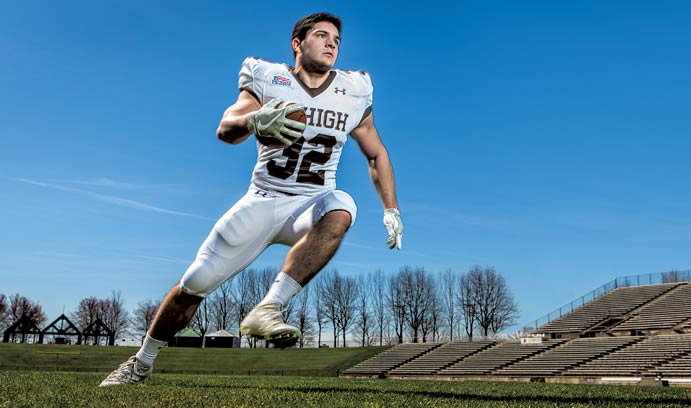 Senior QB Brad Mayes and senior RB Dominick Bragalone return in what should be a powerful offensive combination, but the impact of waving goodbye to WR Gatlin Casey and WR Troy Pelletier is uncertain.
"Penn State folks last season were calling RB Saquon Barkley a freak," Andy said this week. "At the Patriot League level, Dom is our freak. He is better, faster, stronger than last season, and he's a tremendous player and a great kid. He just keeps getting more and more physical."
Lehigh is also optimistic that their returning group of receivers won't be any sort of dropoff from Troy and Gatlin either.
"I learned a lot from Troy and Gatlin and was able to grow from it," WR Dev Bibbens said, who is anticipated to be a big part of the Lehigh passing offense going forward. "Now that I'm in a position where I can contribute consistently for our team, I look to do so and want to be a big part of our offense."
St. Francis (PA) at Lehigh
Where: Murray Goodman Stadium, Bethlehem, PA
When: September 1st, 12:30 PM EDT
TV: Service Electric 2 in the Lehigh Valley
Radio: Lehigh Valley Fox Sports AM 1160/1230/1320
Video Stream: Patriot League Network
Audio Stream: LV Fox Sports