Last week, we shook the dust off our first laughable attempt at picking an FCS Playoff field, and this week, we make another laughable attempt at picking an FCS Playoff field, but with a few more data points so that it's, well, a tiny bit less hilarious.
This week, we saw North Dakota State extend their dominance to the East Coast with a resounding win over Delaware. We also saw Jacksonville State remind people why they belong in the playoff field, and we saw The Citadel's upset of a Power 5 school that also reminds us all that the SoCon is a powerful league that seems poised to get multiple at-large bids when the time comes around. You can see a recap of these games, complete with video highlights, here.
Which Big Sky team will we pick to be the autobid? What the heck is going on in the Southland? Can we just hand the Patriot League autobid to Villanova, who went 3-0 against Patriot League competition? Let's find out below.
Once again, a quick recap of the rules for the ability to qualify for the FCS Playoffs:
The field for the FCS Playoffs is determined at the conclusion of the FCS regular season, which is the Sunday before Thanksgiving.
There are 10 conferences that get autobids to the playoffs, the Big Sky, Big South, CAA, Northeast, Missouri Valley, Ohio Valley, Patriot League, Pioneer Football League, Southern, and Southland Conferences.
Two conferences, the SWAC and MEAC, choose to send their champions to the Celebration Bowl, a postseason event that's separate from the FCS playoffs. (Additionally, the SWAC also plays a championship game, and also have scheduled some games on Thanksgiving or beyond.) What this means is that their conference champions play in the Heritage Bowl and not the playoffs, though second-placed teams that don't have Thanksgiving or later games could be considered instead.
A third, the Ivy League, chooses FCS playoff irrelevance instead of participation in the greatest Division I playoff system ever created.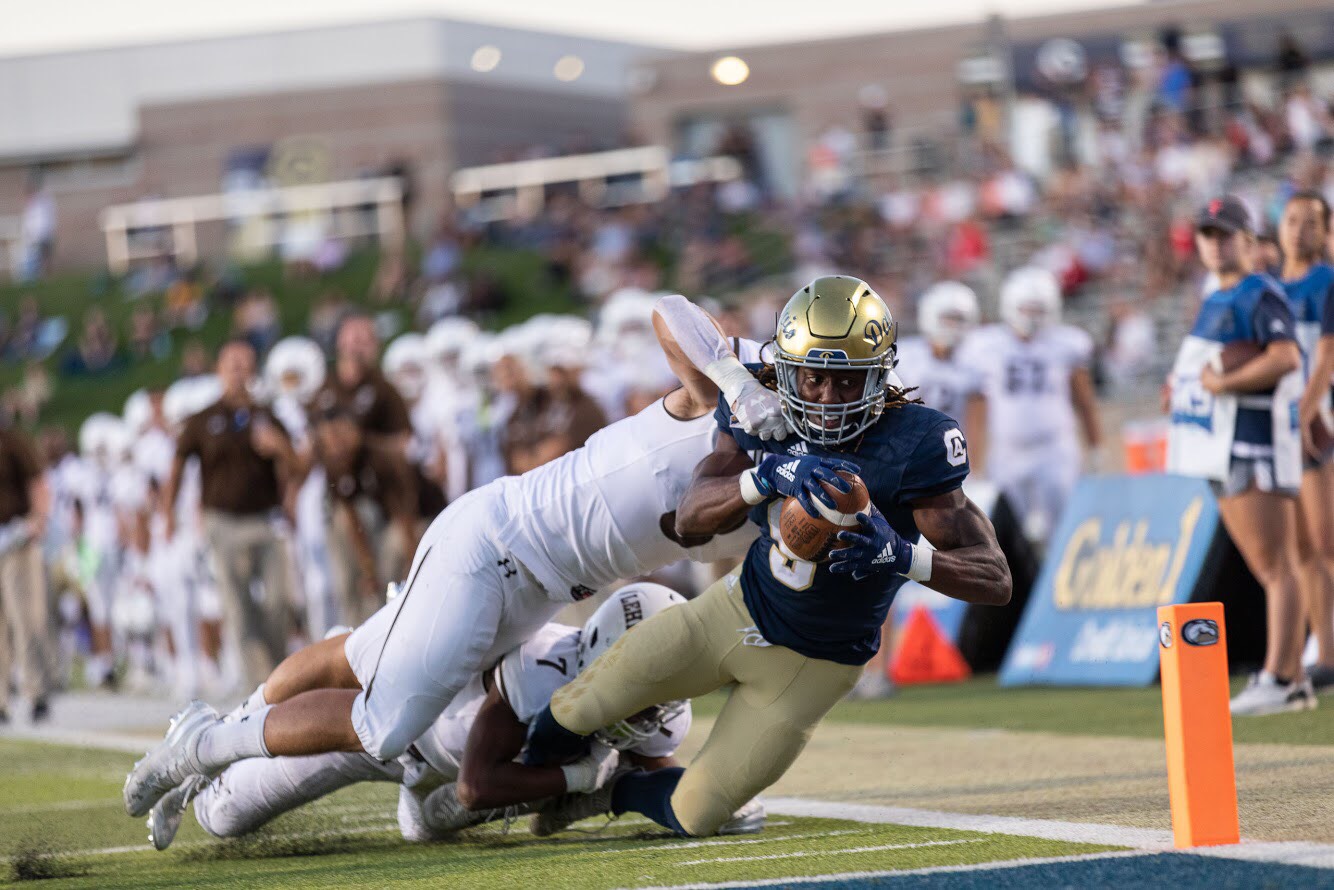 Projected Conference Champions/Autobid Winners
Big Sky
The Big Sky illustrates perfectly what a fruitless exercise this can be. In our FCS Sagarin ratings this week – and I'm not saying this is what we're using or anything – there are five big Sky teams in the Top 15 FCS schools in Sagarin. Could any one of Weber State, Eastern Washington, UC Davis, Montana, or hitherto not-even-considered-in-my-dreams Sacramento State win the Big Sky? Absolutely, and you can add Montana State to that list too.
With Eastern Washington losing, that's probably enough to put UC Davis into the autobid this week. Could it be someone else next week? Sure.
Big South
2-1 Kennesaw State, who dominated Alabama State last week 42-7, is still our pick.
Colonial Athletic Association
2-1 James Madison is coasting through their Candyland home schedule as expected. We'll have to wait for CAA play before seeing if they're the real deal, but in the meantime, we'll still pencil them in here for now.
Missouri Valley
Really, are you picking anyone but 3-0 North Dakota State at this point? I know I'm not.
Northeast
It's tempting to switch gears from 1-1 Duquesne after their loss to Youngstown State last week, but for now, again, we'll adopt a wait-and-see attitude here, keeping in mind that Sacred Heart and Central Connecticut State are waiting in the wings if the Dukes falter.
Ohio Valley
Hel-LO, Jacksonville State! After their stunning season-opening loss to Southeastern Louisiana, many (well, me) wrote the Gamecocks off. But an impressive come-from-behind 49-45 win over Eastern Washington demonstrates that Jacksonville State belongs in that top spot over Southeast Missouri State after their blowout loss to Missouri last week. Can't want to see SEMO and Jacksonville State later in the year on 10/19, but for now, Jacksonville State is the pick.
(Can we name this budding rivalry between SEMO and Jacksonville State something? The Chicken Run? Battle for the Beak? I'm open to suggestions.)
Patriot League
With Colgate falling to 0-3, you have to start thinking about awarding the too-early autobid to Holy Cross, who upset UNH. Their win against the Wildcats in the best out-of-conference victory for the league by a wide margin – mostly because the league has only 4 out-of-conference victories in total, including Georgetown's 69-0 thrashing of a D-III school, Catholic (DC), last weekend.
Pioneer
2-0 Dayton very nearly played themselves out of this spot with a way-too-close-for-comfort win over NEC bottom-dweller Robert Morris. But a win's a win, and they still have that win over Indiana State to celebrate. We'll keep an eye on San Diego, but for now, the Flyers have our pick.
Southern
With The Citadel's upset win over FBS Georgia Tech, and Wofford's early struggles, what to make of the SoCon? Currently 1-2 Furman, who also is the top SoCon school in Sagarin, has flashed a boatload of potential, with their two losses by the narrowest of margins to FBS Georgia State and FCS Virginia Tech. But they haven't actually proved themselves with wins yet, either. With a wide-open SoCon title and seemingly a lot of openings for at-large teams in the FCS playoffs, for now Furman gets our vote again.
Southland
How good Central Arkansas actually is could be the question of this early season. If you'[re a glass-half-full type, you see 3-0, win over FBS Western Kentucky, and all is right with the world. If you're a glass-half-empty person, you're looking at those two other wins, vs. Austin Peay and Abilene Christian, as come-from-behind escapes that could have easily been losses. For now, we keep the Bears as the winners of the conference, while acknowledging that every single game on the UCA schedule has upset potential written all over it. Even Houston Baptist, who upset South Dakota this weekend, can't be seen as a guaranteed win.
Seeding
Again, Sagarin is going to help us figure this out.
North Dakota State (↔️)
James Madison (1 ⬆️)
South Dakota State (1 ⬇️)
UC Davis
Weber State (1 ⬇️)
Central Arkansas (↔️)
Towson
Furman (1 ⬇️)
Next Teams Up: Eastern Washington, Jacksonville State, Nicholls, Villanova
Rest of the field:
The Citadel, Dayton, Delaware, Duquesne, Eastern Washington, Holy Cross, Illinois State, Kennesaw State, Jacksonville State, Maine, Montana, Montana State, Nicholls, Northern Iowa, Southeast Missouri State, Southeastern Louisiana, Villanova
Last Four In:
Southeastern Louisiana, Montana, Villanova, Illinois State
First Four Out:
Delaware, Chattanooga, McNeese State, Youngstown State
Potential 1st Round Matchups
Duquesne at Maine
Dayton at Eastern Washington
Holy Cross at Villanova
Jacksonville State at Illinois State
Nicholls at The Citadel
Southeast Louisiana at Montana
Southeast Missouri State at Kennesaw State
Northern Iowa at Montana State
Potential 2nd Round Matchups
SE Louisiana/Montana winner at No. 1 North Dakota State
Holy Cross/Villanova winner at No. 2 James Madison
Dayton/Eastern Washington winner at No. 3 South Dakota State
Jax State/Illinois State winner at No. 4 UC Davis
UNI/Montana State winner at No. 5 Weber State
Nicholls/The Citadel winner at No. 6 Central Arkansas
Duquesne/Maine winner at No. 7 Towson
SEMO/Kennesaw State winner at No. 8 Furman