LEHIGH AT MERRIMACK 9/9/2023: Game Preview And Fearless Prediction: Mountain Hawks Head to Andover To Try To Spoil Warriors' Home Opener
BETHLEHEM, PA – About the one thing you can say definitively about Merrimack – up until last year, anyway – is that in their time in FCS, they've been very inconsistent.
Since becoming a Division I program back in 2019, they've dropped 35 points on a nationally-ranked Holy Cross team in a win, yet only managed to score 3 points against Lehigh in a loss.
I'll be honest – I hadn't thought a lot about Merrimack since they left Murray Goodman with that 10-3 defeat back in 2019.
In many ways, it was a head scratcher of a game.
It was head coach Tom Gilmore's first win as Lehigh's head coach, and it was decided in large part by a single decision by QB Addison Shoup to tuck the ball and run on a rollout to score a late 36 yard TD run.
Defense and special teams were the order of the day – Lehigh had 6 sacks and forced Merrimack into 11-for-25 on 3rd down, and both teams combined to force six turnovers. Lehigh had 1st and goal at the 1, was stuffed 3 straight plays, and the field goal was shanked.
DB TyGee Leach blocked a kick, and the Lehigh special teams caused fits to Merrimack's units all afternoon. No doubt an excited home crowd of 4,511 contributed to the effectiveness of the Mountain Hawks defense and special teams.
The Warriors had more than 300 yards passing – 175 of those yards to WR Marquis Spence – but they also had -25 yards rushing. They held onto the ball for a staggering 36:49 of clock time, but only managed 3 points. LB Keith Woetzel was a monster underneath in that game, with 12 tackles, 8 solo.
After they left South Mountain, all I really knew was that the Warriors improved quite a bit after that game. In fact, the 3 points they scored was their lowest point total in any single game they've played since their invite to the NEC and transition to Division I athletics in 2019.
Famously, after they left South Mountain they shocked the world in 2021 when they upset nationally-ranked Holy Cross 35-21, who were fresh off their win over FBS UConn.
So the Warriors won't be a pushover – they were able to do what Lehigh hasn't been able to do since 2017, which is beat Holy Cross anywhere.
In that game, they pounced on a Holy Cross team still giddy about their win over UConn and surged to a 28-7 lead early in the 3rd quarter, partially thanks to a highlight-reel pick six for DB Anthony Witherstone, and was able to take the air out of the ball in the second half and hold on for the program-defining victory. Time of possession: 36:16.
"It's a very good football program with a lot of good athletes," Lehigh head coach Kevin Cahill said this week. "They're very big up front. But we're excited to get out on the road and spend time together as a team and go battle."
The Mountain Hawks are looking to build off their tough yardstick game last weekend at home, a 38-10 defeat to a Villanova team that is receiving votes in the STATS FCS Top 25 poll.
Merrimack was picked to finish second in the league this year and will be entering their first season eligible to qualify for the FCS Playoffs. Last week the Warriors jumped out to a 17-14 halftime lead, but Holy Cross knew better than to fall behind any further, buckling down to win 45-20, holding Merrimack to a field goal the rest of the way.
Lehigh will be Merrimack's home opener the week after the Warriors served as Holy Cross' home opener, hoping to bestow the dubious honor of having Merrimack be the first head coaching win of two consecutive Mountain Hawk head football coaches.
The consensus seems to be that while Merrimack won't be easy at all, it won't be the same type of challenge as Villanova, which may serve the Mountain Hawks well.
"What we learned about each other [in the Villanova game] is that we're going to fight for four quarters," LB Tyler Ochojski told WFMZ 69 News. "Brown and White, you're in for a fight. If that becomes a staple of our culture going forward, we will have a lot of things to look forward to."
"That game wasn't us at all last week," RB Gaige Garcia said at the media luncheon. "We've got to continue to give the effort and execute, and play relaxed, like we want to play."
More than last week, I think we will learn more about this Lehigh team on this road trip to North Andover, and if Lehigh can emerge from there with a win, it would be a really strong statement that the Mountain Hawks could not just be a rebuilding team, but maybe even a player in the 2023 season as well.
LEHIGH MOUNTAIN HAWKS (0-1, 0-0 PL) AT MERRIMACK WARRIORS (0-1, 0-0 NEC)
Duane Stadium/North Andover, MA. 4:00PM
TV BROADCAST: NESN+, STREAMING: NEC Front Row (Free)
PxP – John Avino, Jacob Van Ryn and Isaiah Voegeli
BROADCAST (Fox Sports Lehigh Valley 94.7 FM/1230 AM; LVFoxSports.com):
PxP – Matt Kerr; Analyst – Steve Lomangino
LFN's Drink of the Week
Going to North Andover offers a very nice opportunity for tailgating Lehigh fans – the 4PM start allows for a longer tailgate time and a longer time to enjoy refreshing drinks. It has been an excruciatingly hot week, and although I am home after a positive COVID test, I'm still here, dear Reader, to offer you my drink suggestions.
For a hot afternoon, one of my favorites is the Arnold Palmer Shandy, which I "invented" this summer during a similar hot spell. The recipe is simple, and what you'd expect, but you can find it here.
LFN's Tailgate Dish of the Week
All joking aside, it has been so hot in parts of the country that there are restrictions on open flames at tailgates. I don't know if that will be the case at North Andover, but in any case it's probably best to grab something to go… and when I saw a place in North Andover called Thwaite's Market whose specialty is English meat pies… that would be what I would do.
One little secret of mine is I'm a fan of the European Soccer experience (yes, I own my very own Wrexham shirt, thanks for asking) and I'm very much a sucker for something that, despite the unnatural heat, makes a Lehigh game more like the experience at a Championship soccer club in England or Wales.
The best part is, sure, you can make them at home, but it's vastly superior to just buy them out like this and not go through the labor-intensive process.
Game Notes and Injury Report
The Lehigh depth chart only shows one major change from last week – that QB Brayten Silbor is the QB1 heading up to Merrimack, and Dante Perri and Hank Shapiro are both QB2.
There were several Mountain Hawks dinged up during the Villanova game, OL George Padezanin, OL Christian Jablonski, CB Andrew Worthy and WR Eric Johnson. Their true status will probably not be known until closer to kickoff.
I was impressed with Silbor's debut last Saturday despite the circumstances. He had two interceptions, but one of them was off of a tipped ball and his stat line (23-38, 206 yards, 1 TD) was really encouraging especially considering he seemed to get better and more comfortable as the game went along. A fair number of his incompletions, too, came from the 'yips', and when he settled down and the game slowed down, he got better. I'm really looking forward to what he'll be able to do this weekend.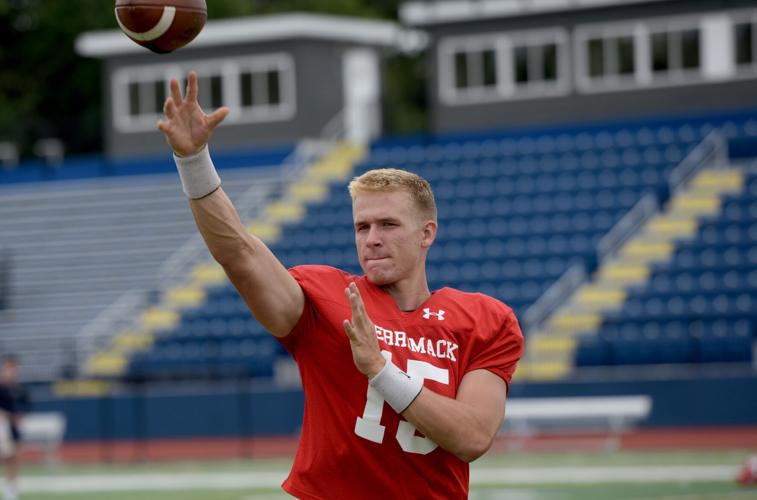 Scouting Merrimack
From the North Andover Eagle Tribune, "Two years ago QB Gavin McCusker was sixth on the quarterback depth chart at Merrimack College. To put that in perspective, there was no seventh quarterback. McCusker was last. Among other things, it meant he didn't travel to away games."
After being forced into action against Harvard, McCusker was thrust into the game and did so well that he came in the next week – until the Warriors had gone on a 7 game winning streak, en route to an 8-3 season.
McCusker is the quintessential "dual threat QB" who runs as well as passes. Last year he ran more than he passed, but last week he put up 15-30 passing and a grand total of 78 yards rushing and 1 rushing TD, second only to RB Tyvon Edmonds (86 yards, 1 TD).
Merrimack's offense is a grind-it-out time-of-possession team that will try to wear you down with a big offensive line (OL Nick Reimer has been a three-year starter for the Warriors and is from Allentown Central Catholic, starting every game) and it's the common thread that has defined head coach Dan Curran's teams since they showed up on the scene in 2019. (Curran is a former UNH player and NFL player.)
Defensively Merrimack had a hard time stopping Holy Cross, especially in the second half, but then again that will be a story we will hear a lot with Holy Cross all season I suspect. The defense ended with 3 tackles for loss and junior DB Tre Jordan III nabbed an interception. Overall, there were only 3 punts the entire game.
LFN's Keys to the Game
Stuffing the Run. It seems likely that Merrimack will come out and play their game, which involves a lot of rushing the football, and it will be critical that the front six be on top of things for four quarters and keep the damage to a minimum. Keeping the big plays off the board, yes, but also tightening up in the red zone after long drives will be critical, because there will be those.
Making The Most On Offense. It's not a coincidence that Holy Cross only punted a couple of times and won – they made the most of their offensive drives and converted them into points. No offense to the family of P Ben Banks-Altekruse, but if his business trip only involves punting the ball once or twice, I like Lehigh's chances. They need to come up with drives and scores, field goals if you have to.
Building Off Of Team Dynamic. This team, even in week one, seems to be focused on team dynamics and picking each other up and defining what they are going to be. Even in the loss last week, they learned a lot about themselves, and this week, win or lose, they will keep on that journey. If they keep up the effort and stamina for four quarters, good things will happen – maybe even as soon as this week.
Fearless Prediction
This is a very difficult game to pick, because it's very hard to judge both teams based on losses to two of the top teams in FCS. Lehigh is a work in progress, but so is Merrimack, who replace much of their offense from last year. Merrimack knows what it is, but they have been very inconsistent – if they execute and are allowed to do what they do, they will win. If Lehigh can disrupt that enough and the offense finishes enough drives, they should win.
The safer choice would be to pick Lehigh to continue to see improvement, but lose by fewer points than last week. But I'm not a guy that's all about safer choices.
Lehigh 31, Merrimack 28