2022 Division I Conference Preview: Mountain West Conference
CSJ'S PREDICTED ORDER OF FINISH
Mountain Division
*1. Boise State
2. Utah State
3. Air Force
4. Colorado State
5. Wyoming
6. New Mexico
West Division
1. San Diego State
2. Fresno State
3. Nevada
4. San Jose State
5. UNLV
6. Hawai'i

* Overall Champion
2021 BOWL RESULTS
Record: 5-1
Fresno State 31, UTEP 24 | New Mexico Bowl
Utah State 24, Oregon State 13 | LA Bowl
Wyoming 52, Kent State 38 | Famous Idaho Potato Bowl
San Diego State 38, UTSA 24 | Frisco Bowl
Hawai'i vs. Memphis | Hawai'i Bowl | Game not played (Hawai'i unable to play due to COVID-19 cases along with season-ending injuries and transfers)
Western Michigan 52, Nevada 24 | Quick Lane Bowl
Air Force 31, Louisville 28 | First Responder Bowl
The Mountain West Conference has been a league with a couple of surprise winners the last two seasons. In 2020, San Jose State rose to the top after being selected by most media members down in the league standings. Utah State was another surprise winner last season after also being selected down in the rankings.
Could 2022 have another surprise winner or will it come be more predictable this season?
That question is up for debate but this league looks stacked at the top with Boise State, Fresno State, San Diego State, Utah State, and Air Force looking like the five teams that could make an argument to being the champion this year.
The returning champion Aggies this year bring back much from that MWC title team from a year ago. USU brings back QB Logan Bonner and RB Calvin Tyler, Jr on the offensive side. The Aggies though do lose their three top wide receivers from a year ago and also lose six starters on defense.
Boise State is my favorite to get back to the top–a place the Broncos typically have been over the years but have not won the MWC title since 2019. BSU brings back QB Hank Bachmeier to lead the team again this year and one thing that needs to improve is their line play of both sides of the ball to get to the title.
Air Force is the third member in the Mountain Division–joining USU and BSU–with an argument to win the division. The nation's best running game will again have QB Haaziq Daniels and FB Brad Roberts both back to try to again be atop the nation using the Falcons' triple option attack.
In the West Division, it seems like a two horse race with Fresno State and San Diego State jockeying for the top spot. San Diego State won the division and actually hosted the MWC title game last year but that game was in their temporary home in Carson, Calif. The Aztecs will have a true home field this year with the opening of Snapdragon Stadium. SDSU will again rely on its stout defense to try to duplicate the division crown this year but questions remain on the Aztec offense coming into the season.
Fresno State welcomes old coach Jeff Tedford back to head the team. He had stepped away after the 2019 season due to health reasons but comes back after the coach of the last two seasons in Kalen DeBoer moved on to become the Pac-12's Washington head man. The Bulldogs have one the best QB's in the nation in Jake Haener back to lead this year's squad on offense and he has plenty of talent around him. This talent includes WR Jalen Cropper and RB Jordan Mims.
Elsewhere, on paper, the rest of the league looks to be rebuilding but that was also the case a year ago for Utah State so possibly one darkhorse team with a new coach could again be the champion. This could be with new coaches at Colorado State, Nevada, and Hawai'i to duplicate what Utah State did in its coach's debut season. CSU brought in Jay Norwell, who knows the league well having previously been with Nevada. The Wolf Pack replaced Norwell with Ken Wilson, who most recently was the offensive coordinator at Oregon but also has ties in Reno–having been there from 1989-2012. The other new coach is a familiar name in Hawai'i football lore in Timmy Chang, who was a record setting QB for the Rainbow Warriors from 2000-2004.
San Jose State will look to get back to the top like they were two seasons ago but will need to do so with a number of transfers coming for the Spartans. Wyoming has been a team on the cusp of a championship in the past for Coach Craig Bohl but the Cowboys lose much of its talent from its bowl team a year ago. UNLV seems to be on the upswing and now in Coach Marcus Arroyo's third season could be a surprise team this year as well. New Mexico seems like the very long shot after finishing with the worst scoring team in the nation last year.
One thing that is different for the MWC than most of the other Group of Five leagues is that conference realignment has not hit the league at all to this point. It has the same 12 teams currently but this might change after the most recent shuffle out West with USC and UCLA leaving the Pac-12 for the Big 10 starting in the 2024 season. Questions remain what the remaining Pac-12's 10 teams will do right now but one speculation is the league very well could look for MWC schools to replace those two Los Angeles juggernauts. That question much like the shuffle that happened after Texas and Oklahoma left the Big 12 to the SEC last year could lead to more shuffling that trickled down to the G5 leagues.
2022 Full Schedule
TOP OUT-OF-CONFERENCE GAMES
Looking at the overall schedule here are some key games outside of MWC play that I feel will be key to the Mountain West winner this year being considered for a New Year's Six Bowl game.
Sept. 3 – Boise State at Oregon State
Sept. 3 – Utah State at Alabama
Sept. 10 – Colorado at Air Force
Sept. 10 – Oregon State at Fresno State
Sept. 17 – San Diego State at Utah
Sept. 17 – Nevada at Iowa
Sept. 17 – Fresno State at USC
Sept. 30 – Utah State at BYU
Oct. 1 – Navy at Air Force
Nov. 5 – Army vs. Air Force (Arlington, Tex.)
Nov. 5 – BYU at Boise State
TOP CONFERENCE GAMES
There are a number of key games within league play. Below are the games that I feel will be key ones in determining the MWC division champions:
Oct. 1 – San Diego State at Boise State
Oct. 8 – Air Force at Utah State
Oct. 8 – Fresno State at Boise State
Oct. 22 – Boise State at Air Force
Oct. 29 – Fresno State at San Diego State
Nov. 26 – Air Force at San Diego State
Nov. 26 – Utah State at Boise State
MOUNTAIN DIVISION
6. New Mexico Lobos
Coach: Danny Gonzales (Third Season, 5-14 @ UNM & overall)
Offensive Coordinator: Derek Warehime
Defensive Coordinator: Rocky Long
Stadium: Dreamstyle Stadium (39,224 capacity)
Location: Albuquerque, New Mexico
2021 Record: 3-9 (1-7 MWC)
New Mexico looks to continue its rebuild under Coach Gonzales. The bright side of the three-win season last year was the defense, which limited teams to 5.3 yards per play – down from 6.8 in '20. This side of the ball returns seven starters with end Jake Saltonstall leading the way up front and CB/S Jerrick Reid II heading the secondary.
New Mexico likely will need to lean on its defense with the offense still looking to find the right pieces after averaging a FBS worst 12.2 points a game last fall. Additionally, this group averaged 3.9 yards per snap and connected on seven plays of 40-plus yards.
Kansas QB transfer Miles Kendrick is the front-runner under center and RB Nathaniel Jones is back after missing '21 with a redshirt year. Kendrick played in 17 games with four starts for Kansas and will finish his collegiate career in Albuquerque. Jones was a true freshman star in 2020 but for an undisclosed reason sat out 2021. In the COVID-19 shortened 2020 season, Jones finished second on the team in rushing with 232 yards and also second on the team with four rushing touchdowns in the six games UNM played.
5. Wyoming Cowboys
Coach: Craig Bohl (Ninth Season, 45-50 @ Wyo, 149-82 overall)
Offensive Coordinator: Tim Polasek
Defensive Coordinator: Jay Sawvel
Stadium: War Memorial Stadium (29,181 capacity)
Location: Laramie, Wyoming
2021 Record: 7-6 (2-6 MWC)
The Cowboys have won at least six games in each of the last five full years under coach Craig Bohl and last year Wyoming won the Idaho Potato Bowl to get to seven wins. Getting back to that level this season likely will not be easy.
Wyoming' offense averaged only 17.5 points in Mountain West play last fall and lost QBs Sean Chambers (FCS Montana State) and Levi Williams (Utah State) to the transfer portal. In turn, Wyomg Utah State transfer Andrew Peasley and junior college product Evan Svoboda will likely be the ones battling to be this year's signal caller. The Cowboys will also need a new top receiving target as Isaiah Neyor transferred to Texas. Joshua Cobbs looks to be that threat as could TE Treyton Welsch.
The offensive line also needs to replace four starters but will look to OT Eric Abojei as the lone starter back to lead the new men upfront but also could see some help from incoming four-star recruit OT DeShawn Woods. Provided that line can be solidified, the ground game should be a strength behind RB Titus Swen, who ran for 785 yards and seven scores a year ago.
Defense is usually a strength for a Coach Bohl team and this year's squad should again be stingy despite some turnover. Easton Gibbs looks like the next star LB with last year's star Chad Muma drafted into the NFL. A transfer in CB Jakorey Hawkins from Mississippi should help the secondary to go with new starters elsewhere.
Upfront, NG Cole Codbout and DT Jordan Bertagnole should help to improve its run defense. The Cowboys were next to last in the MWC last year against the run and this will be a key area that needs to improve if the Cowboys want to go bowling again.
4. Colorado State Rams
Coach: Jay Norvell (First Season, 0-0 @ CSU, 33-26 overall)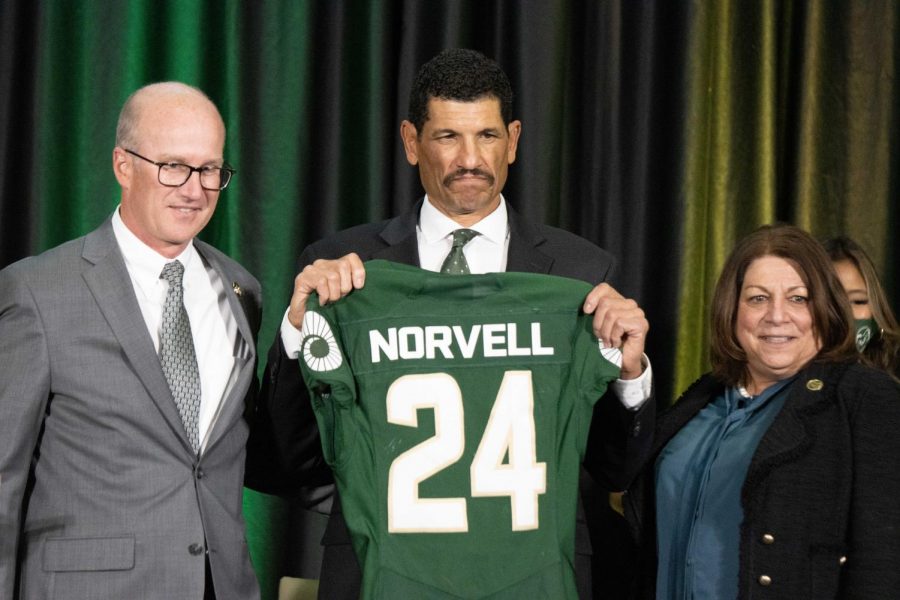 Offensive Coordinator: Matt Mumme
Defensive Coordinator: Freddie Banks
Stadium: Canvas Stadium (41,000 capacity)
Location: Fort Collins, Colorado
2021 Record: 3-9 (2-6 MWC)
New coach Jay Norvell made the rare intraconference move from Nevada to Colorado State and inherits a team that won just three games and returns just eight starters. However, the Rams might be in for a quick rebound in '22. Norvell brought aboard several transfers, including a several from Reno in QB Clay Millen and WRs Tory Horton and Melquan Stovall, as well as RB Avery Morrow to bolster an offense that averaged just 23.7 points a game in '21.
Horton's arrival adds to a receiving corps that figures to rank among the best in the Mountain West with Ty McCullouch (415 receiving yards, 1 TD) already in place. However, NFL drafted TE Trey McBride will be missed in the passing game.
Three more Nevada transfers were brought in to improve an offensive line that had issues clearing the way on the ground (3.8 yards per carry) and allowed 28 sacks last fall. The running game will likely be in short use in what has been deemed the "Fort Air Raid" with passing being the key way the Rams move the ball but will have leading rusher David Bailey (752 yards, 9 TDs) back but it might be the Nevada transfer Morrow that gets the majority of playing time as a better pass catcher from the backfield.
Colorado State's defense finished ninth in the Mountain West in points allowed (28.9 points a game), struggled against the run (ninth in the MW), and finished near the bottom (11th) in pass efficiency defense. Norvell will look to two returning Rams in LBs Cam'Ron Carter (100 tackles in '21) and Dequan Jackson (40 tackles in shorted '20 season) as the key cogs in the 4-2-5 defensive scheme.
3. Air Force Falcons
Coach: Troy Calhoun (16th Season, 111-75 @ USAFA & overall)
Offensive Coordinator: Mike Thiessen
Defensive Coordinator: Brian Knorr
Stadium: Falcon Stadium (46,692 capacity)
Location: Colorado Springs, Colorado
2021 Record: 10-3 (6-2 MWC)
With 15 starters back, coach Troy Calhoun's team has the pieces in place to make a run at the Mountain West title in 2022. QB Haaziq Daniels and FB Brad Roberts return to anchor an offense that led all of FBS in rushing (327.7 yards a game) last year. Daniels passed for 1,184 yards as well to go with 734 yards on the ground. Roberts led the team with 1,356 yards, which was the third most in program history by an individual.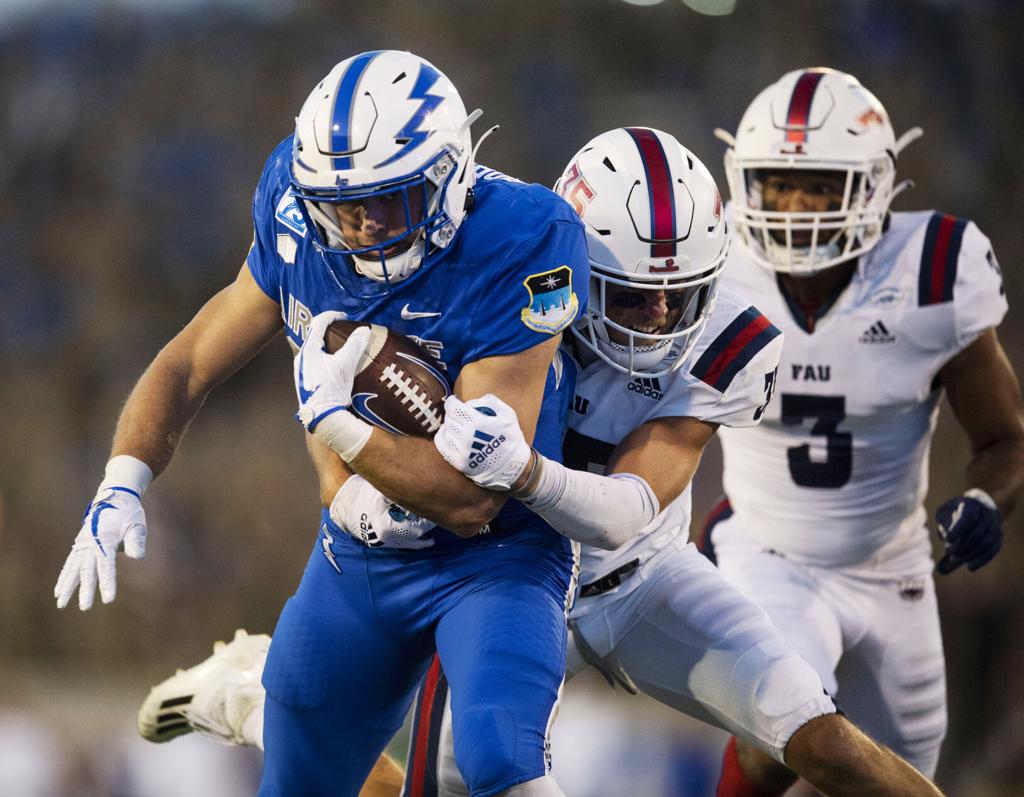 Three starters including OT Kaleb Holcomb are back to anchor one of the Mountain West's top offensive lines. WR Brandon Lewis is gone, but the Falcons return David Cormier, Micah Davis and TE Kyle Patterson to give Daniels (eight completions of 40-plus yards in '21) plenty of weapons on the outside.
Air Force on defense ranked as the FBS' fourth best in total defense and were ninth in rushing defense. LB Vince Sanford, who was a converted WR, had a breakout season with 17 tackles for a loss, with 9.5 of those being sacks. S Trey Taylor missed the first four games last year but still led the team in tackles with 62.
The defensive front will miss the loss of Jordan Jackson but three-year starter Christopher Herrera and Jayden Thiergood should be able to fill the void.
2. Utah State Aggies
Coach: Blake Anderson (Second Season, 11-3 @ USU, 62-40 overall)
Offensive Coordinator: Anthony Tucker
Defensive Coordinator: Ephraim Banda
Stadium: Maverik Stadium (25,100 capacity)
Location: Logan, Utah
2021 Record: 11-3 (6-2 MWC)
Coach Gary Andersen's first season in Logan was a resounding success last year as the Aggies won the conference title by winning at San Diego State in the MWC title game and followed that up with a Power Five win in the LA Bowl against Oregon State.
Winning the title for a second straight season might be a little trickier though. The Aggies face a tough road schedule including out-of-conference games at Alabama and BYU to go with the conference slate at Boise State, which very well could decide the MWC Mountain Division.
On offense, QB Logan Bonner (3,362 yards, 36 TDs) is back to head a group that averaged 32.6 points–a big jump from just 15.5 points per game in 2020. The senior is among the top returning quarterbacks at the Group of 5 level, but Utah State is breaking in new receivers after Deven Thompkins departed following a 1,704 yard campaign. Transfers Brian Cobbs (Maryland) and Xavier Williams (Alabama) are two key members that will try to duplicate
Leading RB Calvin Tyler Jr. (884 yards) and four starters are back along the offensive line including Quazzel White and Alfred Edwards III so the running game should be just fine this year.
After allowing 35.2 points a game in '20, the Aggies defense allowed only 24.4 last fall and held five of their last six opponents under 20 points. This unit still has room to improve (eighth in MW against the run and ninth in pass efficiency defense), but five starters and a handful of experienced contributors are back to provide a good foundation.
P Stephen Kotsaniee, who averaged 42.5 yards per punt a year ago, likely will be the top punter in the league this year.
1. Boise State Broncos
Coach: Andy Avalos (Second Season, 7-5 @ BSU & overall)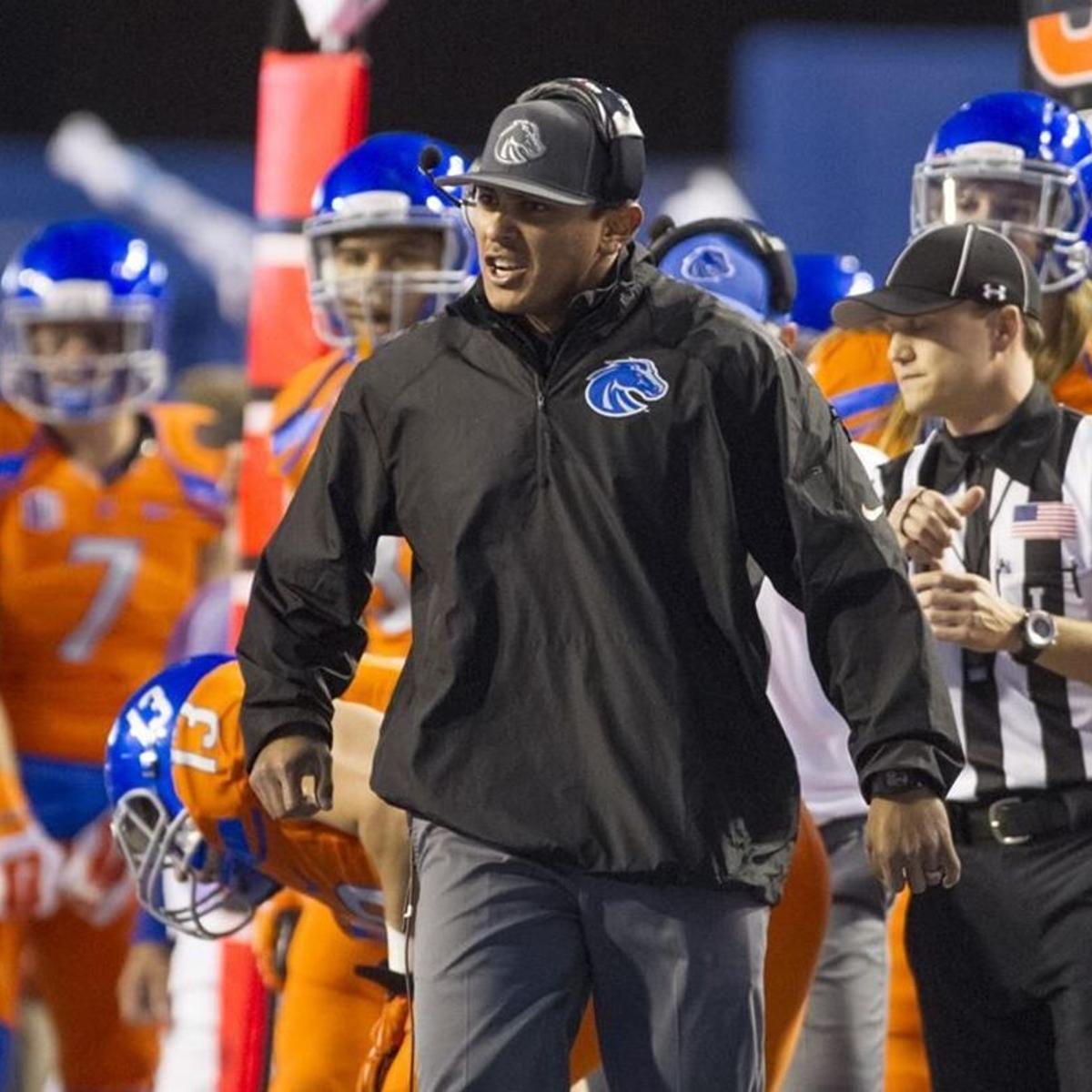 Offensive Coordinator: Tim Plough
Defensive Coordinator: Spencer Danielson/Kane Ioane
Stadium: Albertsons Stadium (36,387 capacity)
Location: Boise, Idaho
2021 Record: 7-5 (5-3 MWC)
Coach Andy Avalos coming into his second year will try to get the Bronco program on track after just a 7-5 finish last fall. Boise State though has the talent to make the jump back to being a MWC champion. The Broncos also have the luxury of its top opponents coming to the blue turf this fall in San Diego State, BYU, Fresno State and Utah State
One big key will be improving an offense that averaged only 29.2 points a game. QB Hank Bachmeier returns to lead the team. He does lose top receiver Khalil Shakir, who is off to the NFL. However, Stefan Cobbs (34 catches, 5 TDs) is likely the next star WR in Boise.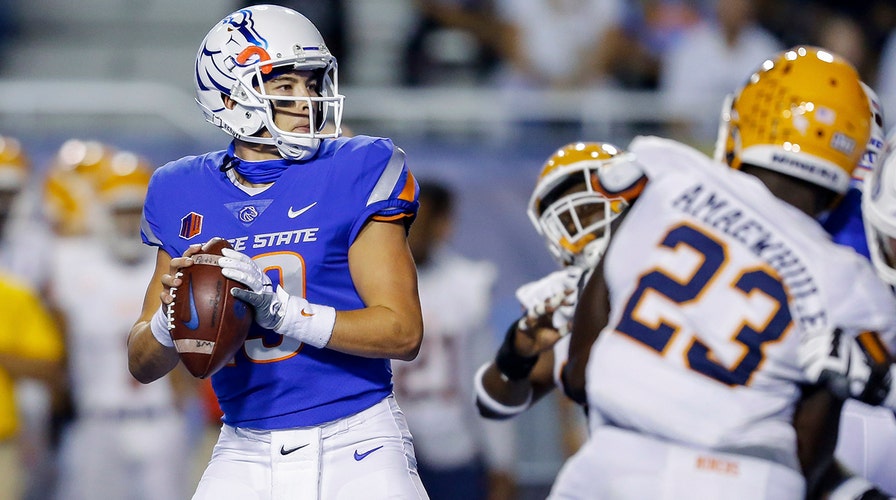 Although Bachmeier has room to improve to be more consistent in the passing game, Boise State's biggest concern is the running game (3.1 yards per carry). A healthy season from RB George Holani (limited to nine games yet still rushed for 569 yards) will be a key for the Broncos to return to the MWC top. The line upfront will be headed by OT John Ojukwu.
The strength though of the Broncos is a defense that returns nine starters. Last season, this unit allowed just 19 points a game and limited teams to just 12 touchdowns through the air. The secondary should be a shutdown group once again headed by SS JL Skinner (team high 92 tackles).
The line upfront should again be strong with DT Scott Matlock (7 sacks) and DE Shane Irwin (5 TFL) heading the group. The two linebackers in the 4-2-5 defensive scheme lost a star in Riley Whimpey but return the other starter in Ezekiel Noa (66 tackles) to lead the defense in the middle.
WEST DIVISION
6. Hawai'i Rainbow Warriors

Coach: Timmy Chang (First Season, 0-0 @ UH & overall)
Offensive Coordinator: Ian Shoemaker
Defensive Coordinator: Jacob Yoro
Stadium: Clarence T.C. Ching Complex (9,000 capacity)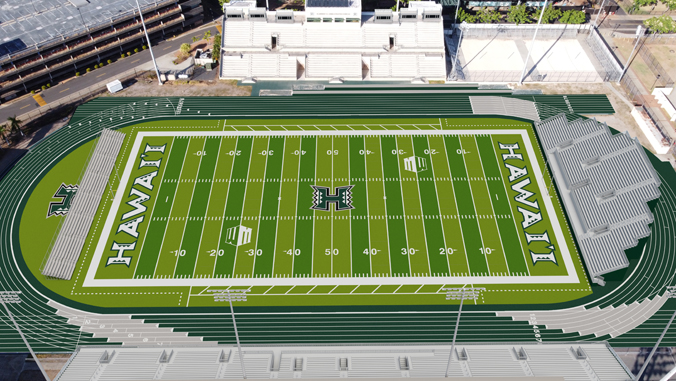 Location: Honolulu, Hawai'i
2021 Record: 6-7 (3-5 MWC)
Timmy Chang was hired as the new head coach this past offseason at his alma mater, He is a former record-setting quarterback with the Rainbow Warriors but may need a few years to rebuild this program. The Rainbow Warriors return only five starters and are navigating scheme changes on both sides of the ball.
New offensive coordinator Ian Shoemaker, who comes to the islands from FCS Eastern Washington returns four starters, including three along the line of scrimmage and will need to replace transfer QB Chevan Cordeiro, who left for MWC rival San Jose State. A quarterback battle between Brayden Schager, who started three games last year, as well as a couple of Power Five transfers in Joey Yellen (Pittsburgh) and Cammon Cooper (Washington State) will continue into fall camp.
RB Dedrick Parson should be one consistent performer for Shoemaker, but overall, Hawaii will be breaking in a revamped receiving corps but should be headed by Zion Bowens, who also might see some time in the backfield in the new Hawai'i hybrid run-and-shoot, no huddle, run-pass option offense.
The Rainbow Warrior defense surrendered 31.4 points a game and 5.8 yards per play last season. This unit brings back just one starter in LB Penei Pavihi but is moving from the defensive line to the middle linebacker spot. Transfers in DE Andrw Faoliu (Oregon) and LB Wynden Ho'ohuli (Nebraska) should also figure to be new defensive leaders this fall.
Overall, it will likely be a rebuilding year for the Warriors while the Chang gets his feet wet as the head man.
5. UNLV Rebels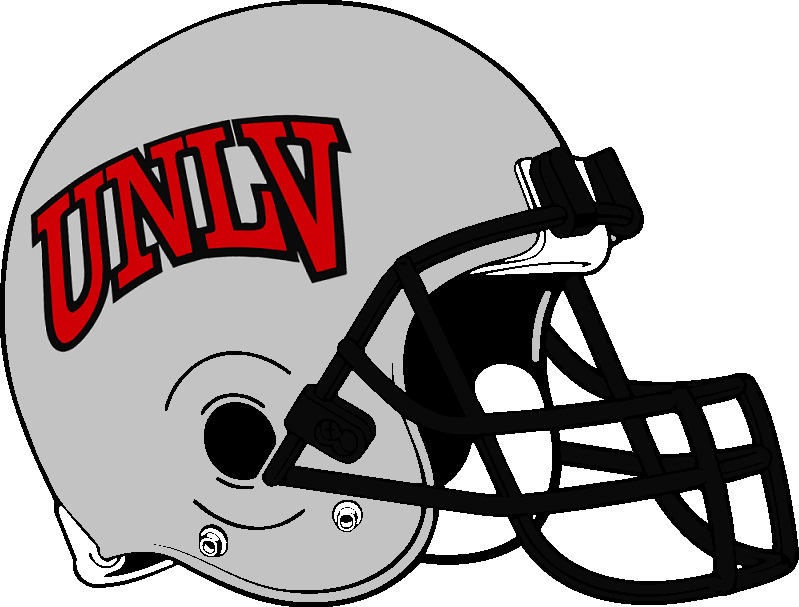 Coach: Marcus Arroyo (Third Season, 2-16 @ UNLV & overall)
Offensive Coordinator: Nick Holz
Defensive Coordinator: Keith Heyward
Stadium: Allegiant Stadium (65,000 capacity)
Location: Las Vegas, Nevada
2021 Record: 2-10 (2-6 MWC)
A two-win season finish represented a small step forward after UNLV went winless in coach Marcus Arroyo's debut in 2022. Of the ten losses last year, the Rebels lost six of those games – including conference matchups to Utah State, San Jose State, and Fresno State – by one score or less.
The offense will need to replace RB Charles Williams (1,261 yards) but there are still signs for optimism. Two transfers in QB Harrison Bailey (Tennessee) and WR Ricky White (Ricky White) – are huge pickups for Arroyo's hopes of jump-starting an offense that averaged only 20.8 points a game and 5.2 yards per play last fall. Baily and White were high school teammates and should have a good relationship already.
Of course, Baily is not the only quarterback on the roster. Cameron Friel returns this fall as well after being named the MWC Freshman of the Year last year as does fellow sophomore Doug Brumfield.
WR Kyle Williams (42 receptions) is another weapon on the outside for whichever QB takes the first snap in '22. Four starters are back up front but improvement is needed after giving up 41 sacks.
Bigger concerns surround the defense under new signal-caller Keith Heyward. This unit gave up 32.8 points a game, 6.2 yards per play, ranked 10th in the MW in rush defense and last in pass efficiency defense. Also, the unit's only All-MWC performer in LB Jacoby Windmon transferred to Michigan State but overall returns five starters.
The Rebels should continue to improve and very well could flirt with a bowl eligibility this year.
4. San Jose State Spartans
Coach: Brent Brennan (Sixth Season, 20-37 @ SJSU & overall)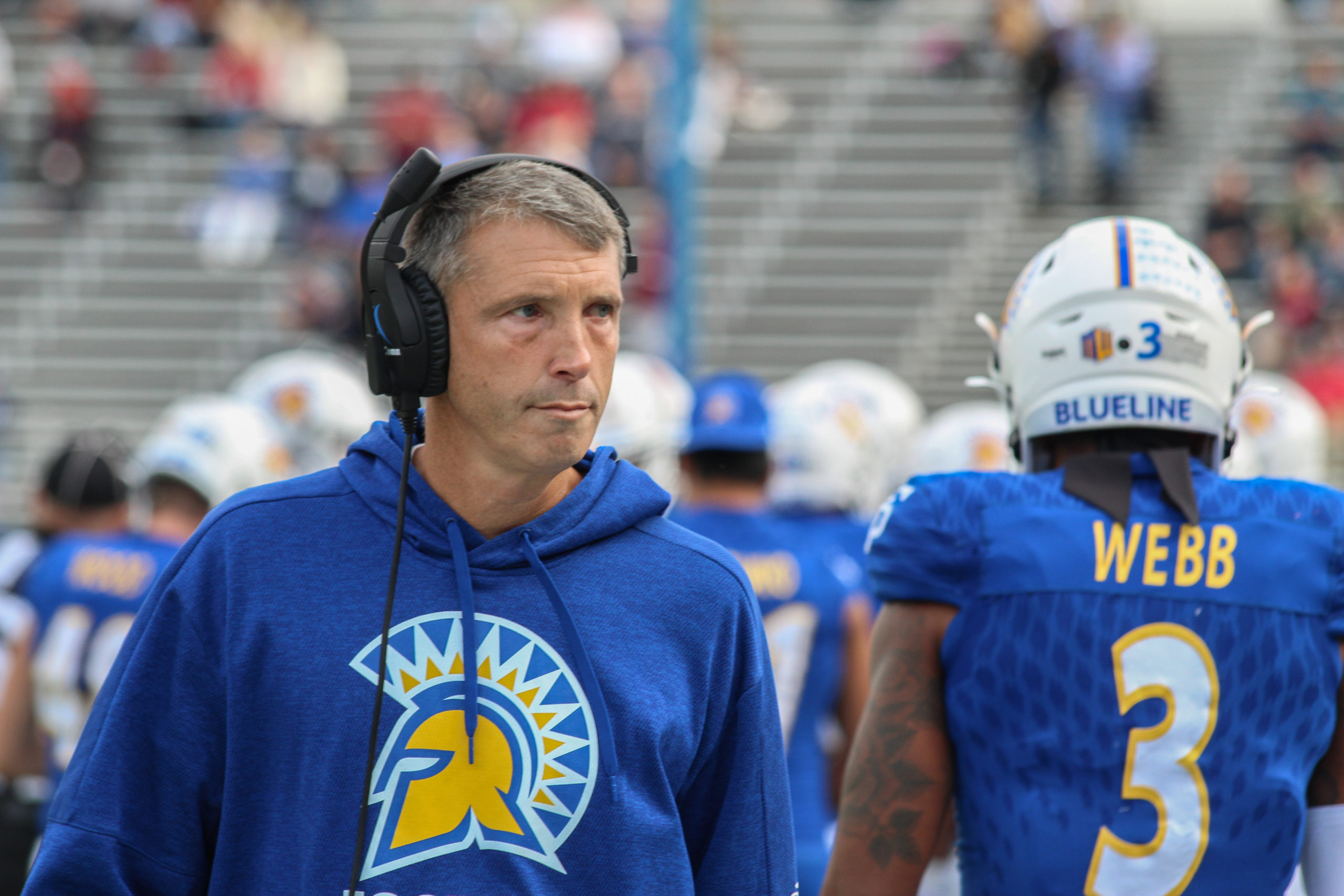 Offensive Coordinator: Kevin McGiven
Defensive Coordinator: Derrick Odum
Stadium: CEFCU Stadium (30,456 capacity)
Location: San Jose, California
2021 Record: 5-7 (3-5 MWC)
The Spartans took a step back a year ago after winning the Mountain West title in 2020. SJSU finished with just 5-7 record and a losing mark (3-5) in league play. However, coach Brent Brennan's squad just may have the pieces to get back on track this fall.
The Spartan offense averaged only 20 points a game and was down from over 28 in its MWC championship team from 2020. The offense though should get a kickstart from from transfer additions in QB Chevan Cordeiro (Hawaii) and WRs Justin Lockhart (Nevada) and Elijah Cooks (Nevada).
There is major retooling needed along as the Spartans return just one starter (OT Jaime Navarro). Cordeiro as a dual-threat signal caller could help the rushing game that ranked 110th in all of FBS last year. RB Kairee Robinson should get his chance in the backfield and could also help the running game.
The San Jose State defense brings back eight starters from a unit that ranked second in the Mountain West in fewest yards per play allowed (5.13) in league play last fall. DEs Cade Hall and Viliami Fehoko form a standout pair off the edge after combining for 11 sacks in '21, while linebackers Kyle Harmon and Alii Matau are solid members behind the line.
The secondary has room to improve after finishing 11th in the Mountain West in pass efficiency defense. CB Nehemiah Shelton and S Tre Jenkins should be the leaders to this group and likely will be ones that help decide if SJSU is back towards championship quality like 2020 or a sub-.500 squad like 2021.
3. Nevada Wolf Pack

Coach: Ken Wilson (First Season, 0-0 @ UNR & overall)
Offensive Coordinator: Derek Sage
Defensive Coordinator: Mike Bethea/Kwane Agyeman
Stadium: Mackay Stadium (30,000 capacity)
Location: Reno, Nevada
2021 Record: 8-5 (5-3 MWC)
After a 15-7 record over the last two seasons, Nevada is losing a lot from those two bowl-eligle squads. The Wolf Pack return just six starters from last year and are under the direction of a new staff after coach Jay Norvell left for MWC rival Colorado State. New coach Ken Wilson previously worked under Chris Ault in Reno and also spent time as an assistant at Washington State (2013-19) and Oregon (2020-21).
The list of departures for Wilson to replace on Nevada's high-powered offense (35.7 points a game in '21) is significant. QB Carson Strong, WRs Romeo Doubs, Tory Horton, Melquan Stovall and Justin Lockhart, along with TE Cole Turner are all gone.
One key player in RB Toa Taua though is back and likely be the focal point of the offense. The quarterback battle looks like a two horse race with last year's back-up Nate Cox and Oklahoma State transfer Shane Illingworth. Additionally, just one starter (OT Aaron Frost) is back along an offensive line.
The Nevada defense allowed 5.6 yards per play and 26.5 points a contest and ranked last in the Mountain West against the run last fall is also under construction. DT Dom Peterson (10 TFL) is one of the top returning defenders in the Mountain West, and there is some experience returning in the secondary with S's Tyson Williams and JoJuan Claiborne. Michigan transfer CB Darion Green-Warren also should aid in the secondary.
The linebackers though will all be new starters for the Wolf Pack. Nevada will likely use the experienced secondary to shutdown the passing game but will need to find some key LBs to stop the running game.
2. Fresno State Bulldogs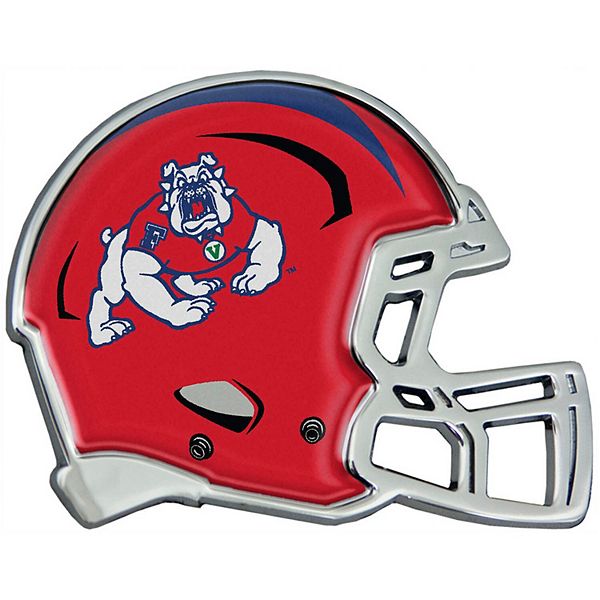 Coach: Jeff Tedford (First Season Back, Fourth Overall Previously 26-14 @ FSU, 108-71 overall)
Offensive Coordinator: Kirby Moore
Defensive Coordinator: Kevin Coyle
Stadium: Bulldog Stadium (40,727 capacity)
Location: Fresno, California
2021 Record: 10-3 (6-2 MWC)
Coach Jeff Tedford returns to the sidelines in Fresno after he stepped away following the 2019 season due to health reasons. He is coming back at a good time as he will have a team capable of winning the conference and will likely come down to the Bulldogs hosting San Diego State in late Octoboer for the MWC West Division title.
The Bulldogs in 2021 went 10-3 behind Kalen DeBoer, who left to for he head job at Washington. FSU featured a high-powered offense that averaged 33.4 points per game last fall. QB Jake Haener (4,096 yards and 33 TDs) is among the top signal-callers in all of FBS, with WR Jalen Cropper (85 catches) leading a deep group of receivers. RB Jordan Mims (710 yards) should again keep the ground game performing at a high level.
The offensive line returns four starters so there really are no big question marks on the offensive side for the Bulldogs.
The questions might be more pronounced on the defensive side for the Bulldogs but this unit held teams to 20.5 points a game in 2021. Additionally, the Bulldogs ranked second in the Mountain West in pass efficiency defense and finished third against the run.
With seven starters back including All-MWC performers in DE David Perales, S Evan Williams, and LB Lavelle Bailey, Fresno State has plenty of pieces returning to keep this unit near the top of the conference. In addition, the Bulldogs brought in a key Pac-12 transfer in LB Raymond Scott (USC), which was one position area that was lost.
1. San Diego State Aztecs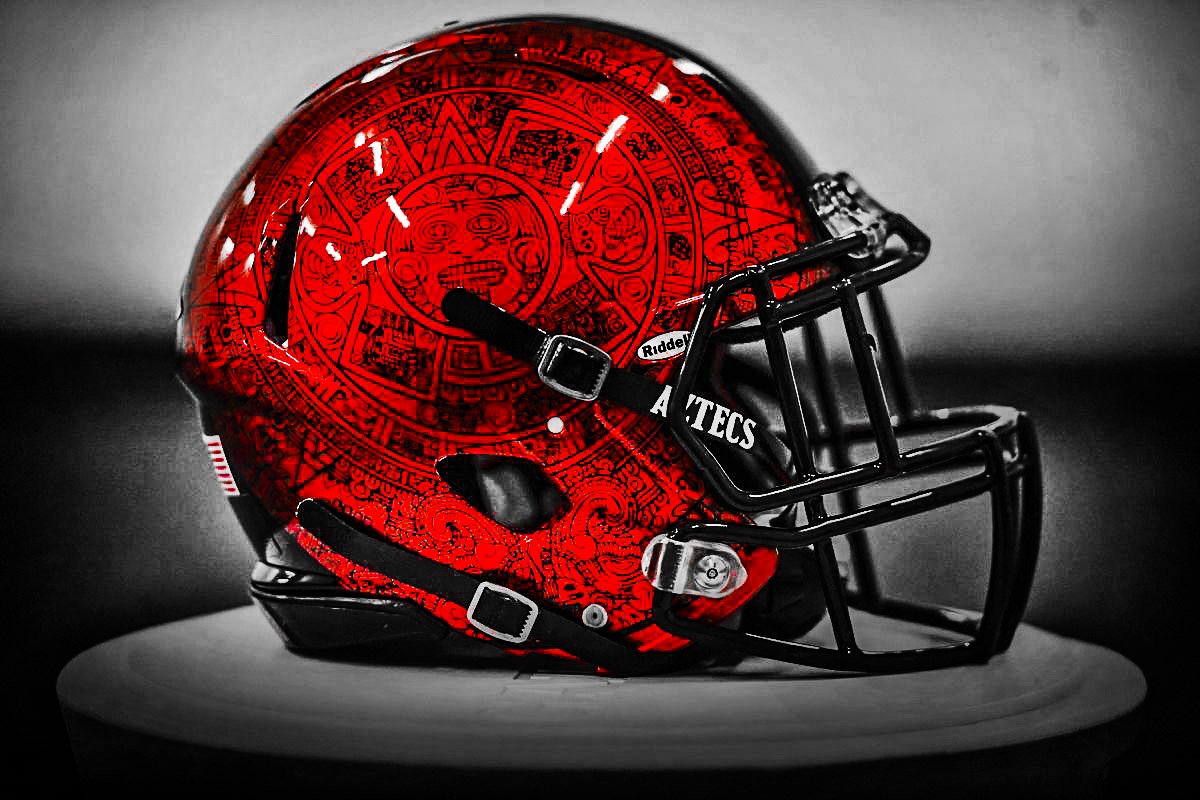 Coach: Brady Hoke (Fifth Season, 29-18 @ SDSU, 94-78 overall)
Offensive Coordinator: Jeff Hecklinski
Defensive Coordinator: Kurt Mattix
Stadium: Snapdragon Stadium (35,000 capacity)
Location: San Diego, California
2021 Record: 12-2 (7-1 MWC)
San Diego State gets to play in San Diego this year in opening up new Snapdragon Stadium after two years of playing in Carson, Calif, which was over 100 miles away from campus. Despite basically playing all road games last year, the Aztecs won the MWC West Division and hosted the MWC title game as their last game in Carson as the best regular season record in the league. Utah State got the best of the Aztecs in that title game but the Aztecs rebounded to win the Frisco Bowl against Conference USA champion UTSA.
Repeating as the West Division champions will face a tough schedule as SDSU faces two of the MWC frontrunners in Fresno State and Boise State on the road.
The Aztec offense brings back only three starters from last year. However, one of those players is standout WR Jesse Matthews (57 catches) and two keys on the line in C Alama Uluave and OT Brandon Crenshaw-Dickson.
The SDSU quarterback is favored to be Virginia Tech transfer Braxton Burmeister over redshirt freshman Will Haskell to start. A backfield-by-committee approach is likely after the departure of Greg Bell at running back.
But how this team wins is not so much what it does on offense but what it does on defense. The defense remains the strength for 2022. This unit limited teams to 19.8 points a game, ranked first in fewest yards play (4.7), and led the Mountain West in rush and pass efficiency defense.
This group should be dominant once again. The Aztecs have three dominant players at the three defensive positions in DT Johan Tavai, LB Caden McDonald, and S Patrick McMorris. This group should again lead the team towards the top of the MWC West standings.
CSJ 2022 Preseason MWC Players of the Year
Offense
Jake Haener, QB, Fresno State, Sr.
Defense
Dom Peterson, DT, Nevada, Sr.
Special Teams
Jonah Dalmas, K, Boise State, Jr.
CSJ 2022 Mountain West Conference Preseason Team
Offense
QB Jake Haener, Sr., Fresno State
WR Jalen Cropper, Sr., Fresno State
WR Justin McGriff, Sr., Utah State
RB Brad Roberts, Sr., Air Force
RB Toa Taua, Sr., Nevada
OC Alma Uluave, Sr., San Diego State
OG Ben Dooley, Jr., Boise State
OG Quazzel White, Sr., Utah State
OT Aaron Frost, Sr., Nevada
OT John Ojukwu, Sr., Boise State
TE Treyton Welch, Jr., Wyoming

Defense
DE Jonah Tavai, Sr., San Diego State
DE Viliami Fehoko, Sr., San Jose State
DT Dom Peterson, Sr., Nevada
DT Scott Matlock, Sr., Boise State
LB Caden McDonald, Sr., San Diego State
LB Kyle Harmon, Sr., San Jose State
LB Vince Sanford, Sr., Air Force
CB Patrick McMorris, Sr., San Diego State
CB Jerrick Reed II, Sr., New Mexico
S Evan Williams, Sr., Fresno State
S JL Skinner, Sr., Boise State

Specialists
P Stephen Kotsaniee, Jr., Utah State
PK Jonah Dalmas, Jr., Boise State
PR Jordan Byrd, Sr., San Diego State
KR Jamaal Bell, Jr., Nevada
Originally from LaMoure, North Dakota, Kent is a 1996 graduate of North Dakota State University. His prior writing experience is over 15 years having previously worked with D2football.com, I-AA.org, and College Sporting News before coming to College Sports Journal in 2016. His main focus is college football is the Missouri Valley Football Conference within the Division I FCS. And in 2017, he began also to look at the FBS Group of Five conferences of the American Athletic, Conference USA, Mid-American, Mountain West, and Sun Belt.
Reach him at this email or click below: