This week we welcome the SWAC, Big Sky, and Big South to the wonderful world of spring FCS football, to go with the Missouri Valley, SoCon and OVC, who started their spring conference slates last week, and Tarleton State, who spent their time crushing FBS New Mexico State 43-17.
For a list of last week's results, and links to recaps of last week, click here.
For a schedule of this week's games, click here.
Additionally, the Southland enters conference play as "practice time is over" with two of their teams with perfect spring records so far: McNeese State (1-0, beating Tarleton State in double overtime 40-37) and Nicholls (1-0, walloping Lincoln (MO) 87-3).
Your Cheat Sheets To Prepare You For the Weekend
Check out CSJ's Big South Preview, as Kennesaw State, Robert Morris and Gardner-Webb start their seasons this weekend.
Both Robert Morris and Gardner-Webb play teams from the CAA this week. Last week, Jamie Williams previewed the upcoming CAA spring season that is underway.
Check out CSJ's Southland Preview, as much of the Southland starts their season this weekend with critical conference games. Rob Butler also has a detailed preview of all of this weekend's Southland football games.
The Big Sky kicks off their hotly-anticipated spring season this week, and Ben Schleiger has an in-depth conference preview of all the teams participating. He also previews all of this week's Big Sky matchups as well.
A hugely thrilling weekend of Missouri Valley football action is on tap. Kent Schmidt previews all those games here.
Similarly, the SoCon rolls on this weekend too. Jamie Williams looks at those games.
Two games involving the MEAC and SWAC are on tap this weekend. The SWAC is playing one conference game (three games were postponed) while two of the three MEAC schools still competing in the spring play this weekend. Preston Adams previews those games.
All the OVC games this Sunday are previewed here by Ray Maloney.
Donal Ware' Boxtorow HBCU Podcast previews Southern vs. Alabama State and previews Tennessee State/Austin Peay.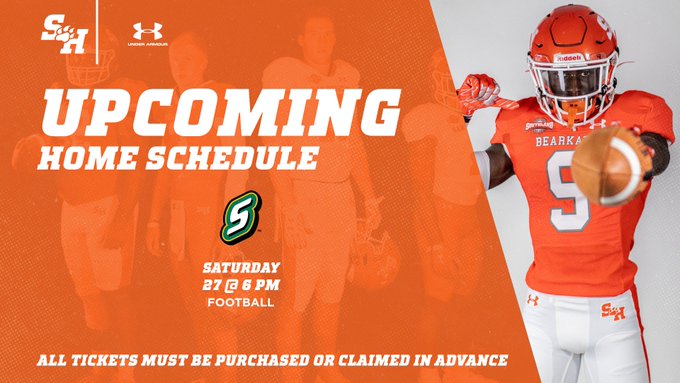 CSJ Writers Roundtable
CSJ: What's the game of the week this week?
BEN SCHLEIGER: I have my eye on the Eastern Washington vs. Idaho game. Suddenly the Vandals chances get a little better to winning since Coach Aaron Best of the Eagles is ruled out with a positive COVID test. Could EWU start out 0-1?
KENT SCHMIDT: South Dakota State at North Dakota. The Jackrabbits face their second straight road game, while UND hosts their second straight game to begin the spring schedule. UND looked great against Southern Illinois last week and South Dakota State inched out a win at Northern Iowa last week. This game should be a good test to see if UND will become a challenger within the MVFC and a good test for SDSU to see if it can win two straight games on the road.
ROB BUTLER: Southeastern Louisiana at Sam Houston State. Both squads are contenders for the SLC crown this spring – the Bearkats are led by QB Eric Schmid and DB Zyon McCollum; the Lions are led by 6-7 Arkansas transfer QB Cole Kelley and WR Austin Mitchell. Whoever wins this game could be the early favorite to win it all in the SLC.
JAMIE WILLIAMS: Southeastern Louisiana at Sam Houston State.. Many think Sam Houston is the team to beat in the Southland this year, but Southeastern Louisiana was a playoff team last year and played an entertaining back and forth game with Villanova. Sam Houston is much improved on defense and may have the best defense in the FCS. Southeastern Louisiana will want to make this a track meet. Strength on Strength is always entertaining.
PRESTON ADAMS: Off the radar but has Friday all to itself, Southern vs. Alabama State is a game with SWAC Championship implications. Southern will be the favorite, but Alabama State really thinks they have a shot of knocking off the favorites and their arch rivals in Alabama A&M. A shock win this weekend would really make Hornets fans' ears perk up.
CHUCK BURTON: I'm sticking with Tennessee Tech at Jacksonville State – old OVC power meets the newest OVC contender. It's hard to imagine, but if Tech can upset Jacksonville State, they'll have beaten Top 25 schools on back to back weeks for the first time in their history – and their schedule only gets easier from there.
CSJ: Which player are you keeping an eye on this week?
PRESTON: Maybe it's a cop out and boring, but I will be paying close attention to the quarterbacks of JMU and NDSU respectively. Perhaps a little unfairly, but we do have questions about the passing abilities of both QB Cole Johnson and QB Zeb Noland respectively. Sometimes you don't need to have an all-star quarterback when your running backs run through defenses like they're the hulk running through a wall. But, they'll need to be more than serviceable as the season evolves.
JAMIE: I want to see more from James Madison QB Cole Johnson this week. He didn't have to throw much last week is an easy romp over Morehead State. This week's game should similarly be a blowout but I want to see the Dukes go to the air a bit more. Johnson was just a tick off on many of his throws last week despite completing 10 of 14 passes.
KENT: I am looking at QB Zeb Noland from North Dakota State this week. He was a good game manager last weekend versus Youngstown State and used his team's running game to give just enough offense for the Bison defense to dominate the game. This kind of play may work against YSU but the Bison game against Southern Illinois, NDSU should face a stronger defense and will likely look to stop the running game and force Noland to throw it. We shall see if the past game was more just the game plan or if Noland can be a productive in the passing game.
BEN: Personally, it's too early for any specific player to catch my eye since many teams are still waiting for their week one. Objectively, I'm most interested in Tarleton State since they took McNeese to overtime, whooped NMSU (even if they weren't taking spring seriously), and now face a new FCS team in a similar position as them.
CHUCK: As a defense guy, I'll be eager to see what LB Willie Eubanks III does for The Citadel as they open their season against Mercer, who already has a game under their belts. The Bears put up a pretty good fight against Wofford, and it could be a surprisingly close, low-scoring game. In an environment like that, Eubanks could really shine.
ROB: As an offensive guy I like watching QB Cody Orgeron at quarterback for McNeese. He ran for two touchdowns and threw for three more against Tarleton – he was named Southland Player of the Week. I am not sure the Cowboys would have won that game without him under center. What is even scarier is the fact that he is coming back in the fall – when McNeese is eligible for the FCS playoffs.
3. What game could end up being a major surprise?
CHUCK: I don't know if Paul Petrino's Idaho Vandals will beat Eastern Washington, but I think it will be a very close, hard-fought game that could be anyone's game in the 4th quarter. If you're expecting a mismatch, prepare to be shocked.
JAMIE: With the way North Dakota's defense played last week, a duplicate effort against a freshman quarterback could see the Hawks pull an even bigger upset by beating South Dakota State.
PRESTON: North Dakota vs. SDSU suddenly has a bit of intrigue. Was UND beating the breaks off of Southern Illinois last week being hype about being in the MVFC, or are they that good? SDSU already had the best playoff resume win on the road against Northern Iowa. I'm not saying North Dakota will pull off the upset, but how many people would have had this being perhaps a single score game in the 4th? The possibility is there.
KENT: Eastern Washington at Idaho is the game that I could see the home standing Vandals opening the Big Sky schedule with a win over the favored Eagles. The two teams actually will meet twice this year in the truncated BSC schedule to end the regular season in Cheney so for Idaho, this game is a key if it would like to be a playoff potential team and I see them playing this game this way despite it being the season opener.
BEN: I think SLU vs. SHSU is a dark horse for game of the week. The Southland will be brutal to get out of and that's two of the top three teams. Southeastern Louisiana has gone through some changes, but show they are a team to watch out for in the future.
ROB: Dixie State at Tarleton State. Could this be a trap game for the Texans? Both schools made the jump from Division II to Division I as members of the WAC on July 1. Tarleton is coming off its first win as an NCAA Division I program and its first ever win over an FBS-level opponent. The Texans defeated FBS Independent New Mexico State 43-17 at the Sun Bowl in El Paso last Sunday.
CSJ: Your fearless prediction this week:
BEN: My fearless prediction is that Weber State's spread is too low at favored by 17. I think the Wildcats win by 21 or more.
KENT: From my game of the week of SDSU at UND, I think UND will come back to earth and SDSU will win this game in a more comfortable fashion than the Jacks did against UNI last week.
PRESTON: Elon needs to perform in a big way after a lackluster performance against Gardner-Webb. Unfortunately, I don't see it in the cards for them. Expect another nail biter that wasn't expected when this game was scheduled.
ROB: Sam Houston beats Southeastern Louisiana in a close game….
they'll be 1-0 going into the bye week – followed a showdown with Nicholls
State on March 13th.
JAMIE: While everyone continues to talk about the improvements made by Idaho, myself included, not many have talked about Eastern Washington. QB Eric Barriere gets his campaign for the Walter Payton Award in a big way and the Eagles beat the Vandals by two or more touchdowns.
CHUCK: The scoreboard operator running the Furman at VMI game might want to check over the diagnostics before tomorrow's game. This could be a back-and-forth, high-scoring affair that might sneakily become the most entertaining of the week.