CSJ FBS Group of Five Power Poll Top 20 — Week 1
Here at College Sports Journal, we thought it would be best to see how the Group of Five stack up with our opinions and not so much the Sagarin rankings alone. We will still be sharing the Top 25 Sagarin rankings weekly but we will also now start a power poll that will take the Sagarin rankings into account but also use our eyes to see who we feel the top Group of Five teams are in the FBS ranks. We will limit this to a Top 20 of the 65 schools that make up the Group of Five, which is just under a top third of this group.
To start, we will show the rankings from 1 to 65 we had from the preseason and then show how this has changed from these rankings after Week 1 of the season. As a reminder, our definition of the Group of Five FBS schools are ones that play in the American Athletic Association (AAC), Conference USA, Mid-American Conference (MAC), Mountain West Conference (MWC), and the Sun Belt Conference, along with all FBS Independents with the exception of Notre Dame.
The preseason full 65 team Group of Five rankings with their conference affiliation is shown below(click on the link for our preview of each team to begin the season). And below this, is our Week 1 Power Poll Top 20.
CSJ Week 1 Group of Five Power Poll Top 20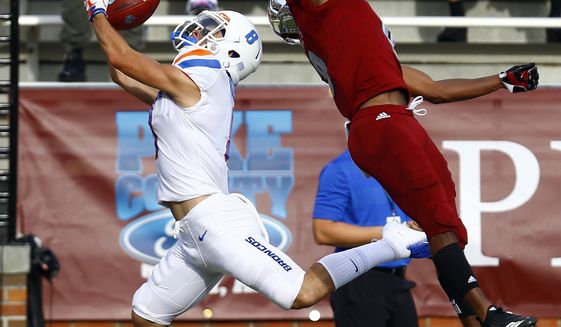 Boise State had the top win within the G5 with a blowout win over Troy to move up to the #2 spot in the power poll. The biggest lose was Temple losing to FCS Villanova to drop the Owls out of the Top 20. UCF won its opener over AAC conference mate UConn on the road and is our #1 team.
The best game, however, was Appalachian State's near upset over Top 10 ranked Penn State in overtime. Despite losing, the Mountaineers moved up to the #5 spot.
Memphis and South Florida got wins over FCS opponents and after Week 1 are in the #3 and #4 spots.
The biggest riser has to be Hawai'i, where a team we predicted to be towards the bottom of the Mountain West Conference but has two wins already over MWC mate Colorado State on the road and Navy at home. Both of those schools were in the Top 20 to begin the season.
The number in parenthesis is the preseason ranking and noted with a (-) if they were outside of the Top 20.
1. (1) UCF (1-0 overall, 1-0 AAC)
Last week: Beat Connecticut 56-17 on the road
This week: vs. FCS South Carolina State
The Knights got the season off well for new Head Coach Josh Heupel this past Thursday night with the blowout win at AAC conference mate UConn. This week should be another easy win with a lower level FCS foe in South Carolina State. The Knights have now won 14 games in a row now.
2. (3) Boise State (1-0 overall, 0-0 MWC)
Last week: Beat Troy 56-20 on the road
This week: vs. Connecticut
Boise State got off to a very impressive road win over Troy, who was the Sun Belt co-champions last year. QB Brett Rypien passed for 305 yards and four touchdowns, WR Sean Modster had 167 yards receiving and CB Tyler Horton returned two second-half fumbles for touchdowns to highlight the win. This week the Broncos host a UConn team that was throttled by UCF last week.
3. (2) Memphis (1-0 overall, 0-0 AAC)
Last week: Beat FCS Mercer 66-14 at home
This week: at Navy
The Tigers moved down from the preseason really not for their performance but Boise State winning in blowout fashion on the road against a preseason favorite moved them up. But Memphis State new QB Brady White completed 22 of 28 passes for 358 yards and five touchdowns, both of which were school records for passing yards and touchdowns in a debut. This week, Memphis plays its first AAC game at Navy in what will tell us a little more about this team.
4. (4) South Florida (1-0 overall, 0-0 AAC)
Last week: Beat FCS Elon 34-14 at home
This week: vs. Georgia Tech
USF's QB Blake Barnett had a strong performance in his Bull debut (24-for-34, three touchdowns, no interceptions) and threw for 305 yards. The Bulls will have a tougher opponent when the P5 ACC's Georgia Tech comes to Tampa this week. Stopping the option game will be a key and is always tough to prepare within a week and the Yellow Jackets defense should also be more formidable so we will see if Barnett can produce in this setting.
5. (8) Appalachian State (0-1 overall, 0-0 SBC)
Last week: Lost to Penn State 45-38 (OT) on the road
This week: at Charlotte
It is rare that a team moves up rankings after a loss but the Mountaineers played even with the Big 10's and Top 10 ranked Nittany Lions. App State had a chance to win in regulation but a missed a long field goal to send the game to overtime. QB Zac Thomas played a great game in his first start in throwing 270 yards but had the costly interception in overtime to end the game. Still, App State can use this game to move forward and this week should get an easy game on the road against C-USA's Charlotte.
6. (6) Fresno State (1-0 overall, 0-0 MWC)
Last week: Beat FCS Idaho 79-13
This week: at Minnesota
The Bulldogs were in control from start to finish in the season opener against former FBS member and newly transitioning Idaho. Fresno State shined in all three phases of the game. QB Marcus McMaryion threw for 207 yards, while RB Jordan Mims scored 3 rushing touchdowns. Jaron Bryant scored touchdowns on two separate field goal blocks. The Bulldogs will get a tougher test with its first road trip to the Big 10's Minnesota this week.
7. (11) Houston (1-0 overall, 0-0 MWC)
Last week: Beat Rice 45-27 on the road
This week: vs Arizona
The Cougars finally woke up midway through the third quarter, using a pair of big-strike passing plays to pull away for a tougher-than-expected 45-27 victory over the cross-town rival Owls. Houston will have Arizona coming in for the home opener this week, who lost to another G5 Top 10 team in BYU last week.
8. (-) BYU (1-0 overall)
Last week: Beat Arizona 28-23 on the road
This week: vs California
The Cougars trailed just 10-7 at the half, but then outscored the Wildcats 21-0 in the third quarter to build a commanding 28-10 lead heading into the final 15 minutes and hung on at the end. BYU is coming off a losing season and while QB Tanner Mangum had some struggles, he did finish 18-of-28 passing for 209 yards, but didn't account for any interceptions thrown and didn't take a single sack. BYU gets another Pac-12 team this week in the home opener so we shall see if the opener was an anomaly or if BYU might be back to its typical winning ways.
9. (-) Cincinnati (1-0 overall, 0-0 AAC)
Last week: Beat UCLA 26-17 on the road
This week: vs Miami (OH)
Redshirt freshman quarterback Desmond Ridder played most of the game for UC, in relief of ineffective senior starter Hayden Moore. Ridder was 13-of-24 passing for 100 yards and rushed for 63 yards to get the upset of the Pac-12's Bruins on the road. It will be interesting who the Bearcats select as the starting signal caller this week in its rivalry game against Miami (OH) in a game played at Paul Brown Stadium (NFL Cincinnati Bengals' home field).
10. (14) Toledo (1-0 overall, 0-0 MAC)
Last week: Beat FCS VMI 66-3 at home
This week: Bye
Toledo junior quarterback Mitch Guadagni was sharp in his first career start, completing 11 of 16 passes for 265 yards and three touchdowns. He also rushed four times for 20 yards. The 66-3 win over FCS VMI was the largest margin of victory for the Rockets since 1951. The Rockets get a bye this week in preparation for hosting Top 25 P5 ranked Miami (FL) in two weeks.
11. (5) Florida Atlantic (0-1 overall, 0-0 C-USA)
Last week: Lost to Oklahoma 63-14 on the road
This week: vs Air Force
Florida Atlantic had hopes of a New Year's Day Six Bowl game but now will be hard-pressed for that. With little resistance, the Owls allowed the Sooners to pile up 650 offensive yards. The Sooners scored on their first five offensive drives and mixed in a special teams touchdown to grab a 42-0 lead by halftime. FAU was simply overmatched but was against a team that made the College Football Final Four last year so we shall see how FAU fares this week against another G5 team in the tough-to-prepare-for Air Force with its triple option offense.
12. (9) San Diego State (0-1 overall, 0-0 MWC)
Last week: Lost to Stanford 31-10 on the road
This week: vs FCS Sacramento State
SDSU more than held its own through the first two periods against 13th-ranked Stanford — holding Heisman Trophy candidate Bryce Love to seven rushing yards by halftime — before the Cardinal exploited the Aztecs' secondary for four scores through the air. The Aztecs will look to regroup in its home opener this week against FCS Sacramento State.
13. (12) Ohio (1-0 overall, 0-0 MAC)
Last week: Beat FCS Howard 38-32 at home
This week: Bye
QB Quinton Maxwell came off the bench to replace ineffective starter Nathan Rourke mid-way in the second quarter. He threw then for a career high 233 passing yards with two touchdown passes as he led the Bobcats from a come-from-behind win over the FCS Bison. Normally, a bye week is not great in Week 2 but it might be needed for Ohio to get things straightened out ahead of its first road game at Virginia.
14. (10) Army West Point (0-1 overall)
Last week: Lost to Duke 34-14 on the road
This week: vs Liberty
The Black Knights could not get the option game going and actually threw for the most yards (208) an Army team had since 2015. That kind of offense is not what Army does so this week's home opener against Liberty will see if losing four offensive line starters from last year is the main reason for the lack of option running output or if Duke might be a better team than most think.
15. (7) Navy (0-1 overall, 0-0 AAC)
Last week: Lost to Hawai'i 59-41 on the road
This week: vs Memphis
Navy could not stop the run-and-shoot offense of Hawai'i so the biggest question mark for the Midshipmen is this was just first game rust or if this is what the team will be. Hosting Memphis in its first AAC conference game this week will go a long way to show us what Navy might be.
16. (-) Utah State (0-1 overall, 0-0 MWC)
Last week: Lost to Michigan State 38-31 on the road
This week: vs New Mexico State
Aggies' QB Jordan Love completed 29 of 44 passes for 319 yards against a Top 15 ranked Big 10 team. But he does need to be more careful moving forward as he ended with two interceptions–one of which was in the last two minutes when Utah State was trying to tie the game. Now, the Aggies get an 0-2 New Mexico State team for their home opener.
17. (16) Wyoming (1-1 overall, 0-0 MWC)
Last week: Lost to Washington State 41-19 at home (Beat New Mexico State 29-7 in Week 0 on the road)
This week: at Missouri
In the Week 0 opener, the Cowboys looked like the strong defense, ball-control offense team Coach Craig Bohl wants. But this past week, Wyoming defense gave up way too much to Washington State. New QB Tyler Vander Waal was just 8 of 20 for 67 yards with one interception and fumbled the ball for a big loss, although the Cougars didn't recover. Vander Waal was sacked three times. Wyoming will try to win against a P5 team for the first time in 14 tries this week at Missouri.
18. (17) Northern Illinois (0-1 overall, 0-0 MAC)
Last week: Lost to Iowa 33-7 on the road
This week: vs Utah
The Huskies could not generate really any offense in the matchup with Iowa but the defense was able to hold the Hawkeyes to just three points in the first half. Getting more output of the offense will be key with another P5 contest this week for NIU's home opener.
19. (20) Marshall (1-0 overall, 0-0 C-USA)
Last week: Beat Miami (OH) 35-28 on the road
This week: vs FCS Eastern Kentucky
One hour prior to Saturday's game, Marshall named redshirt freshman Isaiah Green as its starting quarterback. That decision looked good as he led the Thundering Herd to two touchdowns on the first two drives for the team. The Herd held on at the end of the game to win on the road. This week's home opener is against FCS Eastern Kentucky.
20. (-) Hawai'i (2-0 overall, 1-0 MWC)
Last week: Beat Navy 59-41 at home (Beat Colorado State 43-34 on the road in Week 0)
This week: vs Rice
In his second career start, QB Cole McDonald turned in another glowing performance Saturday night. The sophomore threw for 428 yards and six touchdowns on 30-of-41 passing and Hawaii used a quick start en route to a 59-41 win over Navy. This after he threw for 418 yards in the Week 0 road victory over Colorado State in Week 0. Hawai'i only won three games all of last year and can equal that mark this week with a home win over Rice.
Dropped Out of Top 20: Troy, Colorado State, Temple, Louisiana Tech
Originally from LaMoure, North Dakota, Kent is a 1996 graduate of North Dakota State University. His prior writing experience is over 15 years having previously worked with D2football.com, I-AA.org, and College Sporting News before coming to College Sports Journal in 2016. His main focus is college football is the Missouri Valley Football Conference within the Division I FCS. And in 2017, he began also to look at the FBS Group of Five conferences of the American Athletic, Conference USA, Mid-American, Mountain West, and Sun Belt.
Reach him at this email or click below: